What Happened To DDP Yoga After Shark Tank? All About The Program Today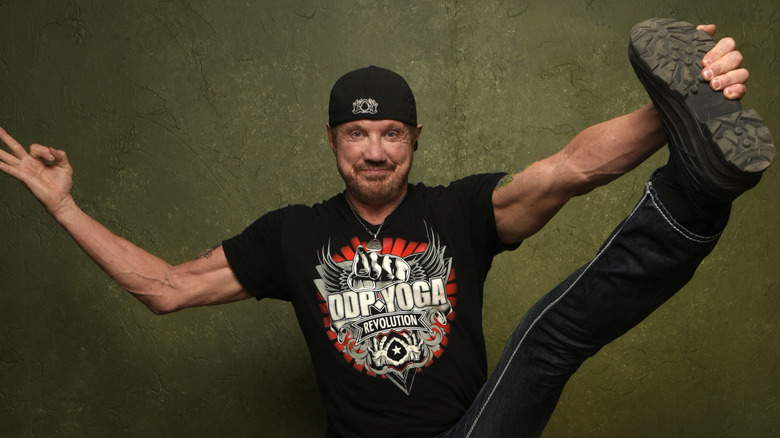 Larry Busacca/Getty Images
Shark Tank fans may remember the fiery DDP Yoga program, launched by now-retired three-time World Heavyweight Champ "Diamond" Dallas Page. DDPY was created to make yoga-based workouts more appealing to men and those suffering from athletic injuries, per the catchphrase, "It Ain't Your Mama's Yoga." The pro wrestler founded the fitness movement after suffering from his own debilitating back injury, claiming rehabilitation yoga was his career and body's saving grace.
Page and his business partner Steve Yu appeared on the fifth season of "Shark Tank" in 2014. They presented DDPY as a reformed version of yoga that includes more strength-based training, infusing martial arts, push-ups, and squats to appeal to the "macho" body-building population. Of the Sharks, they requested $200,000 for a 5% equity stake, with the goal to go mobile and develop an exercise app.
While media maverick Mark Cuban supported their goal to take DDPY online, he believed they would need more than $200,000 to make it a reality, and rejected the proposal. Fellow sharks Daymond John, Barbara Corcoran, Robert Herjavec, and Kevin O'Leary followed suit. They cited DDP Yoga's business plan and the instability of fitness trends as the main factors. In the end, Page and Yu faced the same fate as other "fad" fitness proposals that appear on the 'Tank, such as Koko Yoga Face: no deal. But almost a decade after this let-down, where is DDP Yoga now?
About founder Diamond Dallas Page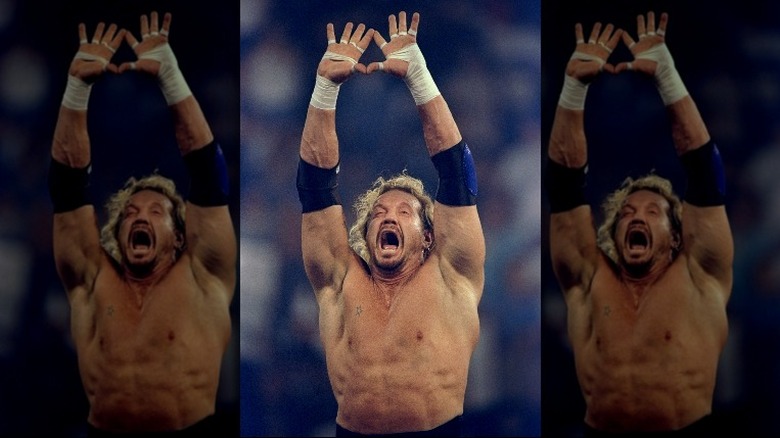 Elsa/Getty Images
Page has been a recognizable figure in the wrestling world for over three decades. He began his career in the American Wrestling Association as a manager in the '90s, per Fox Sports. He built "The Diamond Mine," a team of heavy hitters including top billings such as "The Diamond Dolls" and Scott "The Diamond Studd" Hall. After earning his marks in managing, Page decided to return to the wrestling stage full-time in 1994.
In 1998, he suffered a seemingly career-ending back injury. When the accident took place, Page had just nabbed a dream multi-million dollar deal set for three years, per the Atlanta Business Chronicle. This is when the world champion was introduced to yoga by his (now ex) wife. Page was initially hesitant, but over a period of just three weeks, he credited this modified version of yoga to changing his health for the better.
"I was very frustrated though, because the tapes I was watching, everybody was a stick figure," Page told Big Think. "No one was modifying any positions. So I had to figure that out." In 2002, he retired completely from wrestling and quickly shifted his focus to DDPYoga, then named "Yoga for Regular Guys," with Yu in 2005. In the years following his appearance on Shark Tank in 2014, Page has been inducted into the WWE Hall of Fame.
Is DDP Yoga successful today?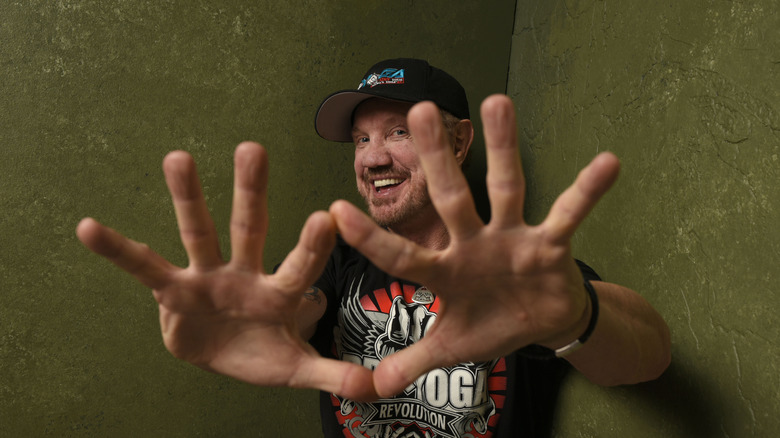 Larry Busacca/Getty Images
While some debate whether yoga is even considered a workout, DDPY's unconventional approach to hardcore fitness has been making waves in the wellness world. When Page and Yu first appeared on Shark Tank in 2014, the business had already cleared $3 million in sales in its first year. They planned to launch a mobile app and pursue infomercial marketing upon striking a partnership with the Sharks. Despite missing out on a deal, the duo claims that DDP Yoga cleared over $6 million dollars in sales via books, DVDs, and other merchandise following their television appearance.
Apparently, the business partners originally turned down the opportunity to go on the Tank for the first time due to a strict contract. "Ninety minutes later I got a call, an executive producer on the line, 'we gotta fix this,'" Page recounted of rejecting the proposal on the "Talk Is Jericho" podcast. "And I got total control of what I wanted to do, I signed it, it was the best thing that's ever happened to our company."
The DDPY Performance Center, located in Smyrna, Georgia, offers live workout sessions for local fitness fanatics. The fitness app, which was developed even without the support of the Sharks, appeals to those outside of the wrestling community who suffer from knee, hip, and back injuries with different workout tiers. There are even DDPY-certified instructors located across the world in North America, Europe, Asia, Australia, and Africa.