A Look At Riley Keough And Dakota Johnson's Close Friendship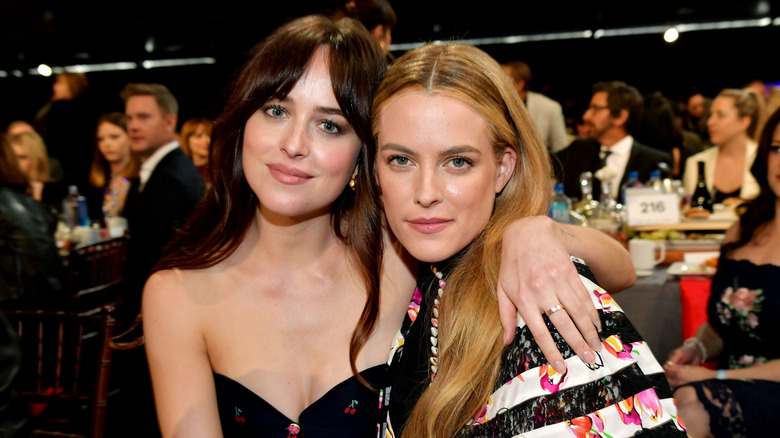 Amy Sussman/Getty Images
Hollywood friendships can sometimes feel surface-level or used to promote a project or storyline. While we've seen many friendships crash and burn under the bright lights of stardom, there have been a select few who have made it through. Ben Affleck and Matt Damon have put their friendship on the forefront of their fame, but that hasn't stopped them from remaining close all these years. Similarly, stars like Kate Hudson and Liv Tyler and Tobey Maguire and Leonardo DiCaprio have remained close despite their celebrity status.
Beyond the well-known friendships, though, there are some stars forming tight bonds behind the scenes. One of those pairs are actresses Riley Keough and Dakota Johnson. While they have only recently been vocal about their relationship, the two have actually been best friends since they were teenagers. As their star power continues to rise — Keough recently starred in "Daisy Jones and the Six," and Johnson is known for her starring role in the "50 Shades of Grey" series — their friendship has only gotten stronger.
Riley Keough and Dakota Johnson bonded over their similar lives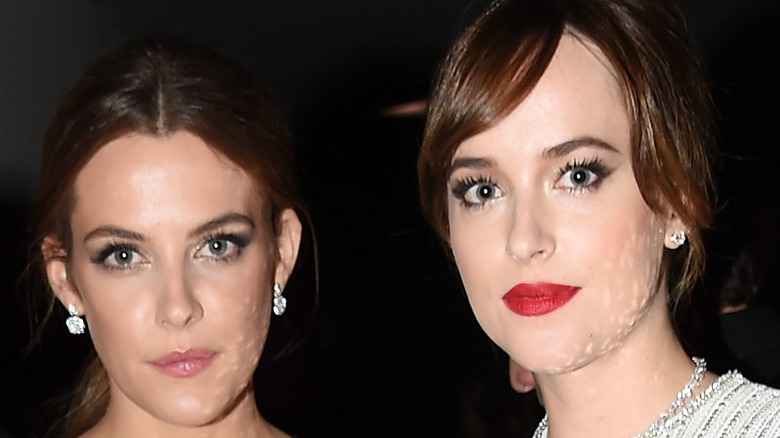 Nicholas Hunt/Getty Images
It's no secret that Riley Keough and Dakota Johnson didn't just land in Hollywood on their own. Both women are products of fame, with Keough being the granddaughter of the legendary Elvis Presley and Johnson being the daughter of esteemed actors, Don Johnson and Melanie Griffith. So when the two first met at just 15 years old, their similar upbringings created an instant bond.
During an interview with Vanity Fair about Johnson, Keough revealed that they met in the parking lot of an In-N-Out, and from then on became inseparable, even going as far to tell others that they were twins. Their shared interest in significant others (they both dated boys in the same band) evolved into their shared interest in the film industry, where they have leaned on each other through the rise of their careers. Keough, despite her family, has remained humble, a trait she shares with her bestie. "She always felt older and wiser than everybody else," Keough told Vanity Fair about Johnson. "I remember reading that somebody once said, 'You're either in love with Emmylou Harris or you haven't met her yet.' I feel like that about Dakota."
Riley Keough and Dakota Johnson are acting in a new series together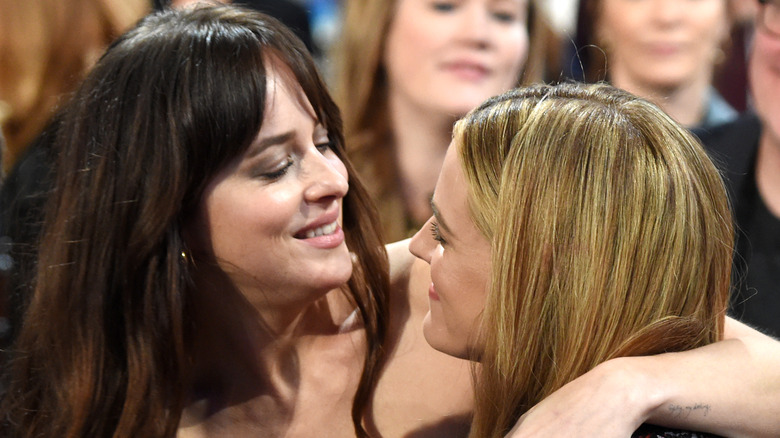 Kevin Mazur/Getty Images
From the parking lot of a fast food joint to the studio lot of a brand new limited series, Riley Keough and Dakota Johnson's friendship has taken them to new heights. After individually finding fame in their own ways, the two best friends have officially signed on for a project where they will be working together. According to Deadline, Keough and Johnson will be acting in "Cult Following," which is based on the memoir by Bexy Cameron. Mirroring real life, Johnson will play Cameron, who was raised in a cult, and Keough plays her good friend who joins her on a journey of investigating American cults and learning about her upbringing.
And while Keough and Johnson are both talented in their own right, having real-life best friends play friends on screen only adds to the realness of the series. Katie O'Connell Marsh, Platform One Media Chairman and CEO, who optioned the show, agreed, saying, "...This project is an incredible opportunity to bring a truly unique journey to life with two of the most talented actors working today and the fact that Dakota and Riley have been best friends since they were 15 is an incredibly exciting chemistry to bring to the screen."