General Hospital Alum Ricky Martin Heads To Divorce Court With Husband Of Six Years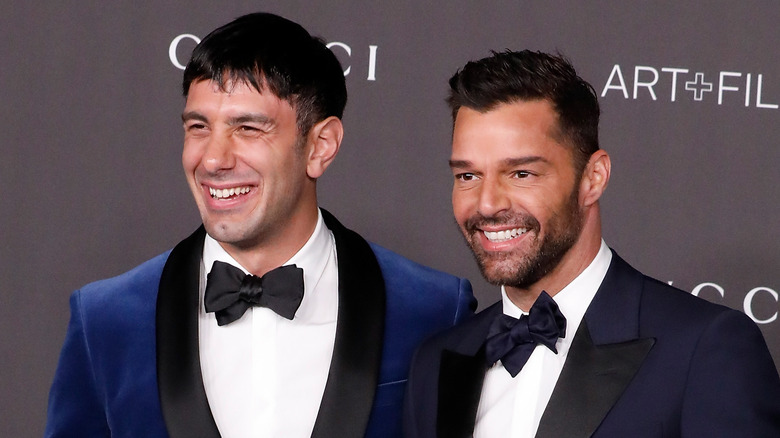 Taylor Hill/Getty Images
Ricky Martin will be "Livin' la Vida Loca" as a single guy going forward. Just this week, the Latin singer and his husband, Jwan Yosef, announced they would be getting a divorce. The couple have been married for six years. 
Martin started his ascent to fame as a member of the Latin-American boy band Menudo before breaking out as a solo artist. Along with his singing career, Martin has also created quite the acting resume. He debuted his on-screen skills in 1991, playing a singer on the Mexican soap opera "Alcanzar una estrella" aka "To Reach a Star." He eventually made his way to the U.S., picking up a gig as singer Miguel Morez in daytime's "General Hospital" for a burst of episodes in 1994 and 1995. Though short-lived, his character was a memorable one and is still mentioned on the soap every now and then. Jwan Yosef is an exhibiting artist, with Fine Arts degrees from schools in Stockholm and London. 
In dual Instagram posts, Martin's in Spanish and Yosef's in English, the couple released a joint statement. "For some time, we have considered transforming our relationship, and it is after careful consideration that we have decided to end our marriage with love, respect, and dignity for our children — preserving and honoring what we have experienced as a couple all of these wonderful years."
They'll continue to be friends and co-parents
"I met Jwan through Instagram, believe it or not," Ricky Martin detailed in an episode of "Behind the Music." The "She Bang" singer shared that he was first impressed by Jwan Yosef's artwork, and then his good looks. "When I saw his face, I said, 'Okay, this is over. What a beautiful man.'" The duo engaged in a text relationship for six months before meeting face-to-face. "When I got out of the car and I saw him, I said, 'Whoa. I think this is the man of my life and I think I am going to marry him.'" He was correct, and the two tied the knot in a private ceremony, announcing it was official in 2018. 
The couple shared the arrival of baby daughter Lucia in 2018, with Martin posting on Instagram, "Both her beautiful brothers, me and Jwan have fallen in love with Lucia," referencing his twin sons, who were born in 2008 prior to the couple meeting. In 2019, Martin and his husband added son Renn to the mix. 
As Martin continues his career, most recently touring with Enrique Iglesias and Pitbull, he and Yusef are taking the high road with their split. Their joint Instagram statement thanked fans for their support and shared the couple's hopes for the future. "Our greatest desire now is to continue having a healthy family dynamic and a relationship centered on our genuine friendship as we continue the joint upbringing of our children."