A Look At What Tony Danza Is Up To Today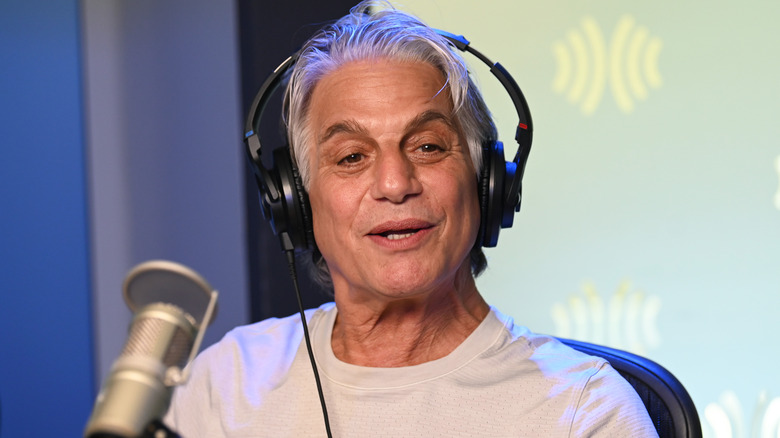 Slaven Vlasic/Getty Images
Forever, Tony Danza, 72, will be associated with two acclaimed shows, "Taxi" and "Who's the Boss?" Yet, his career transcends these projects from previous decades. He's appeared in countless TV shows and movies, including an eponymous syndicated talk show, the animated Fox series "Family Guy," ABC's "The Practice" (for which he received an Emmy nomination), Comedy Central's "Broad City," and Netflix's "The Good Cop," to name a few. Most recently, fans can see him in Season 2 of "And Just Like That...," the HBO Max "Sex and the City" sequel.
Among his forthcoming ventures is a remake of "Who's the Boss?" He played the role of '90s sitcom dad Tony Micelli, a former baseball player who wants something more than a Brooklyn childhood for his growing daughter, so he takes the job of live-in housekeeper for Angela Bower and her son in ritzy Fairfax, Connecticut. The show premiered in 1984 and ran for eight seasons, earning Danza three Golden Globe nods.
At first, Danza wasn't too thrilled to be attached to this renewed Who's the Boss? project, but he later told Our Quad Cities, a regional Iowa-Illinois news station, "I think there's something there, and I think it's going to happen." While the 2023 writer's strike may be causing some delays, he added that they're in development. Danza obviously maintained a secure foothold in television, yet his professional career expands well beyond the small screen.
A simple song and dance man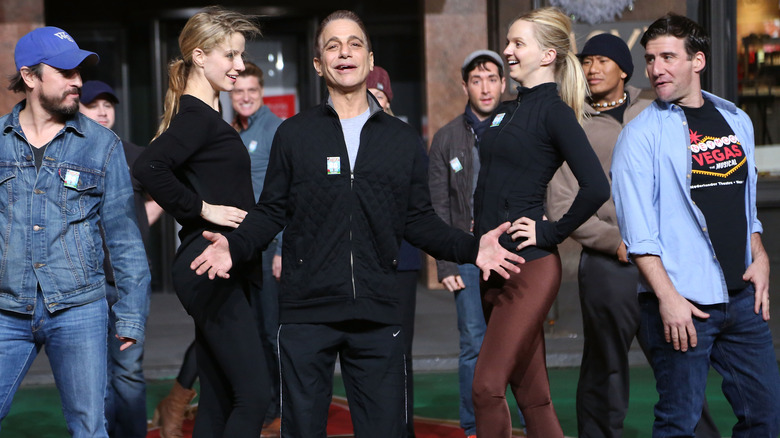 Taylor Hill/Getty Images
The Brooklyn-born actor is no stranger to live performance as his website chronicles. A charismatic singer, Tony Danza has entertained audiences with his live show, "Standards & Stories," for years. The musical program debuted in 2015 at the Café Carlyle in New York, and since then, Danza has appeared in clubs across the nation. Along with a four-piece band, he performs his favorite standards along with some soft shoe improvisation and ukulele riffs. Interspersed with the music, he tells stories that reveal his personal connection with each song.
Danza has also graced more than a few Broadway stages. He appeared in the musical comedy, "Honeymoon In Vegas," which had a brief run in 2015. "The musical was praised by critics, but failed to catch on at the box office," noted Playbill.
Additional credits on the Great White Way include Danza's 1993 stage debut in "Wrong Turn at Lungfish," a comedy by TV writer Garry Marshall and Lowell Ganz as well as two classics, Eugene O'Neill's "The Iceman Cometh" and Arthur Miller's "A View from the Bridge." Danza earned an Outer Critic's Circle Award nomination for "Wrong Turn." These stage projects certainly prove that Danza is no two-trick TV pony, yet his professional life encompasses so much more.
Teaching high school and reuniting with the 'Taxi' gang
Arguably, Tony Danza's most fascinating gig has been a 2009 reality show called "Teach." Before he was plucked from a New York boxing gym and cast in "Taxi" — yes, that's exactly how it happened — he attended Iowa's University of Dubuque on a wrestling scholarship, studying to become a teacher. For the A&E Network show, he taught a 10th grade English class at Northeast High School in Philadelphia during the 2009 to 2010 school year. According to NPR, the surprise of the series was that "he's actually good at it" with the school's principal stating that "she'd hire him again because he's a gifted teacher." A Crown Archetype memoir, "I'd Like to Apologize to Every Teacher I Ever Had: My Year as a Rookie Teacher at Northeast High," chronicles Danza's experience.
New York City kids can still experience Danza's praise-worthy teaching style. He told "Our Quad Cities" that New York's police athletic league had sponsored his acting class, "The Stars of Tomorrow," for eight years, but now the youth development organization is a nonprofit, funded, in part, by his "Taxi" co-star, Danny DeVito. Danza remains in touch with the entire cast of the classic sitcom, which premiered in 1978 and ran through 1983. They even maintained their bond during COVID lockdowns, meeting online for monthly Zoom calls lasting hours.
"We're in one of the greatest shows of all time," said the former professional boxer. "I think it hasn't gotten the acclaim that it deserves."