The View Co-Host Ana Navarro Got Real About Her Recent Weight Loss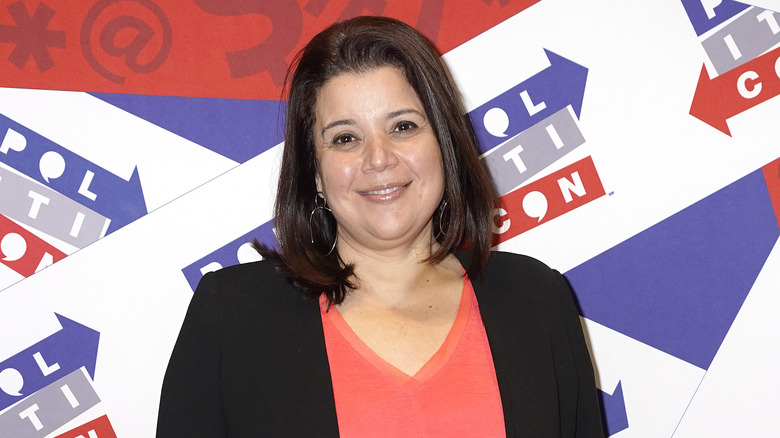 Ed Rode/Getty Images
Ana Navarro is making headlines, and this time, it's not for her political commentary or behavior on "The View." If you watch her on the daytime talk show, you may notice she looks a little different these days. That's because the host has dropped a couple of dress sizes, and she's not shy when it comes to opening up about her weight loss journey. It seems that Navarro has found a way to shed pounds despite hating exercise and loving margaritas.
Fans speculated that her recent weight change was due to Ozempic, especially given its popularity in Hollywood. After all, celebrities including Amy Schumer and reality star Dolores Catania have admitted to taking the medication or similar ones to lose weight in the past. The diabetes treatment has an off-label use for suppressing appetite, leading to quick and often drastic weight loss. And despite the FDA not approving the drug for shedding pounds, that hasn't stopped people from using it that way. 
However, Navarro denies going the medication route to lose weight. Instead, she says a tragic health scare in her family encouraged her to go to change her diet, get more active, and even visit a wellness resort targeted at helping clients slim down, according to The Sun.
After her mother's passing, Ana Navarro wanted to get healthier
After posting a photo of herself on Instagram looking noticeably slimmer, Ana Navarro responded to a comment accusing her of using Ozempic in which she vehemently denied the rumors. Instead, the talk show host revealed the heartbreaking death of her mother, Violeta, sparked the desire to change.
"In 2021, my mom died of kidney disease brought on by diabetes," she replied. "She suffered terribly the last years of her life. That scared the bejeezus out of me." Navarro revealed she was on the verge of being pre-diabetic and knew something had to change. "I've struggled with my weight my entire life. The pandemic and menopause made it worse," she wrote.
Maintaining a healthy weight is a common struggle. According to the World Health Organization, obesity kills 2.8 million people every year. It also causes a slew of illnesses like hypertension, stroke, and clinical depression. While there's no suggestion that Navarro suffered from any of those conditions, her decision to change her lifestyle to a healthier one is one she's no doubt pleased to have made.
The lifestyle change that helped Ana Navarro lose weight
Anna Navarro has Rancho La Puerta to thank for kicking off her weight loss journey. She visited the wellness spa in Mexico to create a healthier lifestyle. At the compound, the political strategist learned how to cook and eat nutritiously while trying a range of physical activities. Back in the States, she hired a nutritionist, pilates coach, and pickleball coach to keep her on track. "So it's been a complete lifestyle change -except for the damn rosé and margaritas, which I can't give up," Navarro commented. "It has all helped me lose about 4 to 5 lbs a month."
As her journey continues, Navarro is keeping fans updated on social media. In an Instagram post, she shared that it's not always easy. Between cutting back on alcohol, exercising more, and eating more fruits and vegetables, she's slipped into old habits. However, "The View" star reminds us, "In life, we're all gonna fall off the wagon every now and then. It's ok. Don't beat yourself up and just try to get yourself back on, little by little."
Whether you're channeling an inner gym rat or looking for healthy ways to lose weight without dieting, there might be times of struggle. But Navarro is proof that getting back in the fight, even after a K.O., is worth it.