The Heartbreaking Death Of Ana Navarro's Mother Violeta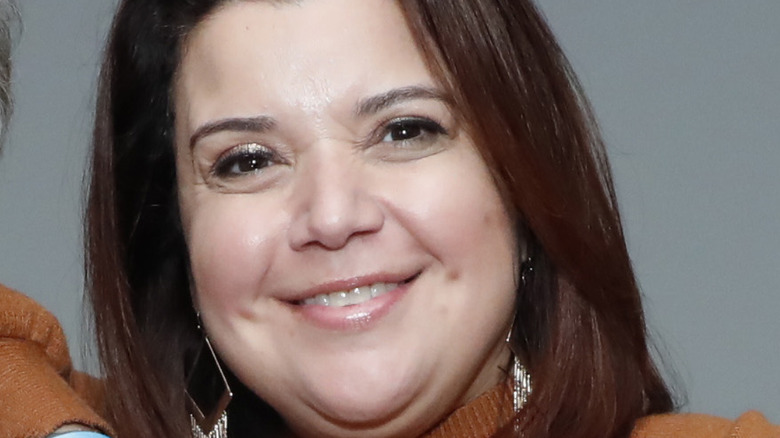 Astrid Stawiarz/Getty Images
On Wednesday, Ana Navarro, a CNN commentator, political strategist, and frequent guest co-host on "The View," revealed that her mother, Violeta Flores López, had died on Tuesday at 81 years old. "RIP, Mamí (1940-2021)," Navarro said in an Instagram post. "I wish you'd been able to enjoy health [and] your family longer. As your youngest, I'm grateful for the 50 [years] of unconditional love and support you gave me. Go in peace. We'll look after dad. Hug my brother for me."
In her Instagram tribute to her mother, Navarro, who immigrated to the United States from Nicaragua with her family, according to her biography on Harvard University's website, also mentioned the fact that she could not make it to Nicaragua to see her mother before her death. "I have not been able to visit her in Nicaragua because the dictator [President Daniel Ortega] there has denied entry to media and jailed many of his critics," Navarro said in the Instagram post. "My parents asked me not to go in fear for my safety."
Navarro continued in her Instagram tribute to her mother, revealing that, even though her mother's four-month illness had been a warning sign that the end was coming soon, she still wasn't ready to say goodbye to her mother. "My dad, the love of her life and her husband of more than sixty years, was with her when she passed," Navarro said in the post. "She's been very ill for 4 months ... I'm not sure it's possible to ever be ready to lose your parents."
Navarro's colleagues on The View have sent their condolences
On the same day Ana Navarro posted about her mother's death, her colleagues on "The View" sent their condolences to the frequent guest during the live show. During Wednesday's show, "The View" co-host Sunny Hostin spoke about Navarro's role in helping her and her husband, Emmanuel, make it through the passing of his parents to COVID-19. "[Ana's] been on our show and been cheerful and doing what she does best like giving her political commentary and being such an asset to the show," Hostin said on "The View," per People. "When Manny's parents passed she was there for us in such a way and Manny and I both extend our condolences to her. I reached out to her earlier today because she's really been struggling with him. I'm sure that our Viewers love her as much as we do."
While concluding her Instagram tribute to her mother, Navarro told others with parents still alive that they should cherish them and work hard to create new memories with their parents. "I want to wish you all happy holidays and leave you with one last request," Navarro said in an Instagram post. "If you are lucky enough to still have your parents, and if they've been good parents, please hug them tight, treasure them and make some happy memories."