Did Adele Really Leave When Harry Styles Won Album Of The Year At The Grammys?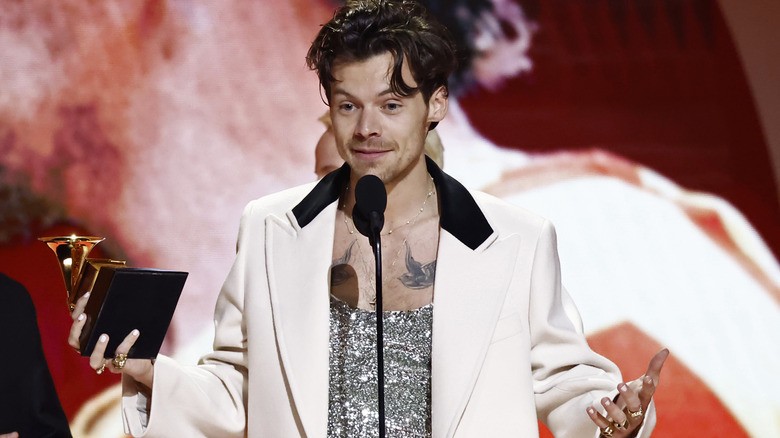 Emma Mcintyre/Getty Images
There is nothing juicier than celebrity drama, and even the people who claim to be above it all keep their ears to the ground when the hot gossip starts. If you know entertainment then you know that breeding grounds for rumors of beef between celebrities are award shows. These shows almost always come with scandalous events. Whether it's Kanye West snatching a microphone out of a teenaged Taylor Swift's hands and hijacking her thank-you speech, or Nicki Minaj calling out Miley Cyrus for allegedly calling her mean in an interview, much like the award recipients, we consumers never leave the shows empty-handed.
Sometimes, however, the fans watch videos from a show and drum up non-existent drama between celebs based on body language or words taken out of context. The 2023 Grammy Awards came with a lot of speculation, particularly regarding the coveted Album of the Year award which went to former One Directioner Harry Styles for his album "Harry's House." Based on clips that surfaced on social media, some people insisted that it looked like singer Adele had stormed out in protest when fellow British artist Styles took the win. Although this is being peddled as fact, it's time to take a closer look at what actually happened that night.
Adele did not leave the venue when Harry was announced winner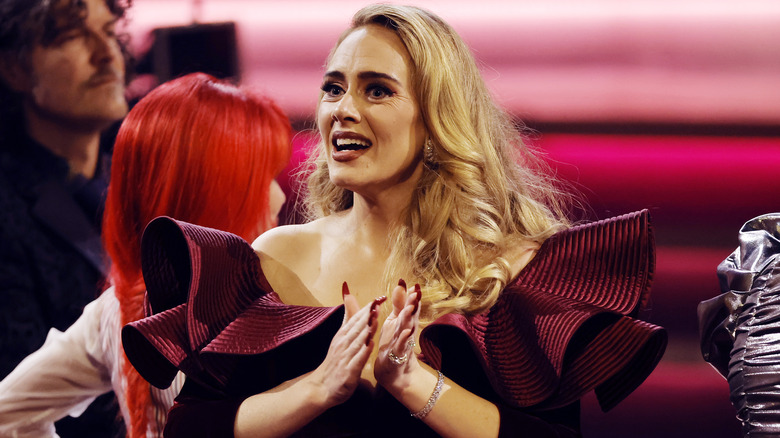 Kevin Winter/Getty Images
The 2023 Grammys was certainly a night to remember, especially with the "As It Was" crooner taking home the win for Album of the Year. However, not everyone thought it was well-deserved. Social media users who were expecting Beyoncé to carry the win for her album "Renaissance" were sorely disappointed. 
One Twitter user, @mrernestowens, who was present at the ceremony alleged that people started to leave the auditorium once the British awardee hit the stage for his speech. He tweeted a video showing a few attendees walking up the aisles while he allegedly yelled out, "Beyoncé should've won!"
One famous Beyoncé fan, Adele, was also accused of leaving while Styles was accepting his Grammy, which isn't true at all. According to some clips posted online like this one posted by @TvKhaleesi, the "Hello" singer was seen scooting past fellow performer Lizzo during the speech and that's when social media went up in flames. Fandoms clashed as users insinuated that Adele was furious with the Academy's Beyoncé snub once again. However, longer videos show that Adele didn't leave. She only moved to Lizzo's other side and continued applauding Styles's win. No low-key shade or beef here, folks.
Lizzo's firsthand video clears Adele's name
Evidently, people misread Adele's body language. The thought that the "Easy On Me" singer would hold a grudge against Styles for something as trivial as an award is laughable. Fans got so pressed that even Beyoncé and Lizzo caught strays. However, Beyoncé was shown giving Styles a standing ovation when his name was called. Lizzo, who is great friends with the "Watermelon Sugar" singer, shut down the rumors when she posted a TikTok of the moment he won and the clip shows how excited she and Adele were. When the camera panned to Adele, the singer jokingly asked, "What are you filming me for?"
The reason fans supposed Adele left the Grammys when Styles was announced as the winner for Album of the Year is because of her undying support for Beyoncé. Adele famously refused her Album of the Year win during her speech at the 2017 Grammys and insisted that Beyoncé should've received it instead of her. She tearfully said: "I can't possibly accept this award. And I'm very humbled, and I'm very grateful and gracious, but my artist of my life is Beyoncé. This album was so monumental, and so well-thought-out and so beautiful and soul-bearing." She went on to affirm her unwavering adoration for the "Single Ladies" vocalist as Beyoncé mouthed a teary-eyed "I love you" from the audience.
Beyoncé may not have gone home with AOTY, but she did snag a whopping four Grammys that night, making her the most Grammy-award-winning artist in history.