Florence Pugh Got Hate In Hollywood When She Became A Marvel Star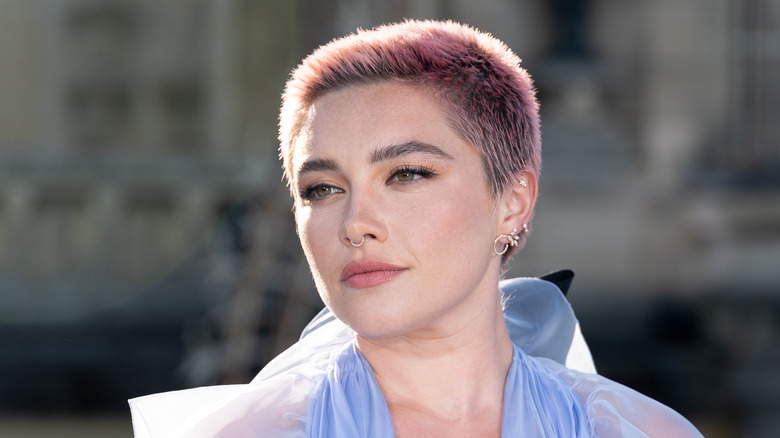 Marc Piasecki/Getty Images
If there's one thing Florence Pugh knows how to do, it's cause a buzz (pun intended). From acting in some of the film world's hottest picks to Pugh cutting her own hair for a movie role and then buzzing it off completely for the 2023 Met Gala, the "Dune: Part Two" actor is on a roll. 
She rose from being an indie darling to debuting as part of the Marvel Cinematic Universe (or MCU) playing Yelena, the sister of Black Widow. Making her first appearance in "Black Widow" and "Hawkeye," Pugh is set to star in another upcoming Marvel film, named "Thunderbolts," alongside Harrison Ford. However, despite her success, not everyone was happy for her to start acting in more mainstream movies.
In her cover story for TIME, Pugh referenced the backlash she received when joining the MCU. "So many people in the indie film world were really pissed off at me. They were like, 'Great, now she's gone forever,'" she shared. "And I'm like, no, I'm working as hard as I used to work. I've always done back-to-back movies. It's just people are watching them now. You just have to be a bit more organized with your schedule."
She has taken on a variety of roles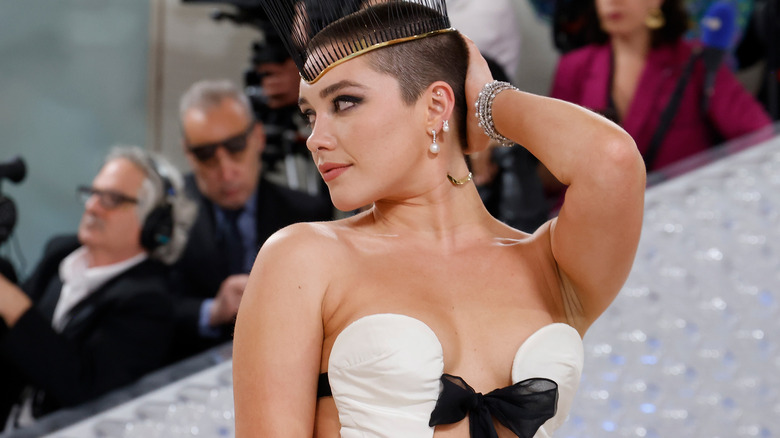 Taylor Hill/Getty Images
When Florence Pugh refers to working hard, she isn't joking. Since her breakout in 2019 playing Dani in "Midsommar," the actor has had screen-grabbing roles such as Amy March in 2019's "Little Women" and Alice in 2022's "Don't Worry Darling." From her first film role in 2014, Pugh has made a name for herself playing roles that are varied, meaty, and clearly carefully chosen by Pugh to avoid her being typecast. However, getting backlash for joining the MCU isn't the only adversity she has faced in her career so far. 
Speaking to The Telegraph, the British actor spoke candidly about getting her first big role at 19 and then being told by those who gave her the part that they weren't happy with her appearance. 
"All the things that they were trying to change about me — whether it was my weight, my look, the shape of my face, the shape of my eyebrows — that was so not what I wanted to do, or the industry I wanted to work in," she revealed. "I'd thought the film business would be like [my experience of making] 'The Falling,' but actually, this was what the top of the game looked like, and I felt I'd made a massive mistake."
Staying authentic is important to her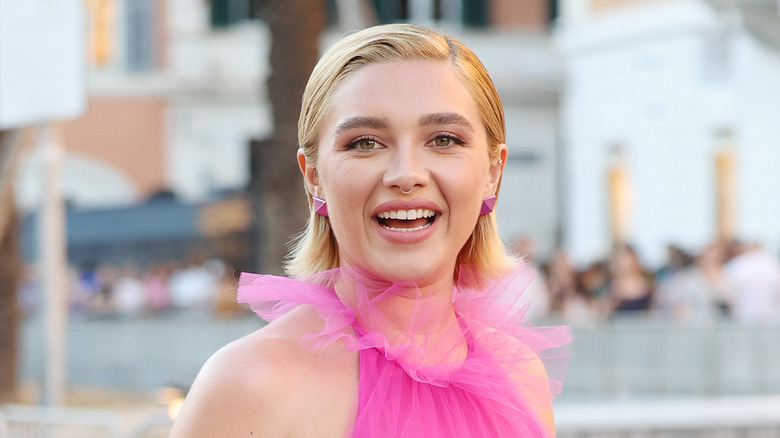 Jacopo Raule/Getty Images
Luckily, Florence Pugh persevered in the industry while staying true to herself. In the accompanying interview for her 2023 Vogue cover, she unequivocally stated, "I'm never losing weight to look fantastic for a role."
Alongside her refusal to lose weight in order to better fit Hollywood standards, Pugh has a view on the airbrushed perfectionism we're used to seeing in Hollywood. Though she is all too ready to admit she dresses up for premieres, Pugh remains real about what she's like in everyday life. "But at the end of the day, I still have hair on the top of my lip and I still smell after a workout and I still get spots when I'm stressed. I think that attitude definitely has trickled down from when I was a child," she told Vogue.
Pugh's confident attitude is definitely part of her appeal, as is her refreshingly grounded outlook on the industry. She may have divided Hollywood when she joined the MCU, but we're willing to bet that Pugh's belief in herself meant that any backlash rolled straight off her back.