Joanna Gaines Once Got A Spontaneous Piercing
James Devaney/Getty Images
Joanna Gaines: Mother of five adorable kids, possible homeschool teacher, and HGTV superstar. If you follow her in any capacity, via social media, the Gaines' Magnolia updates, or their television shows, you know that she seems grounded, down-to-earth, and a bit of a perfectionist. Neither Joanna nor her husband, Chip Gaines, have any tattoos (at least that we know of), and she is rarely spotted sporting more than a tasteful pair of earrings. Not exactly the person who would go out and get a spontaneous piercing. But Joanna acknowledged that, at one point, she did exactly that. 
In an issue of "The Magnolia Journal," produced by Chip and Joanna, the beloved HGTV star admitted that she once got her nose pierced, per People. A nose piercing isn't the most scandalous place to put a stud, especially by today's standards. Still, it was a big deal for the seemingly conservative Joanna. "Getting a nose ring was way outside my comfort zone," she admitted in the post. "I've always preferred the safe side of life. But my little sister, Mikey, has always been the opposite." 
Naturally, then, it was her sister who convinced Joanna to get the spontaneous stud in her nose: "She just said, 'What are you waiting for? Let's do it!' And five minutes later we were on our way." However, the piercing didn't last long. 
The nose ring didn't last but the memory did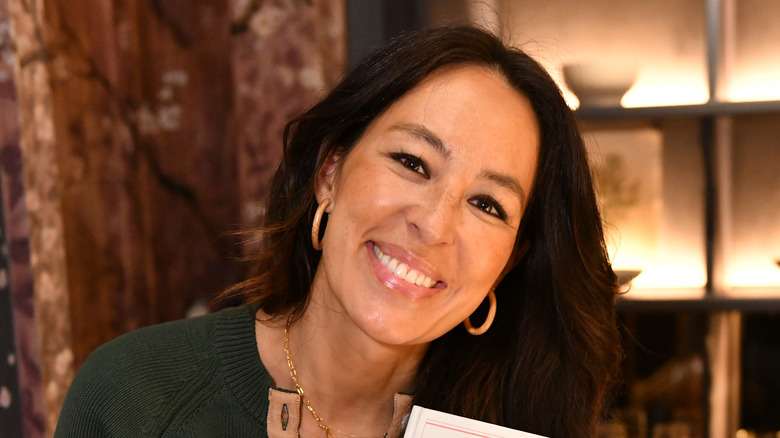 Craig Barritt/Getty Images
You can actually spot Joanna Gaines' cute little nose charm in Season 5 of "Fixer Upper." It appears to be just a delicate little golden stud in her right nostril. Because it wasn't a large gem, ring, or septum piercing, many fans may have overlooked the subtle accessory. However, those with a sharp eye likely picked it out in the episode "Austin Couple Finds Waco Charm."
Joanna only kept the piercing for a very short time, as a tweet of hers from around that time pointed out: "Remember that time I had a nose ring for a week??" However, People reports that she did claim to have the sentimental gold nose stud in her possession, noting, "Now, years later, I still keep it tucked away with my other jewelry." 
According to Joanna, "When I see it, I'm reminded of Mikey more than anything and the way she called out my playful side that day."
Mikey and Joanna are super close
Mikey is what Joanna Gaines calls her little sister, Mary Kay McCall. Joanna is the middle child of her three sisters, alongside their eldest sibling, Teresa Criswell. Mikey, like the Gaines, has a similarly large family and used to be a stay-at-home mom to her six kids. That is, until she decided to open a retro-style plant store called Ferny's. Joanna supported her sis by offering her shop a spot at Magnolia Market's Shops at the Silos, making it one of just six stores at the location.
More than once, Joanna has commented on Mikey's sense of adventure, spontaneity, and creativity. Fans saw Mikey's fun personality firsthand on the Magnolia Network's "The Retro Plant Shop with Mikey and Jo." Joanna teamed up with her sister for the show, which follows Mikey's pursuit of her dream business. Mikey's husband, David McCall, is a Waco-based surgeon, and the couple has been married for almost two decades. 
Mikey frequently features her husband on Ferny's social media, along with Joanna. Overall, it looks like the "Fixer Upper" star shares a very sweet and close relationship with her little sis (who notably still has her own charming nose piercing).