What Only True Fans Know About Hallmark Star Vanessa Lengies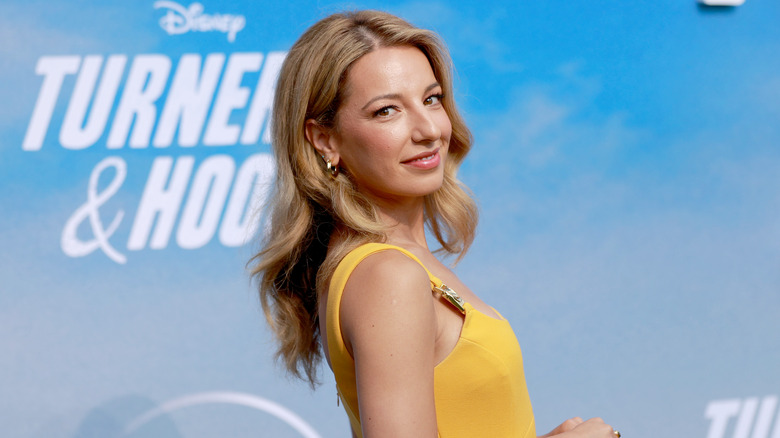 Matt Winkelmeyer/Getty Images
Vanessa Lengies has recently been making a home for herself at the Hallmark Channel, first appearing on the network in 2020 with the made-for-TV movie "Heart of the Holidays." Since then, she's also starred in "Christmas in Toyland" and "Take Me Back for Christmas," cementing herself as a Hallmark holiday movie staple.
While Lengies might be a newer addition to the feel-good network, long-time fans of the actor will know that she's well-acquainted with the entertainment industry. Born on July 21st, 1985 in Montreal, Quebec, Canada, the successful actress has been acting since she was seven. In addition to all the movie and TV credits she's accumulated since then, she is also known professionally as a singer and dancer.
Beyond her professional life, there are plenty of things about Lengies that fans of the actor will be interested in knowing, including her stint as a child star and her public journey with her sexuality. As it turns out, there's a lot more to Vanessa Lengies than meets the eye.
The Hallmark star has a long history of acting
Vanessa Lengies is most known for her roles as Roxanne Bojarski in the 2002 comedy-drama "American Dreams" and Sugar Motta in the third and fourth seasons of "Glee." However, die-hard fans of the celeb will know that she's been in showbiz since she was a kid, starting off her career with Canadian children's shows such as "Popular Mechanics for Kids" and "Radio Active" and PBS cartoons like "Arthur" and "Caillou."
Her first on-screen appearance was in the Canadian adaptation of "Lassie," which she appeared in with her fellow Hallmark star Corey Sevier. Lengies also appeared in film projects such as the TV movie "Ratz," the teen drama "Stick It," and the black comedy "Waiting..." As an adult, the celeb was cast in the 2009 medical drama Hawthorne and then in the ABC sitcom "Mixology." Besides her Hallmark movies, Lengies's recent projects include a major part in the Disney+ adaptation of "Turner & Hooch" and supporting roles in TV shows such as "True Lies" and "Devil in Ohio."
"I've been very fortunate. I've been acting since I was seven," Lengies told the podcast "Disrupt Everything" about her early acting days. "I was very interested in being the best of the best at what I was doing. I wanted my parents to be very proud of me, and I wanted my agents to think the world of me."
Lengies came out as genderfluid and bisexual
Off-screen, Vanessa Lengies has been open about her journey with her sexuality and gender identity, documenting her experiences in the 2017 mini-series "The 'S' Word." At the time of filming, she was engaged to an underwater welder named Jaime, who appeared in the show. However, the two no longer appear to be together.
"It turns out that I'm a sexually fluid human being, that I'm gender-fluid, as well, which means that I just don't identify as a woman completely, that there's fluidity within my gender identity," Lengies told her then-fiancé on the show. "I am attracted to both women and men, so I'm bisexual."
On "Disrupt Everything," the actor talked about how acting had influenced her relationship with her sexuality, saying, "Acting was definitely taking me away from who I really was and making it about who people wanted me to be or who I wanted to be for people and then finally ... coming out about [my sexuality] allowed me to get more in touch with the thing that's in me, that is mine."