How Hillary Clinton And Chelsea Clinton Spent Their COVID Lockdown Days Together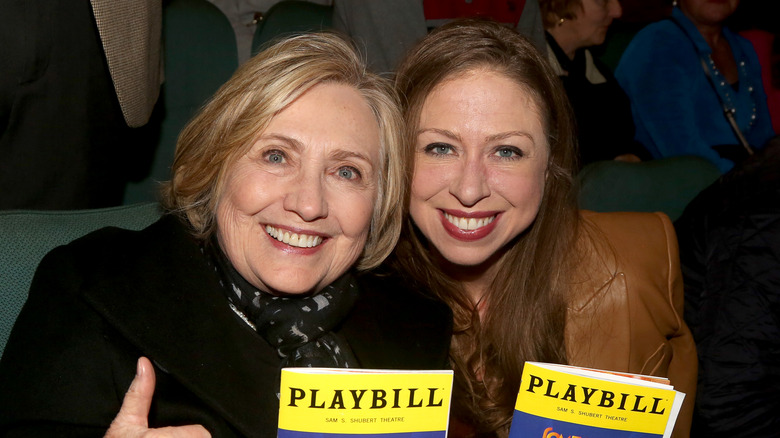 Bruce Glikas/Getty Images
For some people, COVID-19 was the best of times, and for others, it was the worst. The world saw plenty of tragic losses and everything was at a standstill as quarantine, face masks, and isolation became the norm. The lockdown brought many challenges, especially finance-wise as so many were laid off from work and with people struggling to keep their physical health in check, it's understandable that mental health took a back seat. 
However, even in the midst of the pain, death, and boredom, quarantine also gave plenty of people the chance to rediscover quality time with loved ones and to build new hobbies and memories around them. One family that found this joy during the pandemic was the Clintons. Even though the lockdown was pretty daunting, they made the most of it.
In fact, Chelsea Clinton revealed how she and her mother, Senator and Former U.S. Secretary of State Hilary Clinton, spending their lockdown days together actually proved to be a fruitful bonding experience. Although Chelsea doesn't always take her mom's parenting advice to heart, they definitely work well together with the duo even collaborating on one of their most exciting projects yet. 
The Clinton women drummed up a docuseries during COVID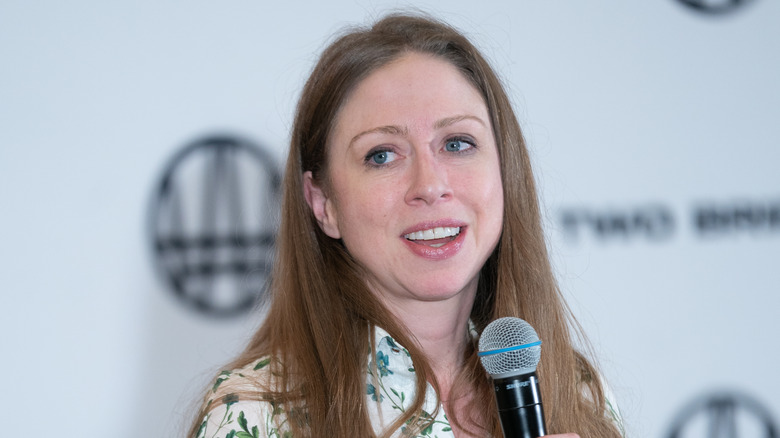 Mark Sagliocco/Getty Images
The COVID-19 pandemic was quite a time to be alive. Things went left so suddenly and it forced billions of people across the world to succumb to a new lifestyle we didn't plan for or expect. For the Clintons, it was no different. Former first daughter Chelsea Clinton told CBS that she was fortunate enough to be able to journey through the quarantine with her mother as it brought forth a lot of in-depth conversations and allowed them to build their personal and business relationship.
"It just candidly felt like such a gift to be able to do that during COVID, to spend this really special time together when I know so many families were separated," Chelsea remarked. The mother-daughter duo published a book in October 2019 entitled "The Book Of Gutsy Women: Favorite Stories of Courage and Resilience," which chronicles the spectacular feats of over 100 powerful women, from all walks of life. 
During the pandemic, they took it a step further and worked together on an eight-part docuseries, which came out in 2022 on AppleTV+ and expands on the book's theme of heroic women. Chelsea gushed about how creating stories with her mom was a blessing, particularly during such a difficult time for everyone, enthusing, "I am so proud of what we've done with 'Gutsy,' and had so much fun working with her as an adult. It was just a joy producing every day."
Chelsea and Hilary are spotlighting all shades of inspiring women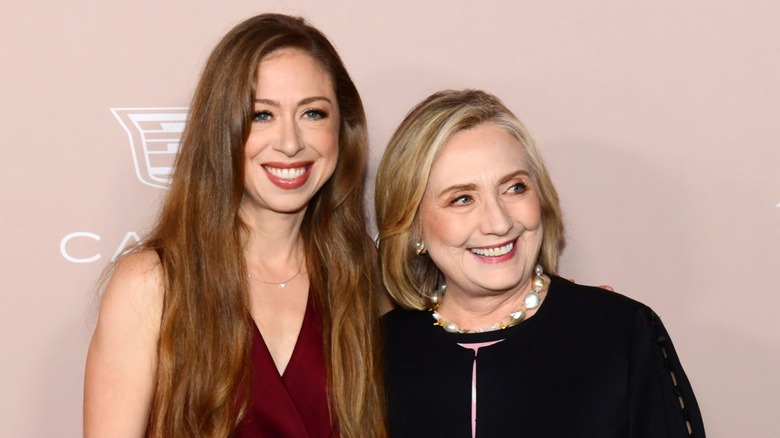 Chelsea Guglielmino/Getty Images
It comes as no surprise that the Clintons managed to stay productive even during a global pandemic. Chelsea and Hilary Clinton's work on documenting the resilience of women's history consistently proves to be a godsend. Their AppleTV+ series features interviews with women such as reality star and business mogul Kim Kardashian, rapper Megan Thee Stallion, and former white supremacist Shannon Foley Martinez.
The Clinton women spoke to Oprah Daily about how they pooled together stories from prominent and virtually unknown women alike in order to showcase how inspiring they are. "The common threads of resilience and persistence and bringing others along were all ones that we expected because that is part of how we define 'gutsy,'" Chelsea shared. "What struck me while we were making 'Gutsy,' and then after, when we watched it, was the joy these women have."
As for Hilary, she affirmed that the interviews really stuck with her and helped her see life from a different perspective: "It was a real journey. It wasn't just one moment. I think about Dolores Huerta, who was one of our great labor organizers ... She had 11 children — the daughters were very honest about how hard it was to have a mother who took them to picket lines and protests, instead of playdates. It was so moving to me."