The Adorable Tradition Chip Gaines Carried Through The Births Of All His Children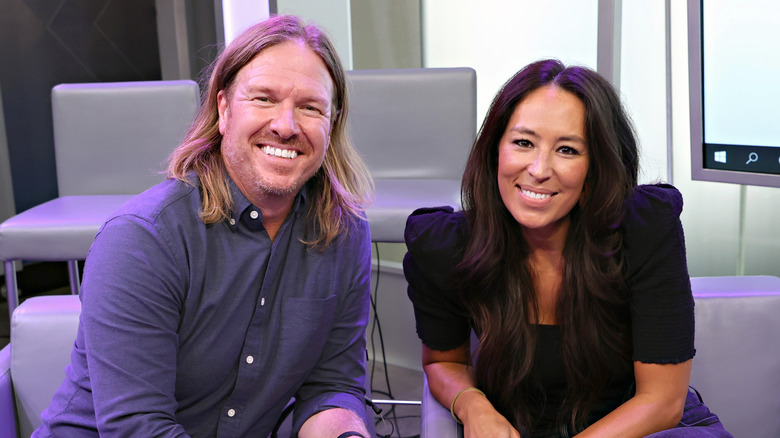 Cindy Ord/Getty Images
Chip and Joanna Gaines have made a name for themselves in all things property, and they often share their personal life with the world alongside the professional. 
Though Joanna was unsure about Chip at first due to him being very talkative, it turned out to be love at first sight. In fact, Joanna revealed she knew she'd say "I do" after her first date with Chip. The renovation experts officially married in May 2003, and they have completed a lot of projects together.
In addition to renovating properties and being general fixer-uppers, Chip and Joanna Gaines are also parents, and their children have inspired an adorable tradition. In an Instagram post shared not long after the birth of their child, Crew, Joanna shared the details of the sweet tradition. "Chip started a tradition with Drake where he wore the hospital bracelet until it fell off ... looks like the tradition lives on," she wrote alongside a sweet photo of Chip wearing Crew's hospital bracelet and baby Crew himself.
The couple have a large family
Five years on, we imagine the hospital bracelet has well and truly fallen off. However, you may not know that Chip Gaines carried on the above tradition for 13 years. In total, Joanna and Chip have five children. Their first, Drake, was born in 2005, and it was his birth that started the tradition of the hospital bracelet. Drake went to college in 2022, though it isn't known where he is studying.
Their first daughter, Ella Rose, followed soon after in late 2006. According to Joanna, Ella loves gardening alongside her mom and younger sister Emmie. A couple of years later in 2008, second son Duke was born. Duke likes to work alongside his dad. The pair's second daughter, named Emmie Kay, was born in 2010. Emmie takes care of the chickens on the farm, something that dad Chip is proud of her for. Lastly, Crew Gaines was born in 2018, making him the baby to his four elder siblings.
Overall, there is an eight-year age gap between the Gaines' second youngest child, Emmie, and Crew, and a large 13-year age gap between the eldest child, Drake, and youngest, Crew.
The family tries to spend as much time together as possible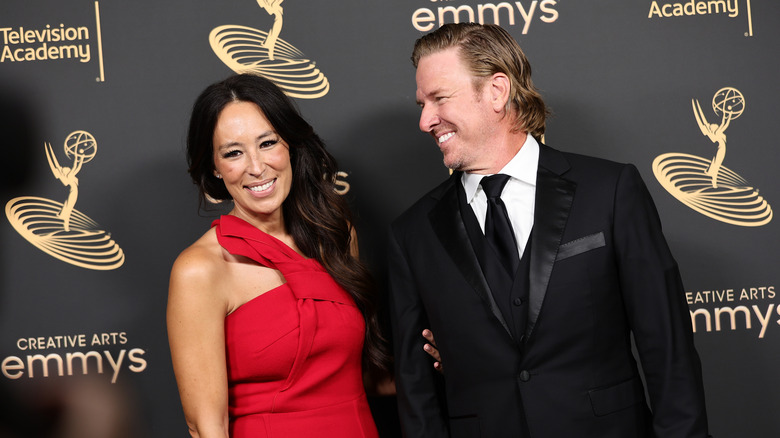 Matt Winkelmeyer/Getty Images
When it comes to parenting, Chip and Joanna Gaines have been open about the difficulties that it can bring.
Speaking to People, Chip shared that his childhood was always full of fun, which inspired him to want to become a fun parent. Nevertheless, as we're sure any parent can relate to, the reality is a little different. "And when I got to be a parent, I don't know what it is about it ... I feel a little bit like a drill sergeant sometimes. Some elements of my personality, as a parent, I'm not real crazy about," he shared.
On the other hand, Joanna revealed that she's a much more relaxed parent than she anticipated. In a 2016 blog post, she expressed the importance of spending time with her children even when she's exhausted, and she mentioned that she always tries to not bring her phone inside in order to give her children her full attention (via Insider). She also acknowledged how difficult it can be to find a work-life balance, writing, "As a mom, sometimes I have to change my mindset and remind myself what's important."