Why Does HGTV's Chase Looney Wear An Eyepatch On Fixer To Fabulous?
Home renovation shows have become extremely popular these days, largely because people love seeing an old run-down property get transformed into a beautiful dream home within a matter of minutes. HGTV's show "Fixer to Fabulous" is no exception, where old houses become "charming forever homes" with the help of the Marrs family. The truth about HGTV's Jenny and Dave Marrs' spectacular home is that it wasn't always so nice.
Interestingly, Dave and Jenny Marrs struggled to make ends meet before landing their HGTV series but now the married couple is thriving with their own renovation business in Bentonville, Arkansas. Jenny does most of the designing, and her style leans toward modern farmhouse while keeping those small-town vibes at the core. However, throughout the show's four seasons, fans have also seen eye-catching statement pieces and the homeowner's unique vision coming through. Since Dave is a handyman who builds many custom one-of-a-kind items for the homes he works on, the couple really seems to be the dream team.
However, not every project is a walk in the park and the couple got a scary reminder of this in 2017. Many viewers noticed that Dave's carpenter and close friend, Chase Looney, had both eyes in the pilot episode of "Fixer to Fabulous" but wore an eye patch in every episode after that. Unfortunately, this was due to a horrible firework accident that cost Looney his left eye.
Fourth of July took a dangerous turn
Distractify analyzed a blog post by Looney in which he explained what happened to his eye and finally gave fans the answers they desperately wanted. Apparently, the accident occurred on the Fourth of July, 2017, only a few days after filming the pilot episode of "Fixer to Fabulous."
Looney was rushing to set up a series of fireworks in order to beat an incoming rain storm. The fireworks were 3-inch mortars, which launch the part that blows up, and after beginning to light them all, things went awry. Looney believes the explosion from the fourth tube knocked the one next to it over. He was attempting to grab the fifth mortar, which he had just lit, when it exploded into his face and the world around him began to fade.
He described the scene as a movie, saying, "There was a deafening boom, a burst of light, and in the chaos of that moment everything around me slowed down." According to Yahoo, Looney was rushed into surgery for 8 hours but doctors were not able to save his eye. He was later informed that the scars on his face would never go away and the ability to move his left side was uncertain.
How this impacted Looney's time on screen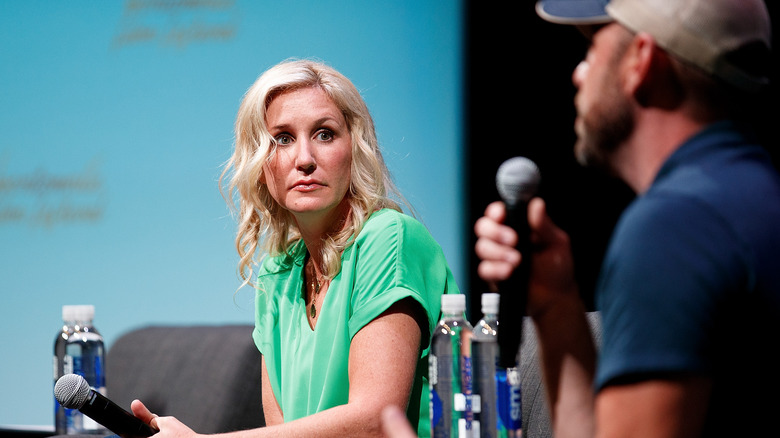 Justin Ford/Getty Images
After the chaos around such a serious accident began to subside, the truth about his new reality really started to set in. For Looney, this caused him to second guess his time on television and he even told Jenny and Dave Marrs that he didn't think he had "the face for TV anymore." Despite sharing tears, the friends also laughed together and joked that Looney's face was never made for TV to begin with. Sometimes it takes humor to cope with tragedy but it's also okay to mourn the life you used to have or the one you thought you'd live.
Yahoo Entertainment noted Jenny Marrs's Facebook post that discussed Looney's future with their show, explaining that his return to HGTV wasn't really optional. The designer went on to say that "he graciously came along for the ride" and they wouldn't have it any other way. However, after last appearing at the start of season 4, fans started wondering where he was.
Behind the scenes, Looney was separating from his wife and shared on Instagram that "life is different" but explained that his two kids will "always come first." In another photo, Looney showed a beautiful wooden farm table and described it as something he did "for a little show [he] used to be apart of." Of course, this insinuates that his time on "Fixer to Fabuous" has come to an end. However, it looks like he's still close with the Marrs family since Dave left a comment wishing him well.