Dave And Jenny Marrs Struggled To Make Ends Meet Before Landing Their HGTV Series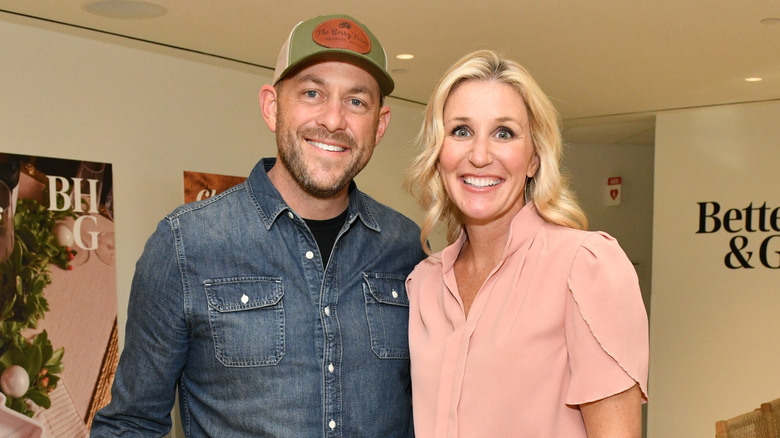 Craig Barritt/Getty Images
Oftentimes, making ends meet becomes a difficult journey filled with uncertainty and financial strain. Despite your best efforts, one may still find themselves grappling with the daily challenge of stretching very limited resources to cover basic needs and expenses. This situation can happen to people from all walks of life, even some celebrities have experienced this once in their lives. 
These financial difficulties can arise from different circumstances, but somehow, it can be a great motivation to strive harder in life. Financial struggles can serve as powerful catalysts for personal growth and resilience. Such was the case for Dave and Jenny Marrs prior to landing their HGTV series "Fixer to Fabulous." Their lives, two decades ago, were vastly different from their lives are like today. The couple found themselves surviving on a single steady income for years.
Rather than being upset with the impact of these challenges, the pair decided to develop a renewed sense of determination that helped them get to where they are today.  
Ten years worth of struggles for the Marrs couple
Dave and Jenny Marrs' journey to success was not without its fair share of challenges. In 2004, the couple decided to move in together after 18 months of long distance dating. They wanted to start their life together, but their pockets just weren't cooperating. Dave and Jenny decided to leave their corporate jobs from different states to be together in Bentonville, AR.
They were just renting a place and using a truck they bought off eBay. Soon, they started to wonder if they made the right choice. Dave told People, "We couldn't afford anything else. We quit our jobs. We had nothing." Dave was a contractor at the time, while Jenny was looking for a job.
The couple survived sharing a single car for years, but it was difficult. "Jenny would call me and say, 'Hey, I got an interview!' And so I'd have to leave the job site, go home, and she'd go to the interview." Eventually, she landed another office gig, and Dave jokingly added, "she became my sugar mama for six years." Jenny chimed in and said, "Ten years. Basically I kept a real job so that we had insurance, and someone to sign loans for the houses while he was building." Life might be hard, but they sure did love every minute together. She concluded, "We were so broke, but we had the most fun."
It was all worth it
With the couple's perseverance, they were able to rise from their difficulties. Dave and Jenny Marrs eventually found their way to success through renovations and custom home builds. Soon, Jenny Marrs quit her job and remodeled homes full time with her husband. As if their success wasn't enough, they landed the HGTV series "Fixer to Fabulous" that first aired in 2019. Although Dave and Jenny initially turned down a TV show offer, they were convinced to take a chance at doing it later. The show went on to become one of the most successful shows on HGTV.
While each project takes a special place in their heart, one project that can be considered most special is the renovation of the 1870s home they purchased. They turned the place into a bed and breakfast, which can be seen in one of the episodes of the fourth season of the show. Dave Marrs excitedly told Closer Weekly about it, he said, "We try to make these houses for these homeowners as a reflection of their family. And I feel like this house was, it's a reflection of Jenny and I and the things that we love. It's kind of become, you know, just like our baby, like a little project making a house exactly how we've always wanted to."
Their massive success helped them overcome their piling debts and even build wealth. According to Yahoo! Entertainment, Dave and Jenny's net worth is estimated to be around $2 to $5 million.