Keep Your Braids From Sagging With This Viral Hair Hack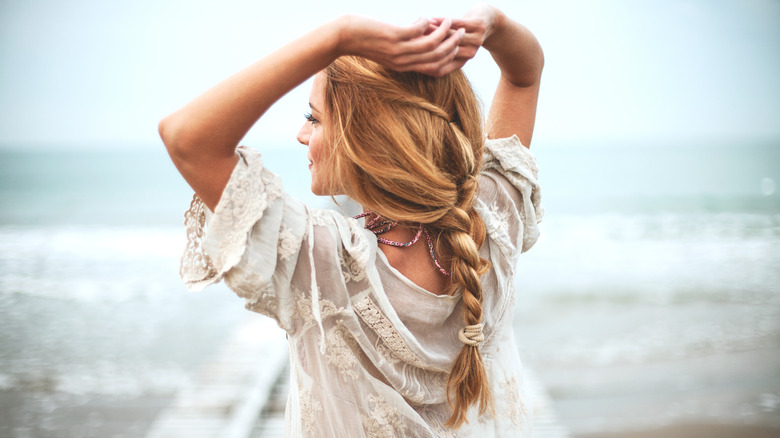 Jasmina007/Getty Images
It's so easy to pull your hair into a ponytail or style it with a clasp-held updo before stepping out. It only takes a few minutes and your hair is held in place for the rest of the day. After all, that's what you want right? 
But for those times when you want to put that extra something into a hairstyle, braids — the basic kind — are a great alternative. You know what we're talking about — the three-strand braid that is both simple and elegant. While it might not be the best braided hairstyle out there, it's a classic for a reason — it's easy to accomplish and can be used on all hair types. You section your hair into three chunks and weave the different parts together in a right-over-left motion (or left-over-right) until you get to the end, after which you fasten a hair tie or ribbon at the end of the braid. 
As beautiful as this timeless hairstyle looks, you have to admit that it tends to come undone real quick, especially if your day involves a bit of fast-paced walking (or even running). And even if it doesn't come undone, it sags, and sagging braids are, unfortunately, worse than no braids at all. With this viral hair hack on TikTok courtesy of Jamie Vandenberg, you won't need to worry about sagging braids anymore. With the help of a hair tie (used before you begin your braiding), you'll have a long-lasting braid throughout your day. Here's how it's done.
Begin by pulling one section of your hair into a ponytail
The hair hack is so simple and easy, it is no wonder that it's gone viral. You start the process, as TikTok influencer Vandenberg illustrates, by sectioning your hair (behind you) as you normally would into three sections.
If you like having a few tendrils framing your face, you're welcome to leave a few strands in the front before pulling the rest of your hair together for the braid. Once you have the three sections divided, let the left and the right sections rest as you gather all of the hair in the center and third section and pull it together with a hair tie of your choice. It might make sense to use a thin band and you'll see why in a minute (unless of course your hair is really thick and you need a bigger band to hold the hair firmly in place). Position this ponytail in the middle of your head or a little lower at the back. That way, you're giving your braid the nice lift you're looking for. 
Next, start by lifting the right section of your hair and overlapping it over the hair tie area (so you cover the tie) to your left and the left section of your hair over to your right. The video then shows Vandenberg continuing the braid by incorporating the middle portion and weaving the two sides underneath it as she would with a regular braid. 
A sagging braid can also be avoided by following a few simple rules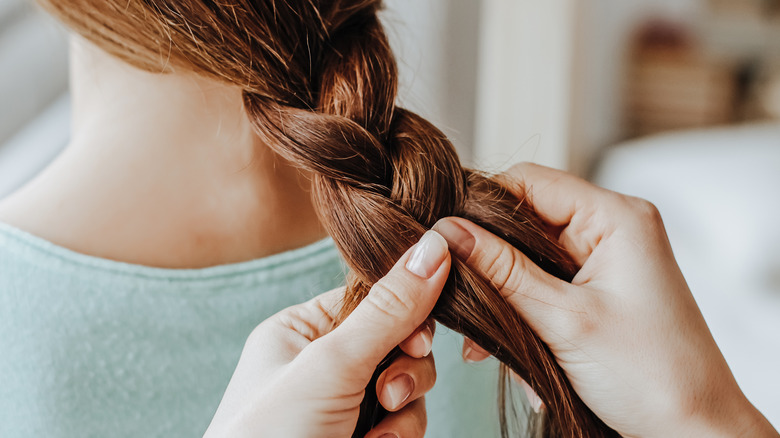 Daria Lukoiko/Shutterstock
While you might think that freshly washed (and dried) hair is the perfect precursor to a braid, you'll probably have better texture for braiding if your hair is on its second or third day post-shampoo. It makes for a firmer grip and this will also prevent sagging. You're also going to want to make sure that you brush any tangles out of your locks before you begin. This will make your braiding process a lot easier. 
You could use haircare products like dry shampoo, hairspray, or gel if you have particularly frizzy hair, but this is optional, especially if you don't like too much product in your hair. Once you have your hair prepped, it's important to divide the three sections as equally as you can. You want your braid to look uniform and neat and this step accomplishes that. 
Finally, make sure you keep a tight fit and consistent braiding style as you travel the length of your hair. We know how easy it is to get tired arms from having them raised throughout the braiding process, so if it helps, get your friend or family member to help. The same rules apply for French braids you do on your own at home. Sagging braids don't have to be a reality if you follow a few simple hacks and TikTok is a great place to learn them.