Meet Alyssa Milano's Husband, David Bugliari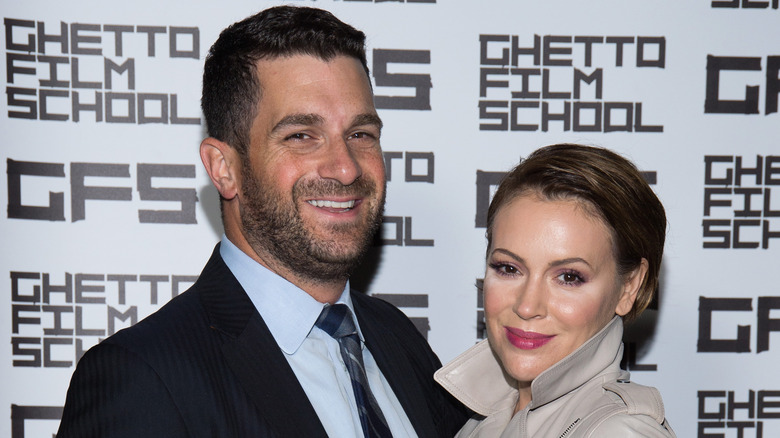 Tara Ziemba/Getty Images
Most fans know Alyssa Milano from the late '90s/early 2000s supernatural drama series "Charmed." She played the youngest sister, Phoebe Halliwell, and was one of the most likable characters on the hit show. Her husband, David Bugliari, is somewhat of a mystery to fans, however. What do we know about him? If not much, the "Brazen" actor at least talked a lot about him and their relationship in her book, "Sorry Not Sorry," which was published in 2021. 
"People often break out the old cliché, 'Love means never having to say you're sorry.' Boy, do I call bulls**t on that," she wrote in the memoir (via People). Milano and Bugliari met on the set of "Pathology," the 2008 crime thriller starring Milo Ventimiglia and Milano in the lead roles. In fact, it was through their mutual friend, Ventimiglia, that the two ultimately found each other. 
Talent agent Bugliari's management firm, Creative Artists Agency, was representing Ventimiglia. The actor recalled how he first found out about the romantic connection on the "Steve TV Show." Ventimiglia shared, "One day we were in a dressing room and she and I were just talking about the scene we were about to film. And then she says to me, 'Oh my god, I love Dave.' And I said, 'I love Dave.' And she goes, 'No Milo, I love Dave.' And I go, 'Does Dave know you love Dave?'" 
Alyssa Milano and David Bugliari got married in 2009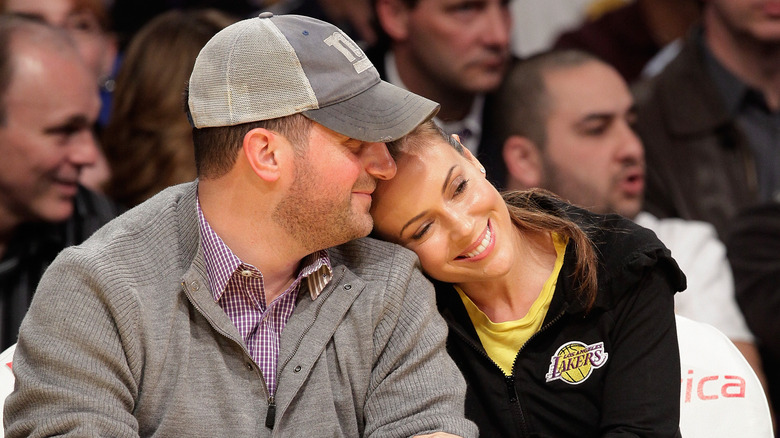 Noel Vasquez/Getty Images
Alyssa Milano was married to musician Cinjun Tate very briefly in 1999 but the "Charmed" star found love again when she met her current husband, David Bugliari, back in 2007. The couple tied the knot in 2009 and immediately began trying to get pregnant. "The very first time we had sex after 'pulling the goalie,' I got pregnant," Milano shared in her book. But the actor, sadly, miscarried. 
Fortunately, the couple went on to have two children, Milo and Elizabeth, together. Milo, as the name denotes, was named after their friend Milo Ventimiglia. Alyssa Milano, whose comments about childbirth had fans seeing red, has been vocal about various causes close to her heart, and the actor's tell-all book carries a similar tone. Miscarriage is also something she addresses in it. 
Referring to how Bugliari helped her process the pain of losing a child, Milano wrote, "As we sat in the parking lot of the medical building after that appointment sobbing and holding each other, he grabbed my face, looked into my eyes, and said, 'It's okay. We're going to have another baby. A better baby. That baby was a Red Sox fan.' And in that moment of some of the most desperate pain I have ever felt, I laughed."  
Divorce is not an option for Milano and Bugliari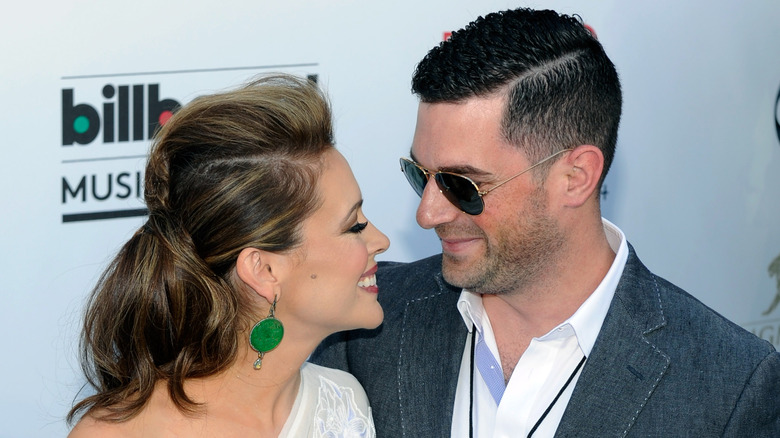 David Becker/Getty Images
Alyssa Milano emphatically doesn't believe in divorce, confirming on multiple occasions that it simply isn't an option for her and David Bugliari. While promoting the launch of her line of paper towels with Viva, Milano told Entertainment Tonight, "I'm not splitting. He is so stuck with me. I don't care if we're miserable. He's stuck with me." Acknowledging that marriage is hard work, the "Who's the Boss?" star confirmed, "There's no one I'd rather do the work with." 
Of course, Milano isn't the only one who describes marriage as work. In fact, therapists and marriage counselors often talk about how love is about working through the good and the bad stuff together. Milano and Bugliari, who had just celebrated six years of marriage together at the time, apparently find strength in humor too. 
As she told ET, "The most important thing is to laugh. If you can laugh with someone, you can get through anything. And it doesn't matter what you're feeling or what hardships you're going through — whether that be personal hardships or relationship hardships — if you can look at each other and find humor in it, that laughter binds you for life."