Alyssa Milano's Comments About Childbirth Have Fans Seeing Red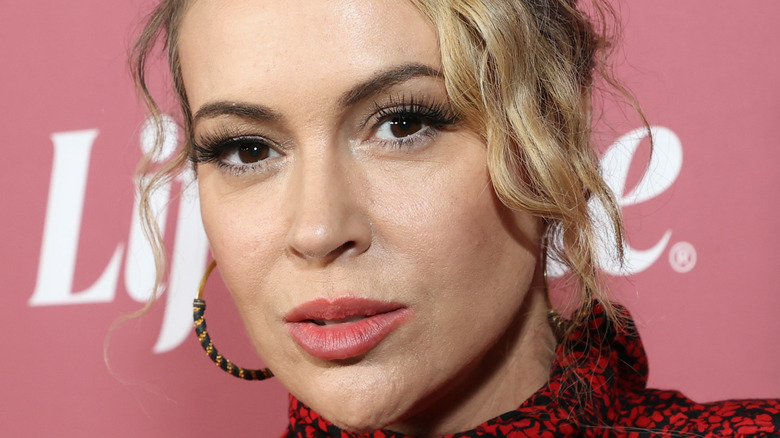 Emma Mcintyre/Getty Images
Alyssa Milano, known for her roles on "Who's the Boss," "Charmed," and "Melrose Place" (via IMDb), is causing quite a stir among social media users after her comments comparing childbirth to sexual assault started making the rounds. During an appearance on People's "Me Becoming Mom" podcast, the former "My Name Is Earl" star opened up about her birthing experience, and some of the comments she made about it are actually pretty jaw-dropping.
"I remembered at one point [during childbirth] really not enjoying the fact that lots of people had access to my vagina," Milano explained to host, Zoë Ruderman. "And thinking to myself, 'Why does — I don't like this. Why does it feel so familiar? I've never had a baby before. Why does this invasive feeling feel so familiar?' That was just a fleeting moment, a tick in time, but I didn't forget about it."
"After going through therapy after giving birth to Milo and remembering that one moment of feeling like I was being held down and had things being done to me that I didn't want, to me, was very reminiscent of being sexually assaulted," Milano continued, adding that giving birth to her second child — she also shares Elizabella Dylan with husband David Bugliari — "triggered all these memories" she thought she had dealt with.
What social media users are saying about Alyssa Milano's childbirth comparison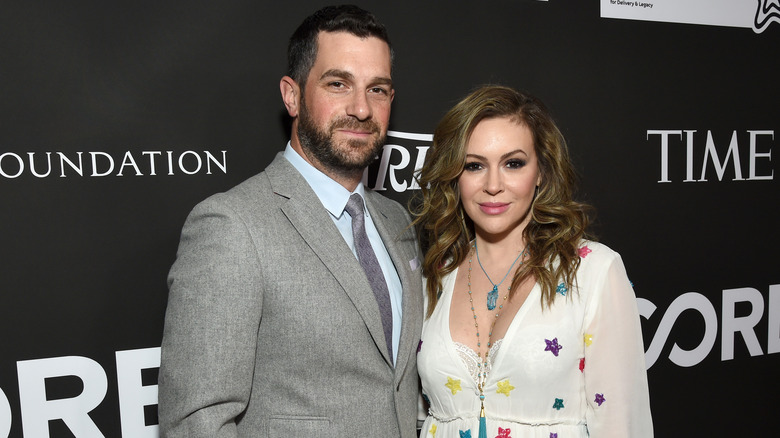 Michael Kovac/Getty Images
Alyssa Milano doubled down on her feelings about childbirth, telling "Me Becoming Mom" host Zoë Ruderman that the experience truly reminded her of being sexually assaulted, and that she could only imagine that other women felt the same. "I gotta think that because it felt that way for me, it must've felt that way for other women," she continued, adding that she wonders how much of her postpartum anxiety was due to her feeling like she "wasn't in control."
Many social media users did not take Milano's comments comparing childbirth to sexual assault lightly, with one Twitter user writing, "Childbirth is a natural part of life and the doctors/nurses were only in that area to ensure that the child comes into the world alive and safely," while another agreed, adding, "That's not a good comparison at all. Who says that s***!?"
However, not all people went after Milano for her comments, and a few people agreed with the 48-year-old actress, like one Twitter user who wrote, "Yes, childbirth can turn into a medical emergency very quickly. Delivery can be a medically traumatic experience, just like dental procedures, biopsies, drain removals, insertion of a chest tube. It can all be very fast, violent and painful."
Alyssa Milano has been open about her trauma before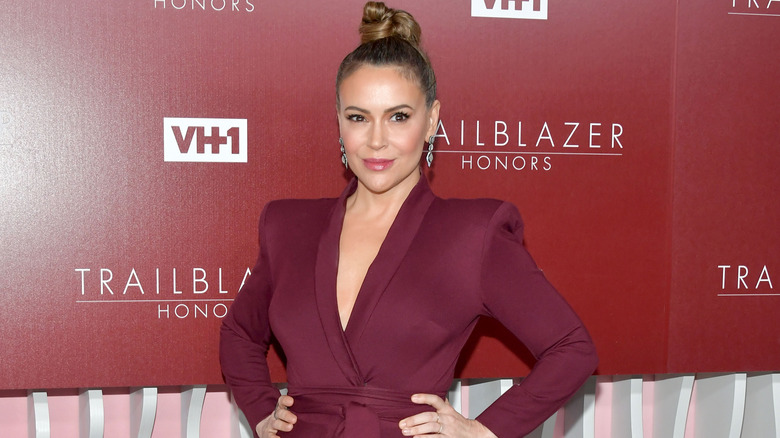 Amy Sussman/Getty Images
This isn't the first time Alyssa Milano has been open about the trauma she has experienced in her life. In 2017, the "Charmed" actress helped start the #MeToo movement after writing a tweet that read, "If you've been sexually harassed or assaulted write 'me too' as a reply to this tweet." On an episode of her "Sorry Not Sorry" podcast, Milano detailed being sexually assaulted by an older unnamed male co-star while filming an intimate scene, saying that he "took advantage of a moment of complete vulnerability [and] literal exposure," adding that, "He violated me on a set with cameras rolling" (via ABC News).
During an appearance on "The View," Milano opened up about sharing her story on her podcast, telling the panel of co-hosts why she decided to speak her truth nearly 25 years after the assault had happened. "I think it's important for us in positions where we can speak on a platform to show that coming to terms with this and discussing these issues of sexual assault are very hard and they take a lot of years," she explained, adding that hearing women's stories from around the world inspired her to speak out. "So much goes into the thought of admitting this, not only to the world, but to yourself. I have never really been ready for that where I'm ready to go inside my own soul and deal with my own sexual assault," she shared. 
If you or anyone you know has been a victim of sexual assault, help is available. Visit the Rape, Abuse & Incest National Network website or contact RAINN's National Helpline at 1-800-656-HOPE (4673).