Kim Kardashian Has Gotten More Vocal About Her Cosmetic Procedures Over The Years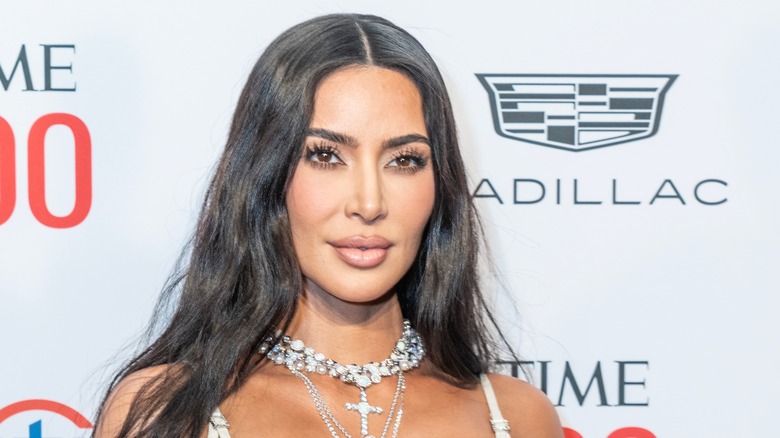 lev radin/Shutterstock
Out of all the Kardashians, Kim Kardashian has been the one willing to be relatively open about her cosmetic procedures. The business mogul has gone to extreme lengths for fashion over the years, and it appears that her quest for youth is no different.
Speaking to Allure, the middle Kardashian sister openly stated that she "would still do anything to look and feel youthful." However, she is careful about not going too far. "That doesn't mean that I don't know the difference to that to an unhealthy level of feeling like I can't age," she added. "I'm 41. I always want to look appropriate. There does come a point when you've taken it too far — overfilled, too tight, too much cosmetic work. There's nothing worse." 
Still, there's one place you may not have known Kardashian to have had work done, and that's Botox in her neck. In a clip that was posted on Khloe Kardashian's Snapchat, Kim is in a recording studio alongside her sisters. "We're recording an album and they're making us do singing lessons," she can be seen to say. The vocal coach then tells Kardashian that she needs to use her neck muscles to sing, to which she responds, "Half of mine are probably Botoxed so I can't," before laughing along with the vocal coach.
The reality TV star has been open about her fear of aging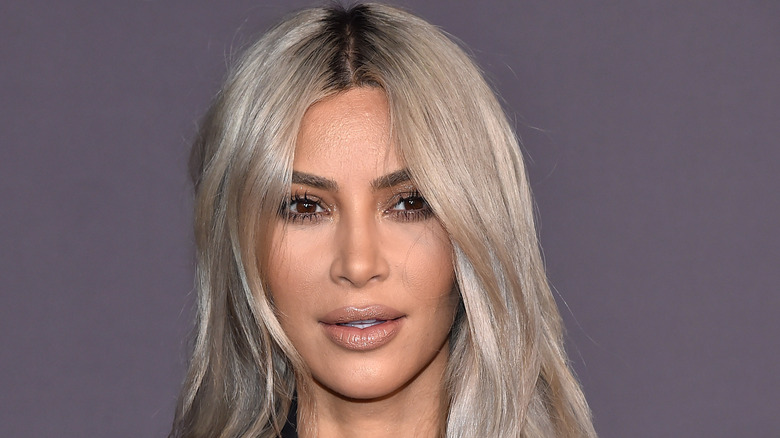 DFree/Shutterstock
Alongside Botox, Kim Kardashian has also undergone other procedures to try and stop aging in her neck area. In 2019, she shared a clip of her at her go-to skincare spot, the Skin Thesis clinic in West Hollywood. In the Instagram story, Kardashian showed herself trying out the 4-D Tightening Laser, which supposedly stimulates collagen production for a plumper look in your neck area.
Perhaps surprisingly, considering how cagey the Kardashian family can be about their appearance, Kim has always been relatively candid about how much she relies on her appearance to feel good about herself. "I care. I really, genuinely care about looking good. I probably care more than 90 percent of the people on this planet," she told Allure.
In addition to sharing that she has Botox in-between her eyebrows (the Allure interview took place before Kardashian got Botox in her neck), the "Skims" founder has admitted to doing laser treatments as part of her anti-aging maintenance routine. However, she has denied having filler in her cheeks and lips and getting a nose job, citing pregnancy as the reason for her face changing.
The Kardashians have come under fire for denying procedures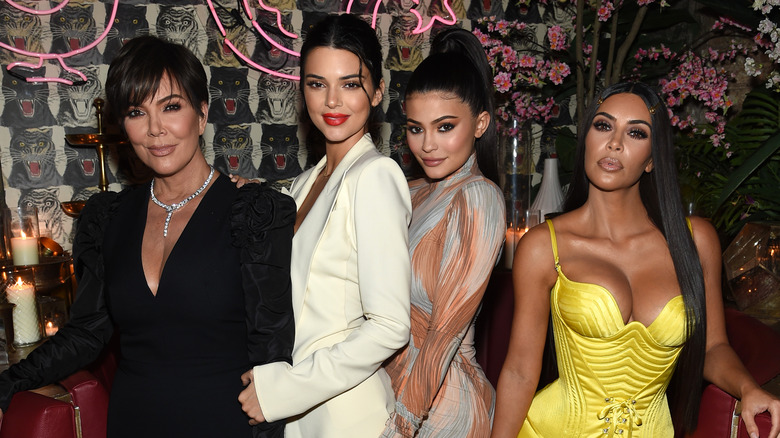 Dimitrios Kambouris/Getty Images
As for the rest of the Kardashian family, admitting to cosmetic procedures is hit-and-miss. Eldest sister Kourtney Kardashian supposedly admitted to getting breast implants when she was 21 (no info as to whether or not she still has them) but has denied getting other procedures like a Brazilian butt lift (aka a BBL) or any injections in general. 
Meanwhile, Khloe Kardashian has been open about getting a nose job and injections, though not Botox. As for anything else, Khloe said that she felt "offended" by people's assumptions about her face on a 2022 episode of the "Not Skinny But Not Fat" podcast. 
As for the Jenner sisters, in a post on her now-deleted app, Kendall Jenner denied having any cosmetic procedures or surgery at all and expressed her frustration at people speculating that her face has changed. Finally, youngest Kardashian sister Kylie Jenner admitted to getting fillers in 2019. She also seemed to hint at more in a scene from "The Kardashians," telling friend Stassie Karanikolaou, "I wish I never touched anything to begin with." In another scene, Jenner tells her sisters, "I don't want my daughter to do the things I did," seemingly wishing that Stormi won't face the same pressure to change her appearance.