Supermodel Christie Brinkley Says Donald Trump Flirted With Her While He Was Married To Ivana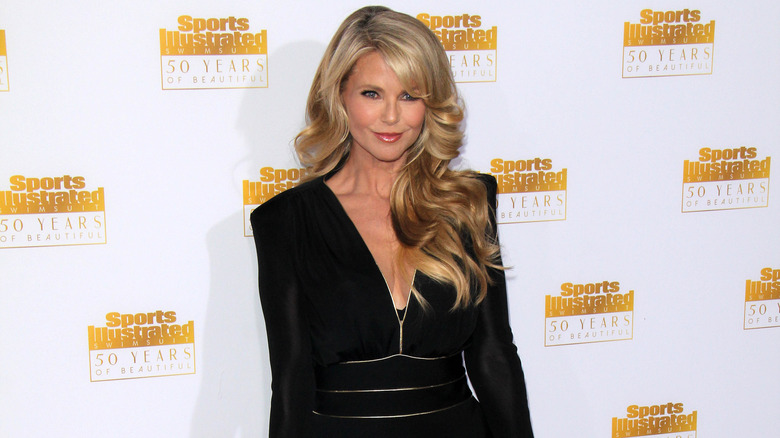 Kathy Hutchins/Shutterstock
Some things in life are just as American as apple pie: baseball, hotdogs, fireworks on the Fourth of July, and Donald Trump and infidelity. The former president's long history with cheating is a part of his jaded past with misogyny. Known as a frequent philanderer, Trump cheated on his first two wives, Ivana Trump and Marla Maples. From what there is to know about Melania and Donald Trump's marriage, he's reportedly been unfaithful to her, as well.
During his marriage to Ivana, Donald took Maples on as a mistress. While he ended up turning his mistress into his wife, he eventually left her. In the past, his adultery has landed him in deep trouble. After marrying the current Mrs. Trump in 2005, adult film star Stormy Daniels alleged that he slept with her in 2006. According to Daniels, he gave her $130,000 as hush money before the 2016 election, which caused Trump legal woes.
He's still married to Melania — although he reportedly tried to wife up another famous model back in the day. Christie Brinkley said that the former president also flirted with her during his marriage to Ivana.
What did Trump say to Christie Brinkley?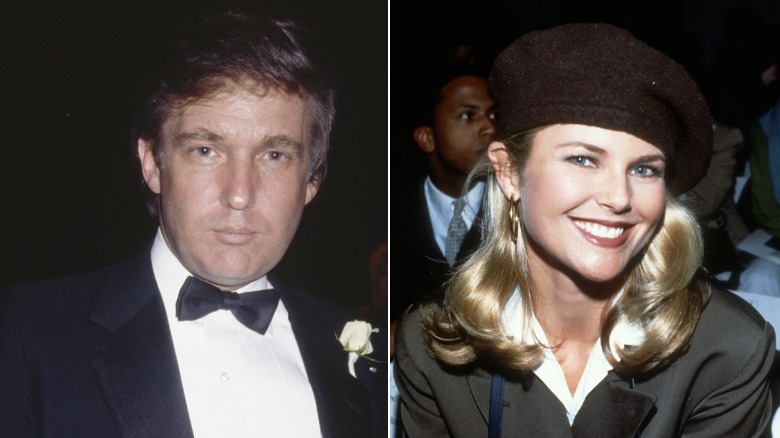 Tim Boxer & Images Press/Getty
As a businessman turned president, it makes sense that Trump has rubbed shoulders (and more) with a myriad of top models. From his own wife to the teen talent of his forgotten modeling agency, he's never far away from beautiful women. Yet, even as a married man, it never stopped him from pursuing others.
In an interview with Porter Magazine, Christie Brinkley talks about how the former president tried to fly her out when he was still together with Ivana, the mother of his oldest three children. "One day I was at the Plaza Hotel. My phone rings and this guy goes, 'Hey, Christie, it's The Donald.' I say, 'Hi, Billy,' because I was dating Billy Joel at the time." Knowing she was headed to Aspen like him, Trump offers her a ride on his private jet.
Brinkley says she was slightly taken aback. "I reply 'Thank you, but I have already arranged my flights.' 'So cancel them!' was his response and I say, 'No, thank you. I'm going with friends.' I knew he was married, and there he was asking me to go on his plane, he was kind of flirty about it. He was out chasing skirts." Although Trump didn't successfully bring Brinkley along for the ride, he found another woman to rendezvous with — his second wife, Marla Maples.
Trump has never shied away from womanizing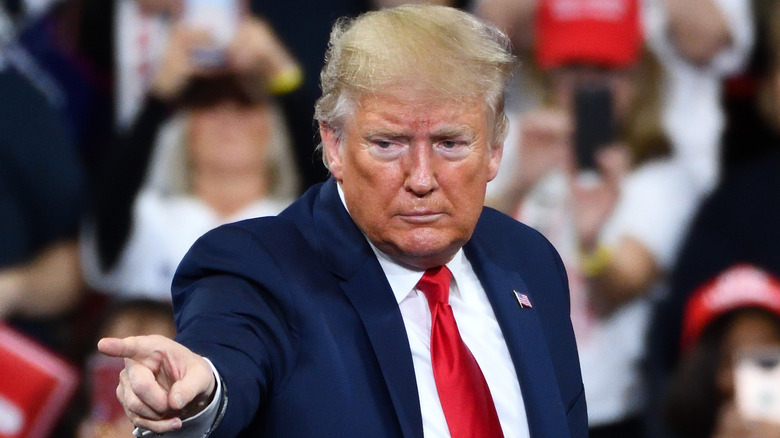 Evan El-Amin/Shutterstock
Despite the fact that Trump has been married on and off since 1977, this hasn't prevented him from having affairs. On that Aspen vacation that he wanted to fly Brinkley out to, it turns out that Ivana actually tagged along. There, Maples reportedly went up to Ivana, telling her, "I love Donald. Do you?"
The two ended up sleeping together shortly after, with Maples heading to the New York Post to call the real estate mogul the "best sex I ever had," a quote that made the cover of the paper. Still married to Ivana, Trump promoted the story, calling tabloids to keep printing his name.
Given his brazen behavior, his lack of shame isn't surprising. In the 1991 book "Trump, The Greatest Show on Earth: The Deals, The Downfall, The Reinvention," reporter Wayne Barrett said that Trump wanted his female staffers to pose nude in Playboy Magazine. While the plan didn't move forward, he busied himself with alleged sexual misconduct. At the time of publication, 26 women have accused Trump of sexual misconduct, including Ivana and a few minors.