Sandra Bullock Isn't Rushing To Marry Longtime Partner Bryan Randall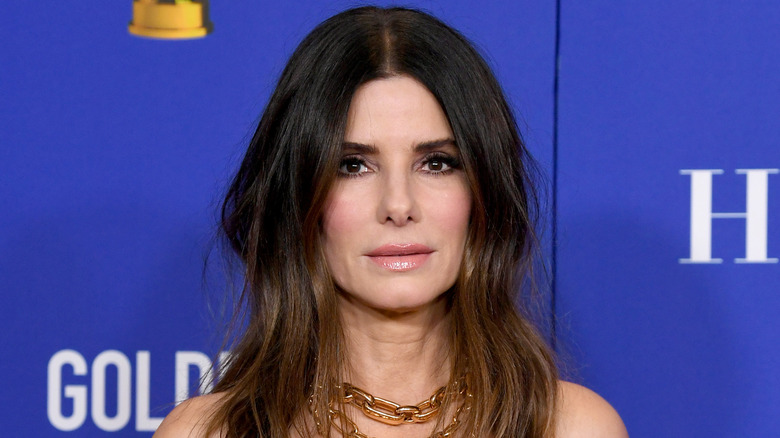 Kevin Winter/Getty Images
Sandra Bullock has become one of the most beloved actors in Hollywood over the years. The Oscar winner has been dating her current partner, Bryan Randall, for many years. However, she's in no hurry to walk down the aisle with him. Throughout her time in the spotlight, Bullock has been in several high-profile relationships. In the early 1990s, she met her "Love Potion No. 9" co-star Tate Donovan, and the two dated for three years. They were even engaged before their split. Bullock went on to date other famous men, such as former NFL player Troy Aikman, Matthew McConaughey, and Ryan Gosling. She was also rumored to have a relationship with Marvel fan-favorite Chris Evans.
In the early 2000s, Bullock met West Coast Choppers founder Jesse James on the set of his TV show "Monster Garage." The pair began dating and eventually got married in 2005. The duo appeared to be happy, and James was there when Bullock took home the Academy Award for her role in "The Blindside." However, soon after, their marriage fell apart when James was accused of cheating on Bullock. The pair divorced in 2010, and James later admitted to his infidelity.
"Yeah, I did cheat on my wife, yeah," James told DailyMail.com in 2017. "I stood up and took accountability for it and apologized. And that's [the] end of [the] story." Since that time, Bullock appears to have changed her stance on marriage.
Sandra Bullock reveals her thoughts about marriage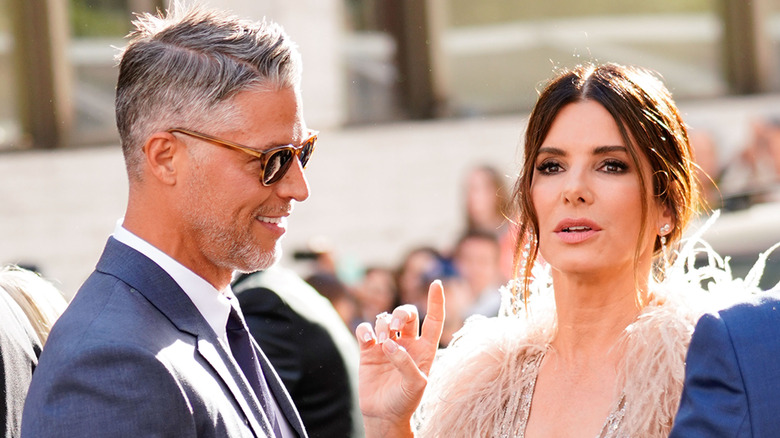 Jackson Lee/Getty Images
After Sandra Bullock's divorce from Jesse James, the actor's life changed in a big way. She adopted two children, Louis and Laila, and in 2015, she began dating photographer Bryan Randall. The couple has seemingly been side by side ever since. In 2016, rumors began to swirl that Bullock and Randall were engaged, but the actor's rep was quick to clear up the speculation, revealing that the pair wasn't planning a wedding, adding that they were "pretty much married" already, and calling them "soulmates," per E! News.
In 2020, the "Lake House" star revealed that she doesn't see herself getting married again in the future. The following year, Bullock appeared on "Red Table Talk" to share her thoughts about being a mother and a partner to Randall. She even revealed that she doesn't believe a piece of paper is needed to have a happy and healthy relationship. "I am someone who went through the divorce process. I found the love of my life. We share two beautiful children — three children, his older daughter. It's the best thing ever," she said (via People). "I don't wanna say do it like I do it, but I don't need a paper to be a devoted partner and devoted mother."
As for her family dynamic, Bullock says that her home life is much like that of the average parent.
Sandra Bullock isn't the only celebrity to steer clear of marriage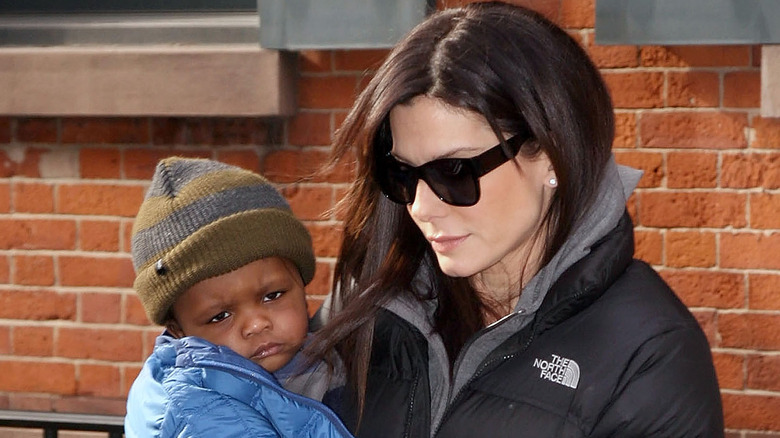 Disciullo/bauer-griffin/Getty Images
Although some people may not classify Sandra Bullock's family as traditional, she would disagree. The "Miss Congeniality" star says that she feels like she has a very normal home life, with all of the chaos that goes along with raising children. "I have no idea what a 'traditional family' looks like anymore," Bullock told People in 2020. "If a traditional home is one that is filled with lots of love and poop jokes, no sleep, schedule books filled with more kids' social events than adults', and lots of yelling over who touched who first ... then I have a very traditional family."
Bullock's traditional family may not include marriage to partner Bryan Randall. However, she's not the only Hollywood star to choose a long-term commitment without marriage. Celebrities such as Oprah Winfrey and Stedman Graham, Kurt Russell and Goldie Hawn, Susan Sarandon and Tim Robbins, Charlize Theron, Sarah Silverman, Jon Hamm, Kristin Davis, and Winona Ryder have opted to steer clear of marriage in their relationships and seemingly have no regrets about it.