Why Jackie Kennedy Supposedly Refused To Be Photographed With Madonna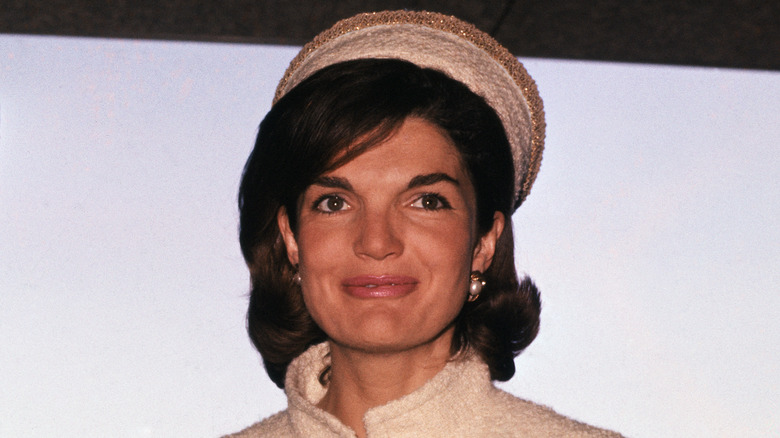 Bettmann/Getty Images
We may receive a commission on purchases made from links.
In 1988, attorney and publisher John F. Kennedy Jr. dated Madonna, the queen of pop, for six months. Jacqueline Kennedy Onassis, JFK Jr.'s mom and widow of President John F. Kennedy, was reportedly not too enthusiastic about her son's relationship with the music idol. Author Christopher Andersen believes Jackie may have been dismayed because she wanted JFK Jr. to marry his then-girlfriend Christina Haag and that Madonna reminded her of Marilyn Monroe. "One unwelcome reminder of JFK's torrid affair with Marilyn — the affair that most troubled Jackie — arrived on her doorstep in the form of another blond bombshell by the name of Madonna," Andersen wrote in 2014 in his book, "The Good Son: JFK Jr. and the Mother He Loved."
Jackie wasn't the only one to make this comparison. In 1985, Madonna wore a copy of Monroe's iconic pink outfit and recreated a sequence from "Gentlemen Prefer Blondes" in her "Material Girl" music video. The singer also appeared as Monroe in an SNL sketch parodying the movie star's alleged affair with JFK. 
While dating JFK Jr., Madonna was on Broadway in David Mamet's play, "Speed the Plow." Onassis went with JFK Jr. to a performance, although she went incognito in a red wig. "She thought Madonna was good in the show," author J. Randy Taraborrelli told People, adding that, however, Onassis would not participate in a photo op with the singer. "She didn't want to validate the relationship that John had with Madonna by being photographed." According to Taraborrelli in his book "Jackie: Public, Private, Secret," Onassis had a few other issues with the singer, including her marital status.
Jackie and Madonna had very different personalities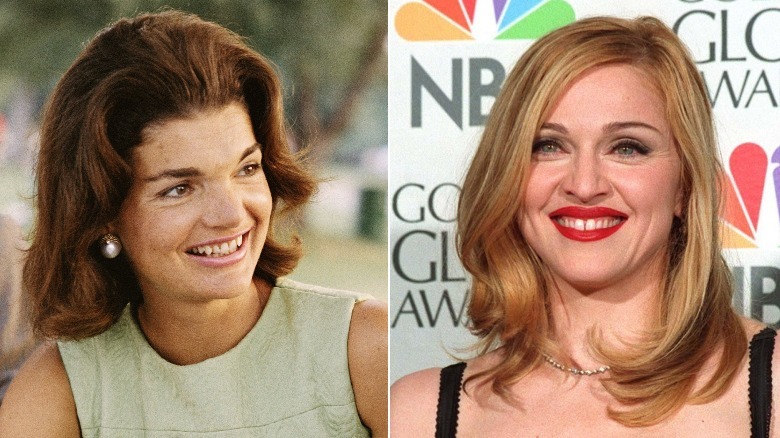 Featureflash Photo Agency/Shutterstock & Michael Ochs Archives/Getty Images
When envisioning her son John F. Kennedy Jr.'s future, Jacqueline Kennedy Onassis didn't think of someone like Madonna. "Jackie was very consumed with getting him on the right path," singer Carly Simon explained to People. "She was horrified by Madonna." JFK Jr., on the other hand, was smitten by the music icon. "You could see it in his eyes that first time they met," Madonna's friend Erika Belle said, according to author Christopher Andersen in his book. "John was totally in awe."
Despite the continual links between Madonna and Marilyn Monroe's physical appearance, author J. Randy Taraborrelli felt like Jackie's dislike of Madonna was more about the singer's life choices. "[Jackie's] problem with [Madonna] was that she was married," Taraborrelli informed People. During her romance with JFK Jr., Madonna was separated from actor Sean Penn. In addition, Jackie was an introvert baffled by Madonna's extroverted personality. "Jackie had spent her entire celebrity life avoiding paparazzi, whereas Madonna would court paparazzi. And Jackie just couldn't understand any of that," the author explained. Jackie was further dismayed by Madonna's casual use of sacred Catholic images.    
Personality also played a role in ending Madonna and JFK Jr.'s relationship. Like Penn, JFK Jr. had difficulty managing anger. "Madonna said that he would get up in her face, maybe an inch away, and scream at her at the top of his lungs when they were in a fight," Taraborrelli described in "The Kennedy Heirs."
JFK Jr. once asked Madonna to dress up like Jackie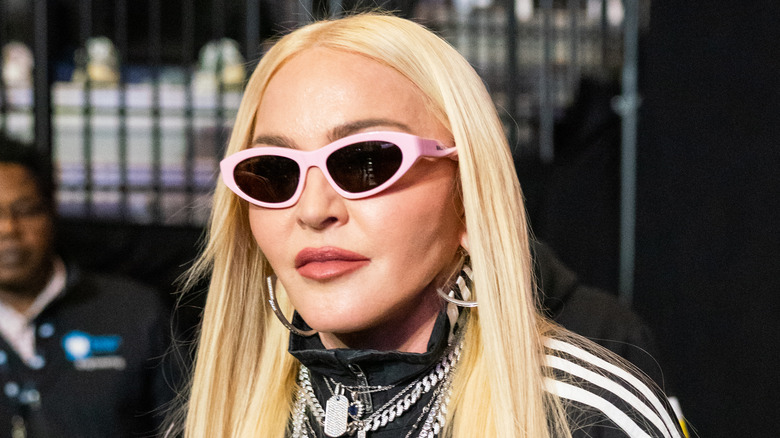 Cassy Athena/Getty Images
During the mid-1990s, John F. Kennedy Jr. tried to reconnect with Madonna to solicit the singer's help with a cover for his magazine "George." JFK Jr.'s aim was to do a cover about Jacqueline Kennedy Onassis with a twist. As Onassis had died in 1994, the idea was to get Madonna to impersonate the former first lady. JFK Jr. faxed his request to the singer. Madonna, however, had no desire to impersonate her old flame's mother. "Dear Johnny Boy," she wrote back via fax, per The Hollywood Reporter, "thanks for asking me to be your mother, but I'm afraid I could never do her justice. My eyebrows aren't thick enough, for one."
In a pre-email world, Madonna and JFK Jr. had a history of faxing notes back and forth during their dating days, since the two were often apart due to career commitments. Witty repartee was part of their mutual attraction. "I think she gave it right back to him and she teased him and she was irreverent and he liked it," a friend of JFK Jr. explained to People. However, this friend doesn't believe that JFK Jr. and Madonna's connection was that strong. "They saw each other a few times and they had a flirty and friendly banter but it wasn't a 'relationship,'" they asserted. In that case, perhaps Jackie didn't have anything to fear about her son's association with the singer.