The Reason Kelly Ripa And Mark Consuelos Don't Celebrate Valentine's Day Together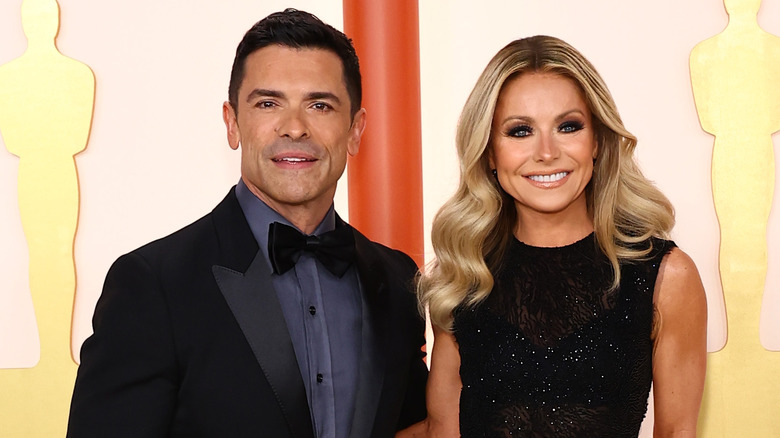 Arturo Holmes/Getty Images
When Ryan Seacrest exited as host of "Live! with Kelly and Ryan" and Ripa's husband, Mark Consuelos was named as her new co-host, viewers were albeit guaranteed they would learn more about the couple's everyday life than they had already previously known. True to form, they begin divulging details of their personal life.
Kelly and Mark seem to be doing a good job of getting along on the show though initial reactions by fans were less than complimentary, according to Page Six. Many felt that Ripa interrupted Consuelos while also displaying too much affection for him. Others felt that listening to them speak was simply boring. Either way, it's a show many tune into.
Yet even before Consuelos stepped into Seacrest's shoes, Ripa shared personal stories about her and her husband with her then-co-host Seacrest. One show opener found her chatting about why she and Mark don't celebrate Valentine's Day anymore. Here's what she shared.
Why Kelly Ripa and Mark Consuelos had no plans for the day
In February 2022, Kelly Ripa was still hosting Live! With Ryan Seacrest when the subject of the upcoming Valentine's holiday was brought up. Ripa said she and Mark had no special plans whatsoever for Valentine's Day, as per People Magazine. "Nothing. Literally nothing," said Ripa laughing. "We've been together for almost 30 years so we've done everything a person could possibly do."
Ripa says that once they had kids, the Valentine's Day festivities turned from couple centered to family centered. Despite the current lack of celebration, the couple still shares sweet photos of each other and their children on Instagram to commemorate the day.
However, there have evidently been some very romantic gestures on Mark's part. Back in 2020, Ripa and Seacrest were hosting another Valentine's Day show where the talk turned to good memories they had in the past on Valentine's Day, and Ripa shared a very special and romantic moment between her and Mark.
Kelly Ripa recalls Mark's special gift in Paris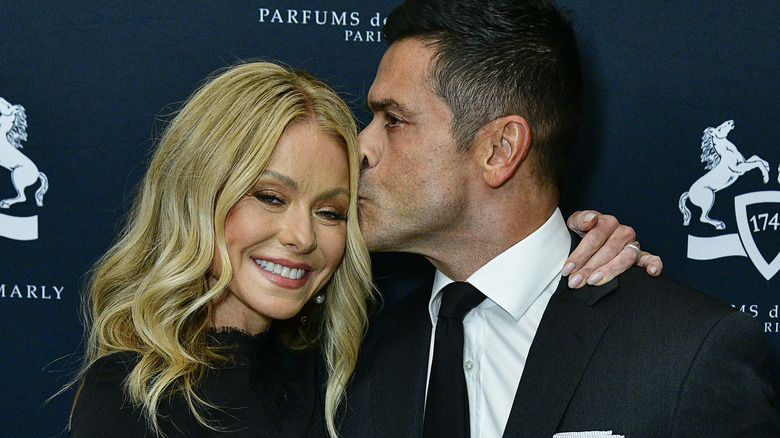 Eugene Gologursky/Getty Images
Kelly Ripa told Ryan Seacrest that many years ago, she and her husband, Mark Consuelos were vacationing in Paris on Valentine's Day when she encountered a very romantic moment with him, via Live with Kelly and Mark. Ripa said she and Mark were mindlessly shopping when she noticed a very beautiful vintage necklace. She admired it out loud, and then they continued with their day. "I thought it was very cool, and I said, 'Oh, that's an amazing necklace.'"
Ripa said she really didn't think too much about the necklace again, and she and Mark spent the rest of the day together, never leaving each other's side. She said that when they finally got back to the hotel, she received quite a surprise.
"I get back to the hotel room, and the necklace is on my pillow," Ripa said. "I'm not materialistic at all, but it was the thought process behind it that made it so nice." The audience gasped at Mark's thoughtfulness.