Whatever Happened To Andrea Barber?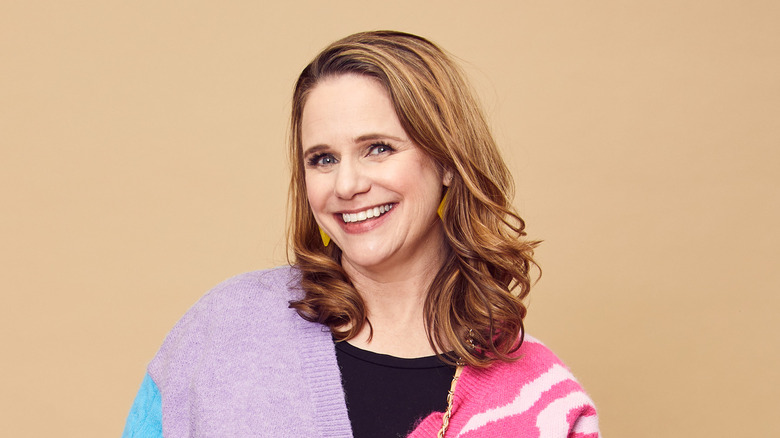 Emily Assiran/Getty Images
In 1987, a little show about a widower raising his three daughters with the help of his friend and brother-in-law premiered on ABC. While it took a little time to build momentum, by Season 2, "Full House" was a bona fide hit. Between eight seasons of the original show and five more seasons of its reboot, "Fuller House," there's plenty of Tannerito shenanigans to go around — and the eldest Tanner daughter's BFF, Kimmy Gibbler, has always joined in on the family fun.
However, when the unexpected cancellation of the original series was announced in 1995, the actor who played the Tanners' next-door neighbor took a step away from Hollywood. After spending nearly a decade on "Full House," she was ready to move on from acting and eager to pursue a more conventional road. "I had a great experience as a child. I love the craft, I just don't really like the business," Andrea Barber told People in 2016. "The marketing of yourself, going out on auditions and the unpredictability of the profession is really hard on my family life. It's just a really tough business."
Here's what Barber has been up to since the original "Full House" came to an end.
The cancellation of Full House was a big shock for the cast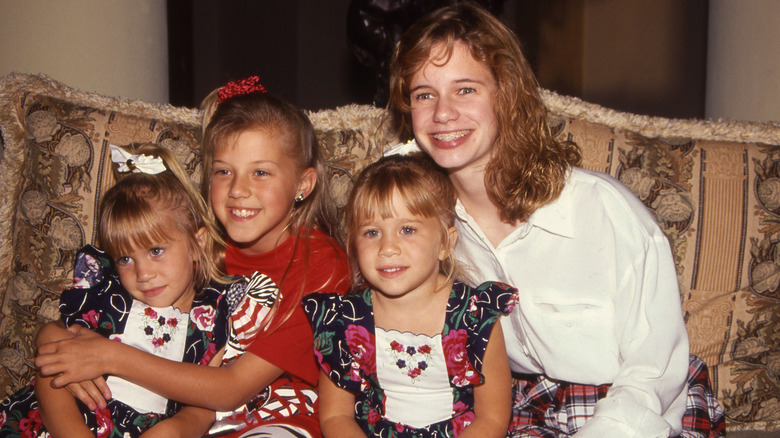 Vicki L. Miller/Shutterstock
When it was announced that "Full House" would finally come to a close after eight seasons, no one was more shocked than the cast. "We didn't really know until three weeks before the end of Season 8 that 'Full House' was being canceled," Andrea Barber recalled to Decider in 2020. "There was a lot of crying that last day and the last two weeks, in particular."
Since the cancellation of the beloved TV series was fairly abrupt, the writers scrambled to put together an ending. "So that's why you get the Michelle falls off a horse and gets amnesia storyline, because there was no time to write to the finale," Barber explained.
Barber had spent practically her entire childhood on the set of the hit series, and the ending to her acting adventure didn't come with much closure at all. In 1995, the young actor said adios to the Tanneritos and show business once and for all — or so she thought. 
After Full House, she traded casting calls for the classroom
After "Full House" was canceled, Andrea Barber had no interest in getting back to the Hollywood grind. "The auditions were always the worst part for me as a child actor," she told People in 2017. "So I thought, 'nope, I've found new passions in college.'"
In 1995, Barber traded in her casting calls for the classroom, putting all of her energy into her schoolwork at Whittier College. After she earned her English degree, she got her master's in women's studies at University of York, England. At one point, she even interned at the United Nations. 
By all accounts, Barber did not agonize over the decision to leave behind her acting career for higher education.  "I was done, I was just like, 'this was fun as a child, but I'm done,'" she recalled on an episode of her late "Full House" co-star's podcast "Bob Saget's Here For You." "That's the point of college, I think: to learn different things and find new passions."
The Full House alum got married and became a stay-at-home mom
After working in Whittier College's Office of International Programs for some time, Andrea Barber established a quiet, normal life that isn't necessarily common in Hollywood. "I got married, I had kids, I stayed home with those kids, I was a stay-at-home mom when they were little babies," Barber shared on Bob Saget's podcast "Bob Saget's Here For You." "I wasn't planning on returning to the business."
In fact, being out of the public eye helped the stay-at-home mom cope with her painful divorce in 2014. While many other actors'  private lives are tabloid fodder, Barber was able to keep the end of her 12-year-long marriage out of it and heal without the rest of the world watching. "[Divorce] is just a very ugly, ugly process that takes years to heal from that and to get to a point where you just aren't angry anymore," Barber said.
Today, she and her ex-husband are in a much better place. Not only are they able to co-parent their two children, but they also occasionally care for the other's pets.
Andrea Barber became a marathon runner
Around the same time Andrea Barber and her husband were going through their separation, the actor found a new love: running. "It was a coincidence I started running right around that the time that my marriage was falling apart, and it was the single best thing I could have done to get through my divorce," she shared with People in 2016. "I just needed that time to be alone and to get out whatever I was feeling, to just pound it out through the pavement."
Yet, what began as an easy way to bond with friends and move past her divorce has since evolved into a passion for getting her body moving. Ever since, Barber has completed more than 25 half-marathons, a handful of full marathons, and also often posts about riding her Peloton bike on Instagram – all of which are a major accomplishment for someone who had never had the opportunity to compete in sports as a child. "I had never run before. Like, I'm not an athletic person," the actor laughed on the podcast "The Clip Out." "I was a child actor, so I grew up on sound stages."
She's remained close with her Full House co-stars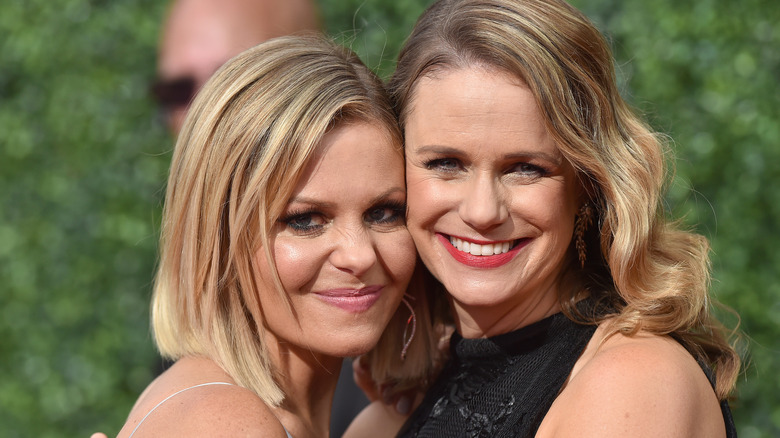 Axelle/bauer-griffin/Getty Images
It's been nearly three decades since "Full House" ended, but that hasn't kept the show's stars from still spending time together. As Barber dished on "Bob Saget's Here For You," the cast has their own group chat and continues to hang out multiple times each year.
Perhaps the most special bond that Barber has made, though, has been with the other child stars from the show. All these years later, her co-stars Candace Cameron Bure and Jodie Sweetin are still very much a part of her life. "We're closer now than we were as kids just because of time and maturing...and having the perspective of an adult," Barber told Women's Running in 2016. "We realize that we share this bond from growing up on TV and a sound stage. It was a very unique childhood."
The actresses have supported each other's personal and professional endeavors over the years — as fans have been able to witness time and time again online — and Barber was even the one who got Bure interested in running. In 2016, the off-screen pals began competing in multiple mud and obstacle races together and hope to join each other for more marathons in the future.
She started an annual Kimmy Gibbler Costume Contest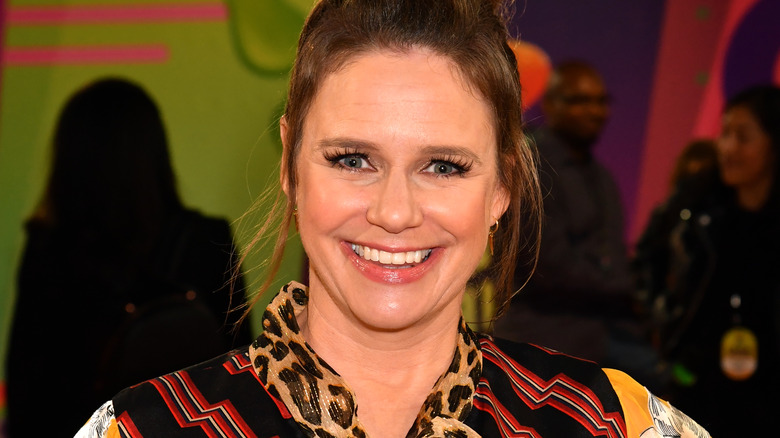 Jeff Kravitz/Getty Images
By 2011, it'd been a while since Andrea Barber last played her "Full House" character Kimmy Gibbler. But that Halloween, she came up with the perfect way to interact with her long-time fans: the Kimmy Gibbler Costume Contest. Each Halloween, people across the country recreated Kimmy's wackiest looks on Instagram, and Barber filtered through the submissions. Some of the entrants even took it to the next level by creating Kimmy Gibbler-inspired props and backdrops.
By tagging the actor in their entry, the contestants signed themselves up to compete and win ultimate bragging rights for the rest of the year. "I pick a grand prize winner, and that winner will win something," Barber explained on YouTube. "Probably a signed script, because that's what I've done in the past." The tradition continued for an entire decade before the last winner of the Kimmy Gibbler Costume Contest was awarded in 2021.
She got the call to return for a reboot called Fuller House
When "Full House" ended in 1995, Andrea Barber was confident she was done with acting. However, her thinking completely changed nearly 20 years later when she got a call to join the reboot called "Fuller House." "I didn't even hesitate," she told People in 2017. "I said, 'Yes!' That was a no-brainer."
Not only did Barber get to reprise her role, but she also got more say in what happened this time around. In the final season, she took a seat in the writer's room and wrote the thirteenth episode titled "College Tours." Her children, along with Candace Cameron Bure and Jodie Sweetin's, also appeared in an early episode of the series.
"Fuller House" premiered on Netflix in 2016, with IndieWire reporting that it was one of the most-viewed series that entire year. Though "Fuller House" ended in 2020 after five seasons, the cast and crew were notified of its cancellation an entire season ahead of time — unlike their experience on the original series — giving the writers time to create the ending that they had always wanted to include in the first place. "It was nice to be able to build that crescendo and feel all of those emotions, both for the viewers and for the actors," Barber told Decider in 2020. "We needed that too, just as much as the audience does."
Andrea Barber wrote a memoir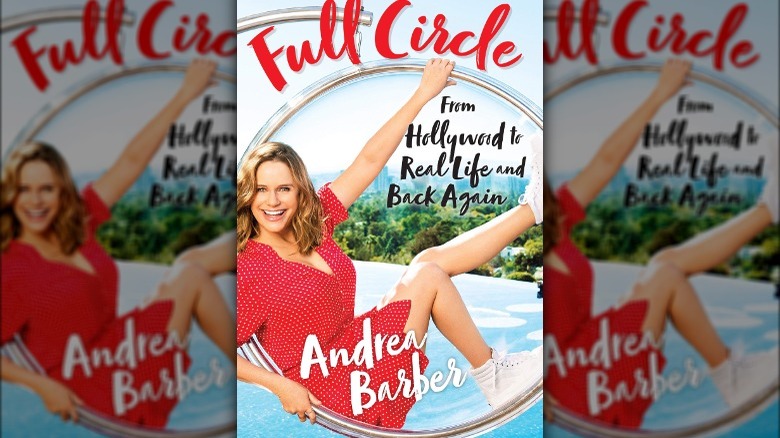 Citadel
After returning to acting, Andrea Barber decided to write a book all about it. Her memoir, titled "Full Circle: From Hollywood to Real Life and Back Again," was released to the world in 2019, and in it, she opened up about what her life was really like while she was living a life out of the limelight.
Over the years, Barber wrote down various stories from her life in emails and diary entries, and she returned to those entries while working on her book. Some of the stories she shares in her memoir showcase darker periods of her life, such as her divorce, overcoming postpartum depression, and grappling with anxiety. She first started dealing with anxiety way back when she was still playing Kimmy Gibbler in "Full House."
In her book, Barber remembers being terrified of attending red carpets and interviews, often getting sick beforehand. "I thought there was something wrong with me. I just thought I was this idiot who couldn't get it together. That's honestly how I felt," she told USA Today. "And it makes me sad to think that now." Now with a memoir out in the world, Barber hopes to open up a discussion surrounding the stigma attached to mental health.
If you or someone you know needs help with mental health, please contact the Crisis Text Line by texting HOME to 741741, call the National Alliance on Mental Illness helpline at 1-800-950-NAMI (6264), or visit the National Institute of Mental Health website.
A Christmas movie came calling, all thanks to her co-star Candace Cameron Bure
In 2022, fans were able to witness another special "Full House" reunion when Andrea Barber joined the cast of Candace Cameron Bure's GAC holiday movie "Christmas on Candy Cane Lane."
In the film, Barber plays a woman who has just separated from her husband ahead of the holiday season. Now that her street is getting geared up for Christmas, she uses it as the perfect distraction from her divorce and focuses all of her attention on decorating her home. However, when her neighbor's decorations go missing, she joins a local police officer to help solve the case and save her neighbor from holiday heartache. "I relate so deeply to my character, Ivy Donaldson," Barber wrote on Instagram. "Navigating divorce, single motherhood, learning to co-parent around the holidays, grieving the loss of a parent — I saw a lot of myself in Ivy and tried to bring all of those complicated emotions to my character."
"Christmas on Candy Cane Lane," which was produced by her "Full House" co-star Candace Cameron Bure, marks Barber's first leading role in a film and also her first time working on a Christmas movie. However, neither of these perks stacked up to what it was like starring in a film produced by someone you grew up with. "Having your producer also be one of your best friends is just about the greatest gift I could've asked for," Barber shared with her fans on Instagram.
She ended up on another family-friendly show
The "Full House" family can't seem to stay apart for long. In 2021, one of the writers from "Fuller House" started working on another family-friendly show called "That Girl Lay Lay." Soon after, Andrea Barber joined him when she was cast as the sitcom's school principal. "So it's like if Kimmy Gibbler were the principal of a high school, that's what my character is," the actor explained on a 2021 episode of "Bob Saget's Here For You." "It's so fun, and it's Nickelodeon, so it's just silly, and it's kids, and we get splattered with slime and food and stuff, and it's a blast."
The comedy series, which focuses on one girl's journey through high school, is something that Barber is able to relate to fully after her own childhood growing up on sound stages. With the release of the Nickelodeon show, Barber gets to lead the next generation of actors into the spotlight, and it's something she doesn't want her fans to miss out on. "You're gonna fall in love with the remarkable kids in this cast!" the actor promised her Instagram followers.
Andrea Barber now wants to stay in the world of sitcoms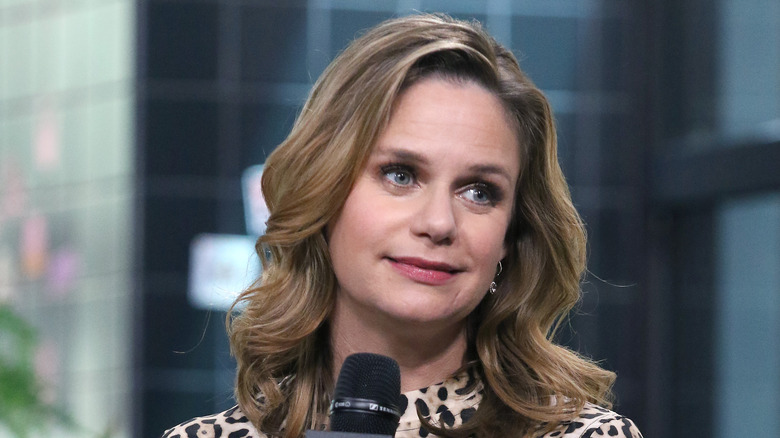 Jim Spellman/Getty Images
Andrea Barber got a taste of what life is like outside of the public eye for 20 years. However, she's since realized that she's always felt most at home in the world of sitcoms — and she is not raring to leave again just yet. "I want to stay in comedy, I feel like that's my sweet spot," she shared in a 2020 interview with Decider. "That's what I love doing. I love making people laugh and I would love to stay working in television."
Over the course of her career, Barber has realized that she loves to make people laugh even while working behind the scenes too, from having the opportunity to write an episode of "Fuller House" to officially becoming a published author after her book was released in 2019. Whether she's in front of the camera or not far behind it, Barber told Decider she just wants to keep making funny content. "That's my goal," she said.