What Queen Rania's Lavish 1993 Wedding Was Really Like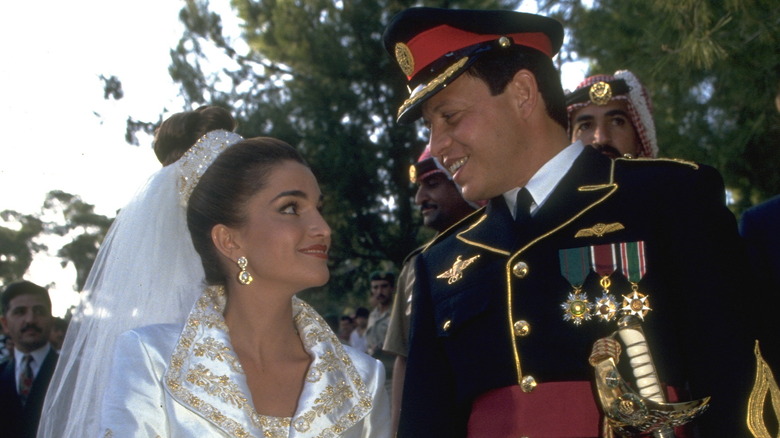 Maher Attar/Getty Images
When we hear the words "royal wedding," we typically associate them with the nuptials of the British royal family, particularly the weddings of Prince William and Princess Catherine and Prince Harry and Meghan Markle as those are two of the most enormous weddings to have taken place. But there are many more royals around the world who had weddings, though maybe not quite as expensive, that were just as beautiful and worthy of praise as any affair thrown by the Windsors. One such affair took place in 1993 when Queen Rania married King Abdullah II of Jordan.
Today, Rania, Queen Consort of Jordan, is known for her work, her beautiful lifestyle, and her fashion sense. "I am very passionate about my work, and the clothes I wear don't have any bearing on that. I am also very mindful that I have a duty to represent my country well," she said in an interview with Harper's Bazaar Arabia.
But long before Rania was a powerful woman of the world and a style icon, she was making headlines for her gorgeous wedding. The beautiful ceremony took place in Amman, Jordan, the country's capital, and proved to be one of the most iconic royal weddings of all time.
The venue was a legitimate palace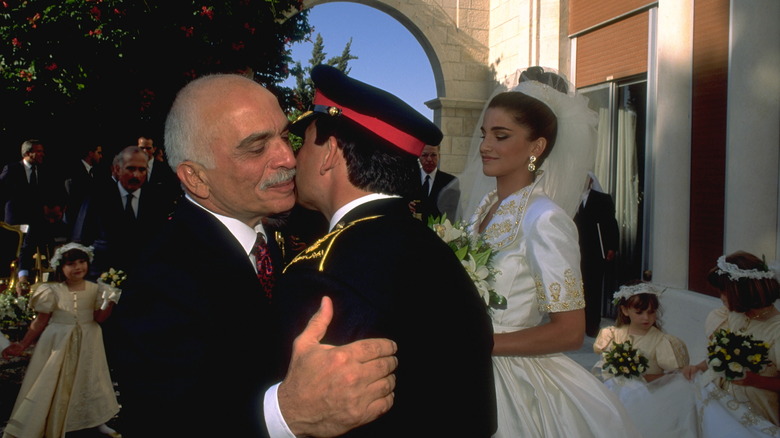 Maher Attar/Getty Images
Many royals around the world live in palaces, but only certain royal family members actually get married in them. When Queen Rania married King Abdullah II, their wedding took place at Zahran Palace, which translates to "blooming flower." The palace once belonged to the king's grandmother, Zein al-Sharaf bint Jamil. Since her death in 1994, the palace has been used for various events, including several royal weddings. King Hussein and Antoinette Gardiner got married at Zahran Palace in 1961, as did Crown Prince Hamzah bin Al Hussein and Princess Noor Hamzah in 2003. In a sentimental royal family tradition, King Abdullah and Queen Rania'a son Crown Prince Hussein bin Abdullah also married at Zahran Palace in June 2023, 30 years after his parents tied the knot in the same location.
Zahran Palace holds a special place in the lives of the Jordanian royals. It was the fourth royal palace to be built in Jordan, and it's noted for its stunning interior and decorative grounds. Among the landscape is an elaborate garden and a gazebo. Other royal palaces in Jordan include the Raghadan, the Little Palace, and Basman. 
Queen Rania's dress was designed by a favored designer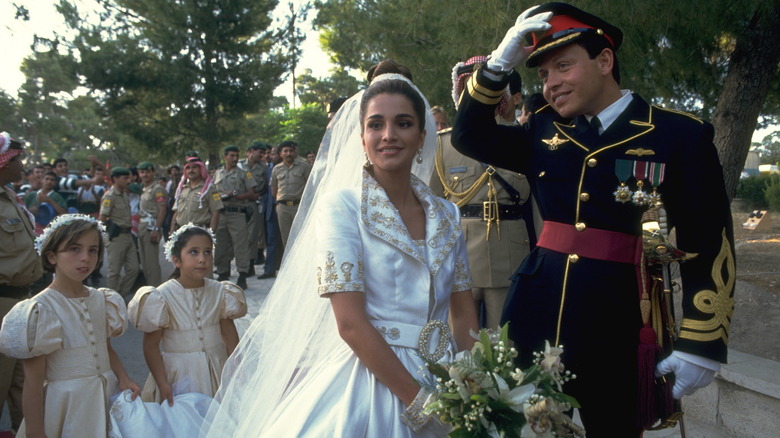 Maher Attar/Getty Images
Whether it's a royal wedding or not, whenever a bride is involved, onlookers are always excited to see the dress. But there is admittedly more fanfare for a bride who's about to marry a legitimate prince. And there was indeed a buzz around Queen Rania's dress when she married King Abdullah II in 1993. Rania walked down the aisle in a dress created by British designer Bruce Oldfield. The dress featured a ball gown skirt with a long train and several pleats accompanied by a short-sleeved jacket with a collar. Queen Rania also paired the ensemble with white gloves. Oldfield was no stranger to designing for royalty by this time as he was one of Princess Diana's favorite designers. As for the groom, Abdullah wore an official military uniform similar to what British royals customarily wear on their wedding days.
To this day, Queen Rania's gown is among the most iconic royal wedding dresses. It's said that Oldfield drew inspiration from Syrian fashion that he saw at the Victoria & Albert Museum. And the designer is still a fan of Queen Rania's wardrobe. After dressing Camilla, Queen Consort for her husband's coronation, the Daily Mail asked Oldfield which dignitaries in attendance were the best dressed. Oldfield listed multiple fashionable royals by name, being sure to add: "And of course Queen Rania of Jordan, who always looks so chic."
She wore a veil and no tiara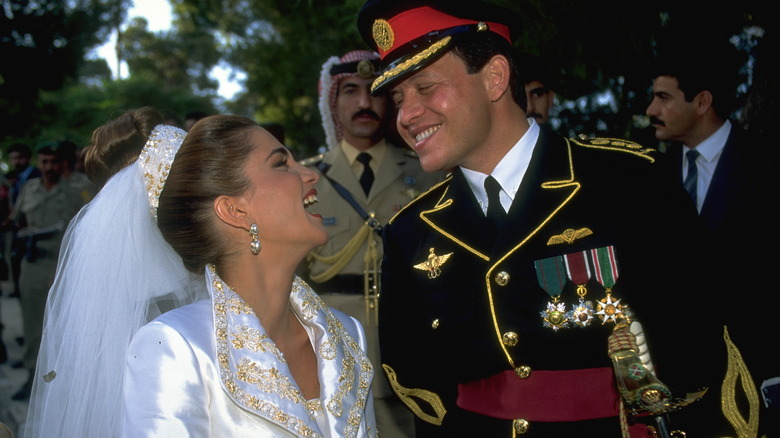 Maher Attar/Getty Images
When picturing a bride at a royal wedding, most of us likely imagine her wearing a crown or a tiara. Queen Rania, however, did not. Instead of jewels on her head, Rania fashioned her hair into a bun and wore a headband that connected to a long veil. It was certainly a stunning look, but it led many to wonder why she didn't wear a tiara. When Queen Rania married King Abdullah II in 1993, Abdullah was not the Crown Prince — his uncle Prince Hassan was. It's likely that Rania didn't wear a tiara to her wedding because her husband-to-be was not in line to become King of Jordan at the time. 10 years later, though, Queen Rania had her first tiara made.
But don't feel too bad for Rania — the queen was able to wear tiaras before she had one of her own made. And she's had plenty of opportunities to wear the prestigious accessory since. Among the gorgeous diadems she's donned are a Cartier tiara that was owned by Queen Alia of Jordan, the Boucheron Emerald Ivy Tiara, the Arabic Scroll Tiara, and the Boucheron Bracelet Tiara. Not all of the tiaras belong to Queen Rania as many have been worn on loan, but they're still beautiful on her nonetheless. After all the tiaras she's been spotted in, it doesn't seem to matter that Queen Rania didn't wear one on her wedding day.
She broke a royal tradition with her jewelry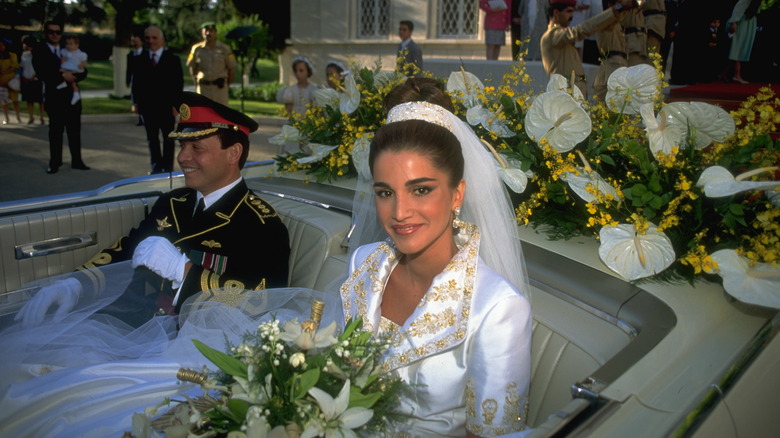 Maher Attar/Getty Images
Queen Rania's decision not to wear a tiara wasn't just a surprise — it was actually against royal tradition. In Jordan, the tradition of a royal wedding was for the bride to wear family jewels. And not jewels on loan from the royal family — jewels from her own family. Rania's family, however, was not royalty. Her father was a doctor, so she wasn't poor by any means, but Rania did not have access to the extravagant trappings of a noble-born person. And you can't wear family jewels to your wedding if your family doesn't have jewels for you to wear.
Queen Rania did enter her marriage with one piece of fabulous jewelry, though — her engagement ring. King Abdullah II proposed to Rania with what "looks to be an oval cut diamond with a vintage-style halo design with a diamond set band," per Jessica Flinn-Allen, a jewelry designer who spoke with Express. "From what we can see in the media, Queen Rania doesn't often wear this ring and keeps it for special occasions like her daughter's wedding. We can't recall the last time she was seen wearing this ring," Flinn-Allen added. This is likely because Queen Rania is Muslim, and in the Islam religion, wedding rings are not worn. Rania is often seen wearing other stunning pieces of jewelry, though, many of which appear to be made of diamonds and other rare gemstones.
Queen Rania made an outfit change for the reception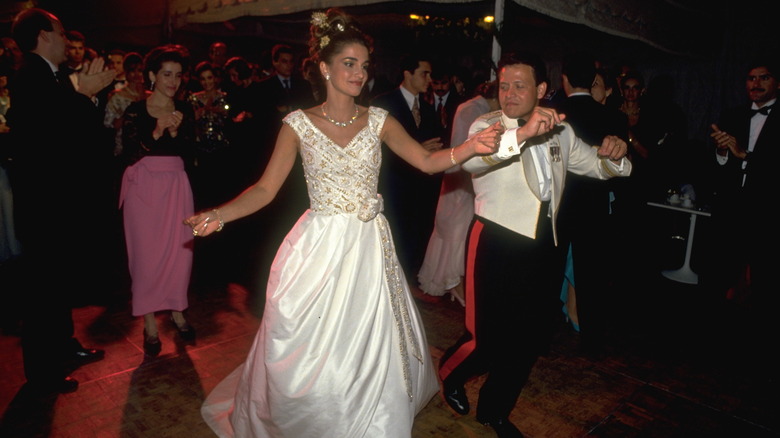 Maher Attar/Getty Images
What would a royal wedding be without an outfit change? For her 1993 nuptials to King Abdullah II, Queen Rania didn't wear just one gorgeous gown — the bride changed into a second dress designed by Bruce Oldfield for the reception. The dress was still conservative like her ceremony dress, but it did show a little more skin. Featuring cap sleeves and a sweetheart neckline, Queen Rania's reception dress was cream and gold, and had just as much embellishment on the bodice as the jacket from her ceremony dress. Rania ditched the headband and the veil for the reception, but kept her hair in an updo, adding some hair pieces to her bun.
Though an extravagant detail, it's become almost customary for a royal bride to wear two dresses on her wedding day. Though it's not as famous as her ceremony dress, Princess Catherine wore a separate dress to her reception, too — a silk number paired with a fuzzy cardigan that, like her ceremony dress, was designed by Sarah Burton for Alexander McQueen. Meghan Markle also arrived at her reception in a second wedding dress. The Duchess of Sussex sported a silk Stella McCartney gown with a halterneck — a stark contrast from the bateau neckline she wore for her ceremony. Princess Diana didn't wear a second dress for her wedding, so perhaps her daughters-in-law have Queen Rania to thank for the idea.
The citizens of Jordan came to watch their processional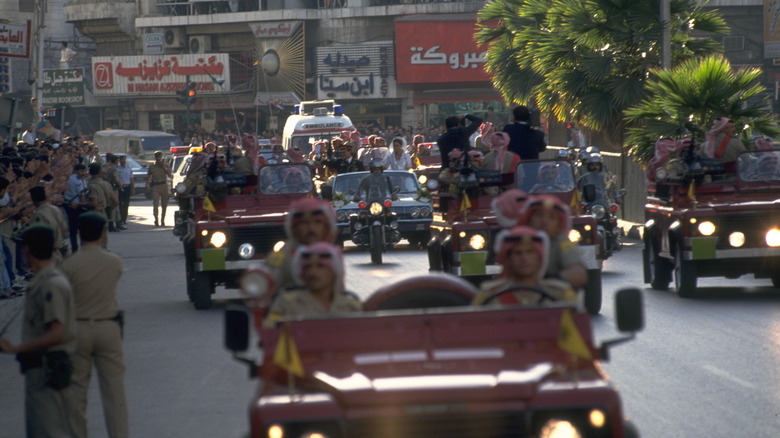 Maher Attar/Getty Images
Royals love lots of things — formal events, tours of other countries, and beautiful jewels. But they seem to be very fond of another thing: processionals. Nearly every major royal event seems to have a processional of some kind, often one that extends into the streets. Queen Rania and King Abdullah II's wedding was no exception. The royal couple rode down the streets of Jordan in a convertible, waving to the citizens who had lined the streets to watch and send their well wishes to the newlyweds.
While there were certainly a lot of Jordanian citizens on the streets to celebrate Rania and Abdullah's wedding, it's nothing compared to the number of people who gathered for Prince Harry and Meghan Markle's wedding. When those two tied the knot in 2018, over 100,000 people flooded the streets near Windsor Castle for the occasion. People even traveled across the pond for the event. "I'm really into the royals and I watched William and Kate's wedding back in California. But this time I decided I would really love to be there," one woman told The Guardian. "​​There was a really good atmosphere here last night. Everyone is so friendly. There are people here from Italy, Belgium and Switzerland. It's been great," noted another onlooker. Though the fanfare wasn't quite so pronounced at Queen Rania and King Abdullah's wedding, they certainly garnered more hype than the average couple.
There were many royal guests in attendance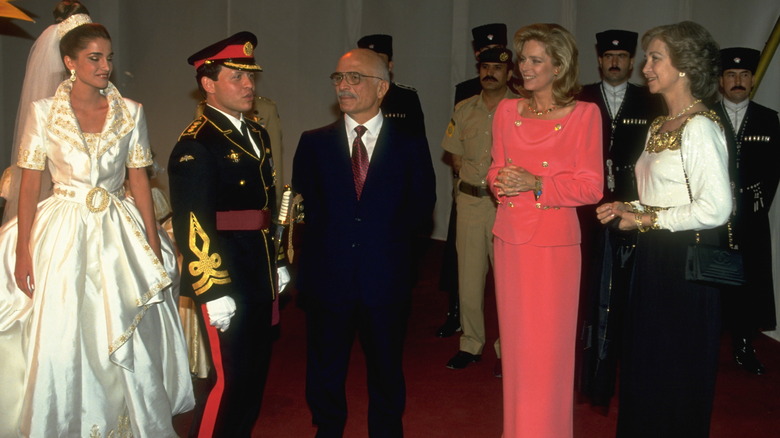 Maher Attar/Getty Images
Royal weddings are often star-studded affairs. Celebrities and royalty from other countries are often in attendance, because who wouldn't attend a royal wedding if they were invited? Queen Rania and King Abdullah II's wedding was no exception. The event boasted royals such as Princess Irene of Greece and Denmark, Queen Sofía of Spain, and of course, royal Jordanian family members.
Nearly 30 years after the king and queen got married, their son, Crown Prince Hussein married Rajwa Al Saif, and their guest list had far more royals on it than were in attendance for Hussein's parents' wedding. The Prince and Princess of Wales as well as Princess Beatrice and her husband Edoardo Mapelli Mozzi traveled to Jordan for the wedding, as did Crown Prince Frederik and Crown Princess Mary of Denmark, the Sultan of Brunei, and Princess Euphelma of Bhutan and Queen Jetsun of Bhutan. Three decades after celebrating Queen Rania and King Abdullah's wedding, Queen Sofía of Spain traveled to Jordan again to celebrate Crown Prince Hussein and Rajwa Al Saif's wedding. The queen was also accompanied by her husband King Juan Carlos I. Though not royals, First Lady Jill Biden and former Speaker of the House Nancy Pelosi were guests at the wedding, too.
The day became a national holiday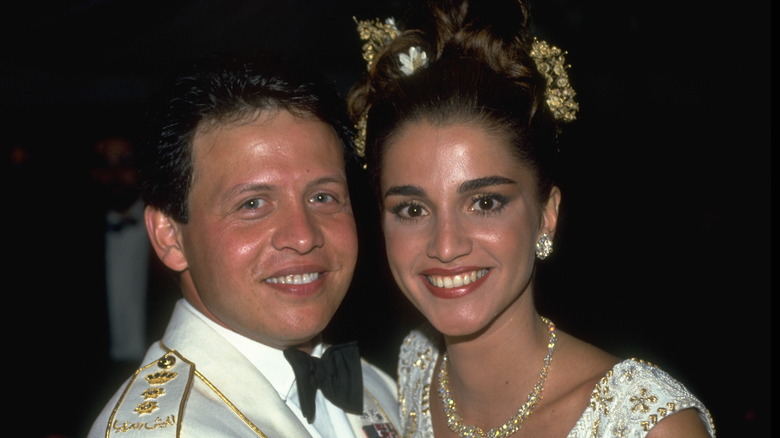 Maher Attar/Getty Images
When King Abdullah II and Queen Rania got married in 1993, their wedding day was named a national holiday. If you think your wedding day was an important day in your life, know that it wasn't nearly as important as Queen Rania's wedding day! Although it was named a national holiday, Queen Rania and King Abdullah's anniversary isn't recognized as a national holiday in Jordan. The country recognizes other state affairs like Independence Day and Labor Day as public holidays, but most of them are religious holidays.
Some of those religious holidays include the beginning and end of Ramadan, a holy month in the Islamic religion which is marked by a month of daily fastings and celebrated with a feast when it ends. Another major holiday is Eid al-Adha, which means the Feast of Sacrifice. School-aged children have the day off on this occasion, and many adults take the day off work. 
Eventually, Rania became a queen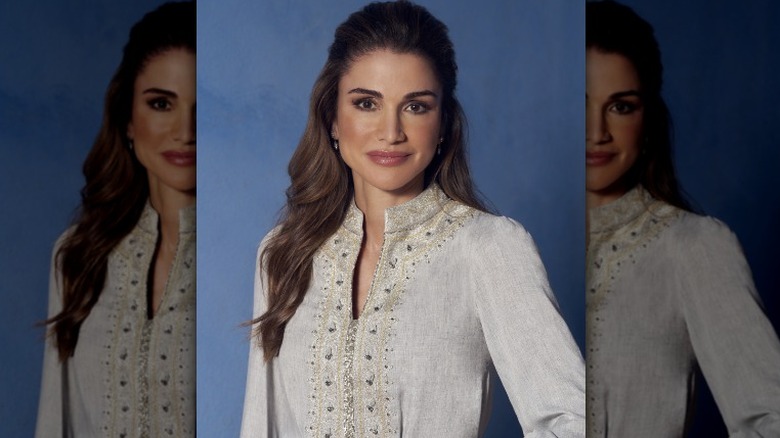 Handout/Getty Images
The world knows her as Queen Rania now, but when she first married King Abdullah II, Rania had no idea she'd eventually become Queen Consort of Jordan — Abdullah was not the Crown Prince when they married. That title belonged to his uncle Prince Hassan who was supposed to become king. But just before Abdullah's father died, he named his son the Crown Prince. And in early 1999, Abdullah became King of Jordan. Just a couple of weeks later, Rania was named Queen Consort.
"It was a big shock to me. First of all, to lose the king, whom we all loved so much. And then, the other thing," Rania said to Oprah.com in 2001 of her unexpected ascension to Queen. "You think it is like a fairy tale. It sounds like a fairy tale. But in fact, it is not a fairy tale. Being queen is overrated," she added. Whether Queen Rania has changed her mind about her royal role since giving that interview is unknown, but she certainly takes her position seriously. Rania has been involved in numerous different humanitarian efforts since becoming Queen Consort, and she's used her platform to further various causes in her country. She's even garnered the attention of Forbes, who named her one of the most powerful women in the world. "Queen Rania also continues to champion an organization that publicizes and stops child abuse, one of the first of its kind in the Arab world."
The couple celebrated their 30th anniversary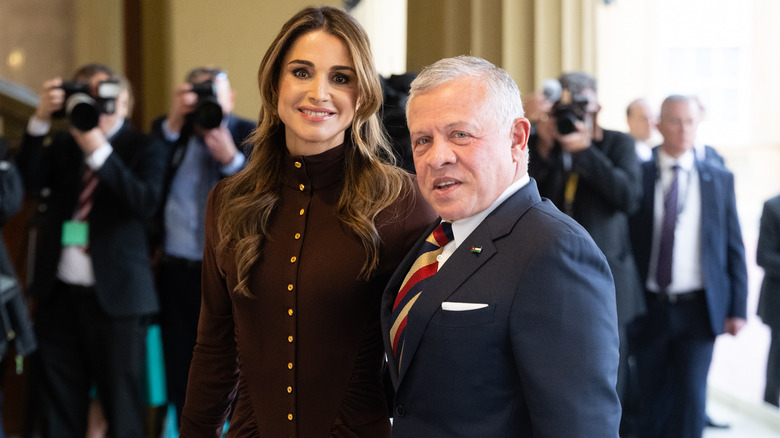 Samir Hussein/Getty Images
In 2023, Queen Rania and King Abdullah II celebrated their 30th wedding anniversary. The Queen Consort marked the occasion on Instagram by posting a tribute to her husband. "Each passing day brings us closer, and each passing year shows me just how incredibly blessed I am to spend my life with you. Happy 30th anniversary, my King," she wrote. After three decades of marriage, Queen Rania and King Abdullah have four children together, one of whom got married just before his parents' anniversary.
Crown Prince Hussein, Rania and Abdullah's eldest son, married Rajwa Al Saif on June 1, 2023. "I'll never forget how happy His Majesty and I were when Al Hussein told us he wanted to marry Rajwa. She is the perfect answer to all my prayers for him," Queen Rania said in a speech amid wedding festivities, as reported by People. The wedding, not unlike Queen Rania and King Abdullah's nearly 30 years prior, was a major event — and not just for the bridal party and guests. Prior to the wedding, Jordanian citizens attended a free concert, and they lined the streets for a processional akin to the one held for Rania and Abdullah. The bride wore an Elie Saab gown while Queen Rania wore Dior. "May God bless you both and fill your home with love and happiness," Rania wished her son and new daughter-in-law on Instagram.