What We Know About Brad Pitt And Bradley Cooper's Bromance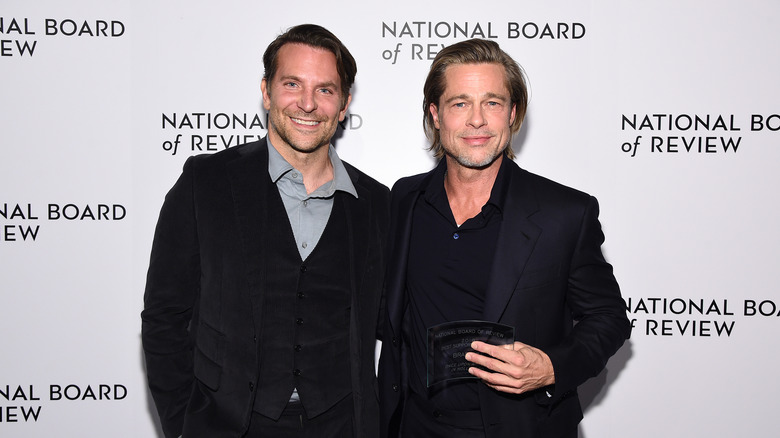 Jamie Mccarthy/Getty Images
Hollywood bromances have a way of putting a smile on our faces — just take a look at Matt Damon and George Clooney and you'll know what we're talking about.  
For Brad Pitt and Bradley Cooper, going through similar experiences in life was what bonded the two. The A-listers have both struggled with alcohol abuse in the past and have come out on the other side healthy. 
In a heartfelt and appreciative comment right after Cooper introduced him as the winner of the National Board of Review Award for Best Supporting Actor for his role in "Once Upon a Time... In Hollywood" (2019) back in 2020, Pitt thanked his friend for getting him through some tough times. "Thank you, Bradley. Bradley just put his daughter to bed and rushed over here to do this. He's a sweetheart," opened the "Troy" star. "I got sober because of this guy and every day has been happier ever since. I love you and I thank you," he said to a room full of audience applause. This wasn't the first time Pitt was open about his struggles with alcoholism but it was the first time he openly credited his friend for having been a part of his sobriety journey. 
Brad Pitt: '[Bradley Cooper] is a lovely human being'
Speaking to Access Hollywood in 2020, Brad Pitt shared that Bradley Cooper and some of the other friendships he's made in the industry are characterized by immense respect toward one another. He said of the "A Star is Born" actor with whom he was spotted at the U.S. Open in 2021, "He's just a lovely human being." 
In a May 2017 interview with GQ, the "Fight Club" actor spoke candidly about how life was during and after his troubles with alcohol and also about his split from Angelina Jolie with whom he shares six children – Maddox, Pax, Zahara, Shiloh, Knox and Vivienne. "I think it [the alcohol troubles] would have come knocking, no matter what," Pitt shared after having spent more than half a year building his life up. 
He continued, "I mean I stopped everything except boozing when I started my family. But even this last year, you know — things I wasn't dealing with. I was boozing too much. It's just become a problem. And I'm really happy it's been half a year now, which is bittersweet, but I've got my feelings in my fingertips again. I think that's part of the human challenge: You either deny them all of your life or you answer them and evolve." Serious as their common experience is, Cooper and Pitt's bromance has light-hearted moments too. 
Bradley Cooper tried on Brad Pitt's jacket once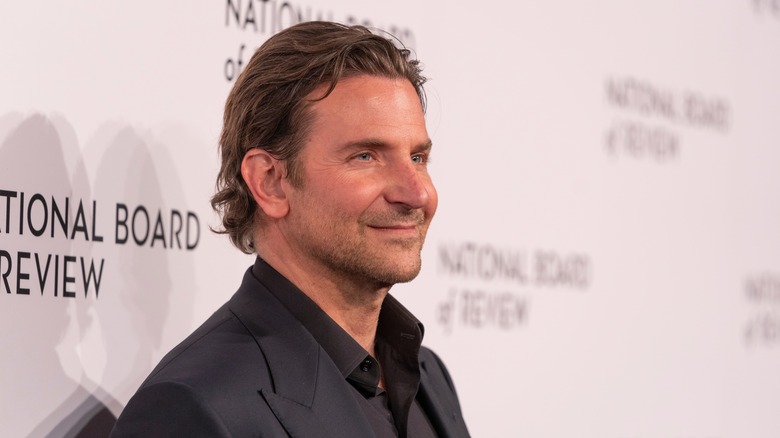 Lev Radin/Shutterstock
During the National Board of Review Award ceremony, Bradley Cooper recalled a humorous incident when he ended up trying on the "Mr. and Mrs. Smith" actor's jacket. After attending a symphony music concert at The Hollywood Bowl with Pitt and some other friends, the "World War Z" star had left his jacket behind. The clothing had eventually found its way to Cooper who admitted to taking it home with him. "I went home with Brad Pitt's jacket and I'm not going to lie to you, I tried it on. And you know what, it felt really good ... That is the power of Brad Pitt," he said. 
Cooper, who broke up Irina Shayk in 2019 (with whom he has daughter Lea), gave up drinking when he was 29 after a series of close calls that made "The Hangover" star realize his dangerous downward spiral. "I was at a party and deliberately bashed my head on the concrete floor — like, 'Hey, look how tough I am!' And I came up, and blood dripped down. And then I did it again. I spent the night at St. Vincent's Hospital with a sock of ice, waiting for them to stitch me up," he shared with The Hollywood Reporter.
The silver lining of going through challenging experiences like alcohol abuse is that you have empathy for someone else going through a similar experience. Pitt and Cooper understand one another on that level.