Samuel L. Jackson And His Wife Disagree Over How They Got Engaged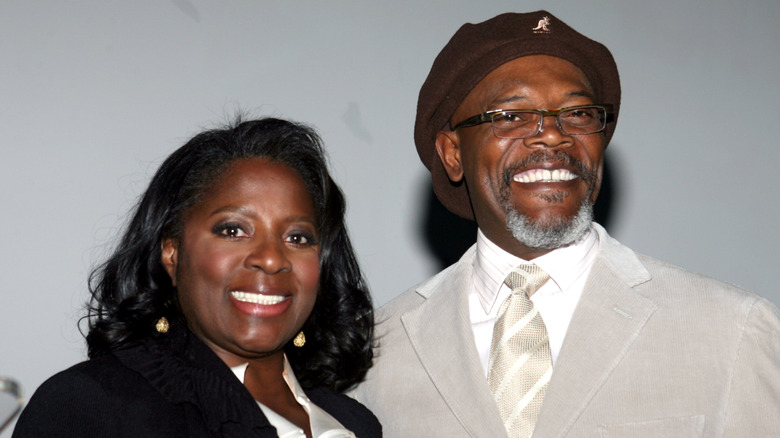 M. Phillips/Getty Images
When a couple spends over half their lives together, it can be hard to agree on several things — this is a healthy relationship habit that many think is toxic. And for Samuel L. Jackson and his wife, LaTanya Richardson Jackson, it's the story of their engagement. Samuel recalled his version of how the proposal happened on "The Jennifer Hudson Show," sharing, "My story was, I came home one day and [LaTanya] already had these invitations printed up, and she gave me a stack and said 'Be here.'"
And while that sounds sweet, LaTanya's recollection is very different. Luckily, Samuel believes it to be more accurate because his admitted substance abuse rendered his memory unreliable. Before their engagement, LaTanya's grandfather was very sick, and he told her that he wasn't sure he would be able to walk her down the aisle, so he asked her to get married ASAP. In a 2020 "Graham Norton Show" interview with the couple, LaTanya recalled, "So now you have to ask [my grandfather] if you may marry me, and then you have to ask me will I marry you, and you did."
Samuel responded, "I did?" He also interjected and asserted it was still romantic because he got down on one knee. Speaking to Hudson, the actor joked about how LaTanya had 23 bridesmaids while he had to ask friends of friends to join the group. And although 40 years have passed since their union, they're stronger than ever.
The celebrity couple has a long history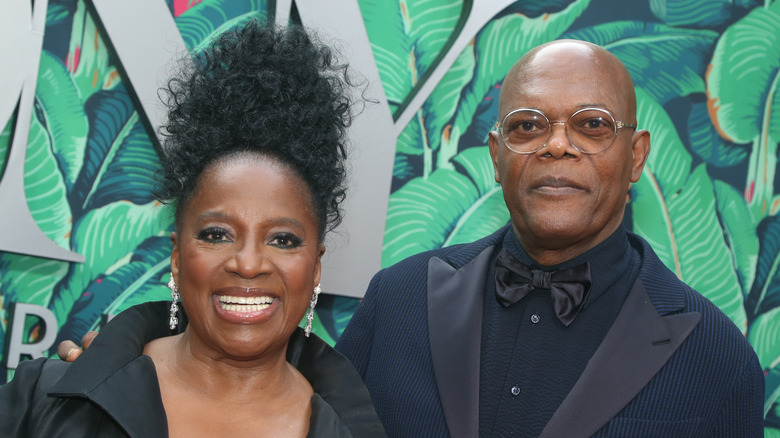 Bruce Glikas/Getty Images
The couple's paths first crossed in 1970 when LaTanya Richardson Jackson was a student at the iconic Spelman University while Samuel L. Jackson studied at Morehouse College. But despite their strong foundation, the two didn't share common ground when it came to their basic interests. LaTanya told The New York Times, "Sam was not part of my circle. I was a theater snob; he loved movies." Despite this, Samuel and his future wife joined the Morehouse Spelman Players and starred in several plays together. 
The two dated for a decade before tying the knot in 1980. In 1982, they welcomed a daughter named Zoe. While everybody knows Samuel is a celebrated star with several accolades and even a documentary you never knew he narrated, many might not realize that LaTanya boasts an impressive track record as well. You can spot her in movies like "Fried Green Tomatoes," "U.S. Marshal," "You Hurt My Feelings," "Sleepless in Seattle," and "Lone Star." Hardcore "Grey's Anatomy" fans will also remember her as Diane Pierce from Season 13 of the show. 
And top of this impressive list, she received a Tony nomination in 2014 for her work in "A Raisin in the Sun." The couple has also collaborated on several projects. They've starred in three films together; "Freedomland," "Losing Isaiah," and "Mother and Child." Samuel and LaTanya also produced the award-winning documentary, "Enslaved." In 2023, LaTanya directed the play "The Piano Lesson," which her husband starred in.
They've stuck together through thick and thin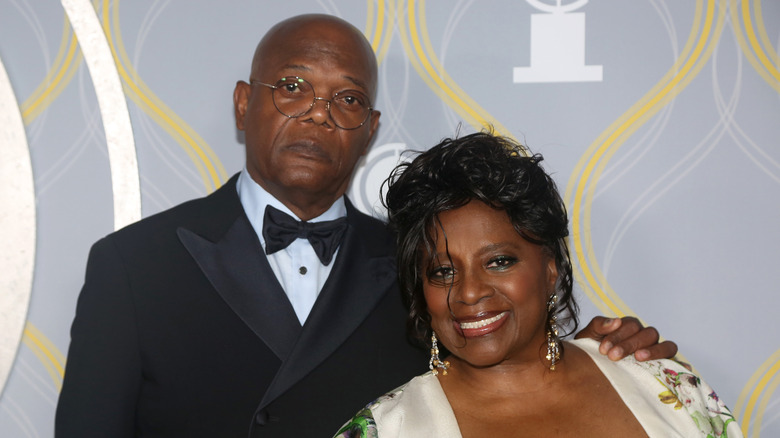 Bruce Glikas/Getty Images
Speaking to People, LaTanya Richardson Jackson revealed the pact that has kept them together: "In the beginning, we always said the most revolutionary thing that Black people could do was stay together, raise their children with the nucleus of having a father and a mother since everybody likes to pretend that that's not the dynamic of the African American family." She continued, "In order to change that narrative, we made a decision to say, 'We are going to stay together no matter what. We'll figure it out.'"
Even Samuel L. Jackson told the Irish Examiner that he grew up with an absentee father, and he didn't want the same for his daughter. So, the actor weathered all the storms with his wife to ensure Zoe had a normal life. And the couple has stuck to this promise through decades of highs and lows. When LaTanya and Zoe found Samuel passed out after a night of heavy drinking and drug use, she gave him an ultimatum: Rehab or they're through. 
LaTanya told Vanity Fair, "I knew I couldn't leave this boy I admired so much. But I resented him too. I hated it when he slurred his words. A wife hates to see her husband be weak." She also added that she got Samuel checked into a rehab facility on the same day. And it all worked out because, after his treatment's completion, Samuel gave a career-defining performance in Spike Lee's "Jungle Fever."
If you or anyone you know needs help with addiction issues, help is available. Visit the Substance Abuse and Mental Health Services Administration website or contact SAMHSA's National Helpline at 1-800-662-HELP (4357).