The Story Behind Kelly Ripa's $200 Wedding Dress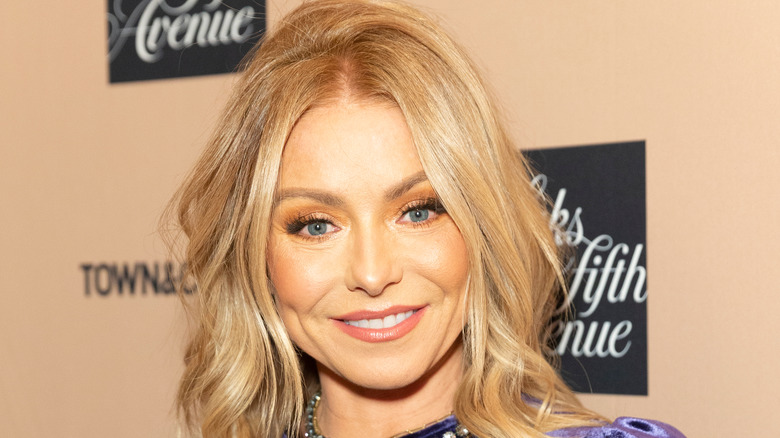 lev radin/Shutterstock
Making the decision to marry the love of your life is a beautiful and exciting thing. However, once the wedding planning begins, it can feel like a whirlwind. There are so many decisions to make from the venue to the guest list to the color scheme and decor. Everyone around you will likely have an opinion, which is why staying grounded and focusing on what you and your partner find most important is essential.
While it seems normal these days to have big celebrity weddings plastered on the front cover of magazines, certain famous couples choose to keep their nuptials far more private and low-key. This is the route Kelly Ripa took with her wedding to Mark Consuelos back in 1996. In fact, the lovebirds chose to elope in Las Vegas, which is not an uncommon move for celebrities either.
Instead of opting for a famous designer or spending thousands of dollars on a dress for a single event, though, Ripa has no regrets about her surprisingly affordable wedding dress. HuffPost summarized Ripa's comments on her morning talk show, where she happily expressed how much she loves her wedding dress decades later, even referring to it as "the best $199 [she] ever spent in [her] life."
Kelly Ripa didn't know she was buying her wedding dress at the time
After celebrating their 20th wedding anniversary in the Caribbean in 2016, Kelly Ripa shared a photo of her and Mark Consuelos with their live studio audience and enthusiastically confirmed that her wedding dress is still wearable today. Although it's frequently worn over her bathing suit, the dress was never intended to be anything more than a fashion statement.
According to HuffPost, the talk show host described her dress-shopping experience and elaborated on just how insignificant it was at the time. Five years prior to her wedding, she was working as an actor on "All My Children" and didn't have a lot of spending money. However, the luxury brand department store Barneys was having a major sale and Ripa jumped on it.
Despite picking fashion over her groceries for the week, Ripa justified this $200 purchase that was part of a "final clearance sale" as an investment item and told herself that she would get a lot of wear out of the piece. Little did Ripa know that just a few years later, she would be wearing it down the aisle.
Mark Consuelos and Kelly Ripa opted to elope to Las Vegas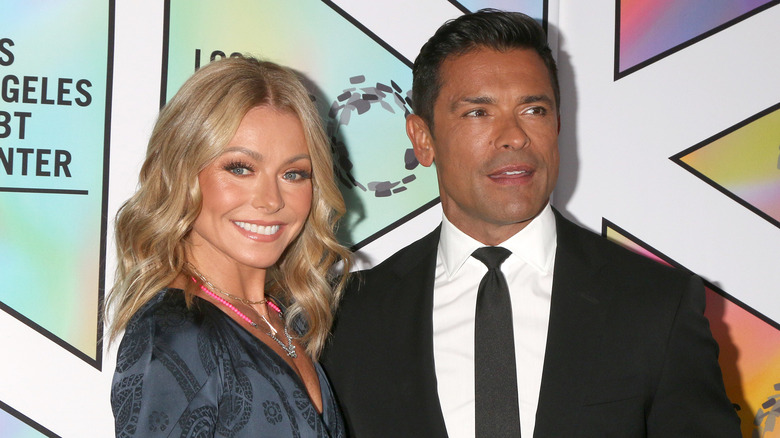 Kathy Hutchins/Shutterstock
While it's normal to wonder how Kelly Ripa and Mark Consuelos managed work-life balance while raising three kids, they actually got their start as coworkers and had years of practice. According to Hello! magazine, the couple first met when Consuelos auditioned to be Ripa's love interest on "All My Children" back in 1995. Ripa even told Bruce Bozzi during an interview on "Radio Andy" that she envisioned her entire life with him just by looking at his casting photo.
There are many lessons we've learned from Ripa's marriage but one is to always keep the spark alive. The former soap star never believed in love at first sight nor did she identify as a hopeless romantic. However, her experience with Consuelos changed all that. The timeline of their love story moved quickly, as the couple chose to elope after being together for less than a year. Their secret Las Vegas ceremony was a seemingly spur-of-the-moment decision that featured Ripa's already-owned $199 dress.
According to The Sun, the entire wedding cost less than the price of the dress, including the plane tickets from New York. The couple ultimately decided that getting married was a good idea because they both had the same two days off from work. While many people end up regretting how expensive their wedding becomes, rushing into eloping and missing out on anything elaborate is also a gamble. Luckily, it truly seems to have paid off for this celebrity couple.