How Viola Davis Keeps In Touch With Her High School Bullies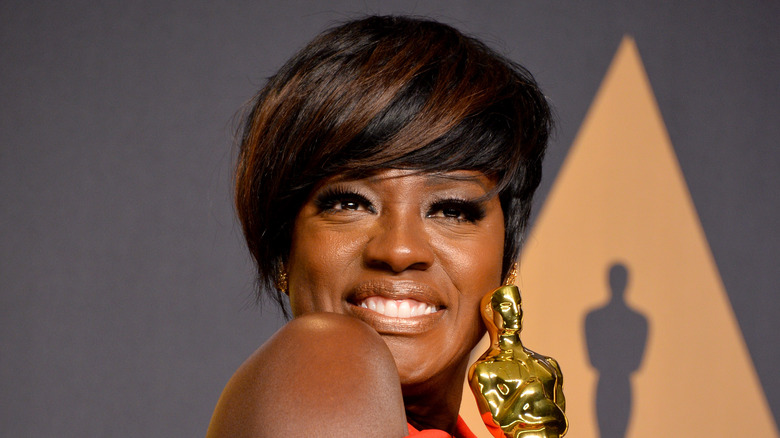 Featureflash Photo Agency/Shutterstock
Dealing with bullies is, unfortunately, one universal experience most of us understand completely. Bullies can manifest in every stage of our lives, traumatizing us and giving us complexes, but they predominantly inhabit our school years. Plenty of celebrities have opened up about being bullied as kids in school and how it impacted their lives as well as giving them some drive to succeed. One can only fathom how good it must feel to know that your school bullies and people who tore you down can watch your sweet triumph on TV in high definition. 
We can recall the time that Taylor Swift made sure she had her former school haters front and center to witness her 2009 Country Music Awards win. Other stars who aren't so deliciously petty prefer to let their former bullies watch from a distance like Viola Davis likes to do. The "How To Get Away With Murder" actor revealed that she keeps in touch with her bullies in a different, comical way.
Viola checks up on her old school bullies on social media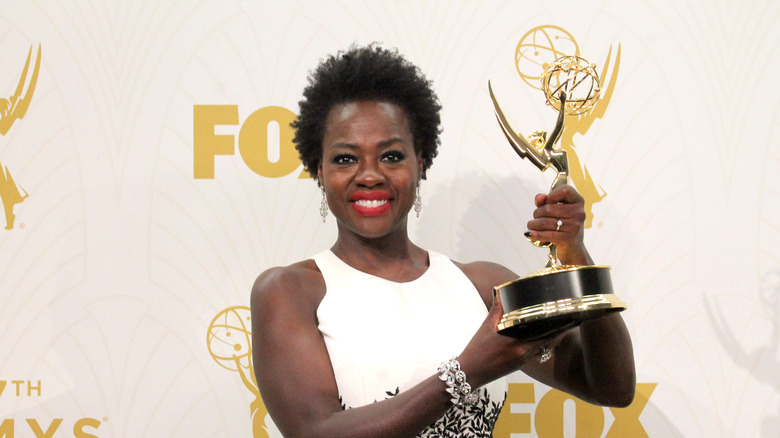 Kathy Hutchins/Shutterstock
When it comes to bullies, the sweetest revenge is letting them see you succeed and essentially letting them regret their actions on their own. Viola Davis did just that and revealed on Jimmy Kimmel Live that she still keeps tabs on her high school haters through the power of social media.
The EGOT winner told Kimmel that her childhood bullies made a 180-degree turn from their erroneous ways and that she hears from them online (via Entertainment Weekly). "There's some of them on Facebook, and I look at them," Davis explained. "They're taller now, though ... they all want to be my friend."
However, just like so many of us who faced constant bullying in school, she admitted to checking to see if her assailants had ended up as miserable nobodies, per Hello Giggles. "You know, I become their [Facebook] friends, and then I stalk their pages to see if they've become just complete failures in life." She should add a Sherlock Holmes role to her repertoire.
The actor assured him that she was no helpless, defenseless girl either. When she was a student dealing with her bullies, she didn't take the harassment with her head buried in the sand like a scared ostrich, but instead fought back. "I was a punch, run, and chuck your finger kind of gal," she said proudly. It must've taken some years but there's no doubt that those bullies have put some respect on her name.
If winning was a person, Viola would be it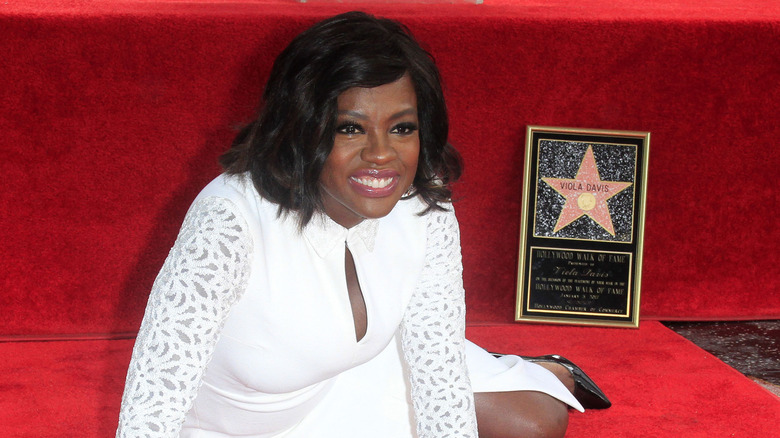 Kathy Hutchins/Shutterstock
If we were Viola Davis's former school bullies, there is nothing we wouldn't do to atone for our crimes against her, especially seeing as she keeps winning in every aspect of life. There would be a whole lot of regret going on.
Davis has always been intentional about her acting career as she is no accidental performer. A Juilliard alum, she was ranked ninth on the New York Times's list of greatest actors of the 21st century. In addition to this, she was awarded the Triple Crown award and became the only African-American to ever win it. The "Suicide Squad" actor also achieved EGOT status when she bagged a Grammy award in 2023. Davis made Oscars history as the most nominated Black actress for her biopic "Ma Rainey's Black Bottom."
Her fellow Academy Award-winning actor Meryl Streep gave her a heartwarming tribute in Time 100's 2017 list. Streep wrote: "Viola has carved a name for herself on the mountain Rushmore of the 21st century ... She embodies for all women, but especially for women of color, the high-wire rewards of hard work and a dream, risk and faith." In addition to her extraordinary feats in the entertainment industry, Davis stays on top of charity work. As someone who grew up poor, the "Doubt" star is committed to helping eradicate hunger and poverty across America.