Hallmark's Lacey Chabert Finally Made 'Fetch' Happen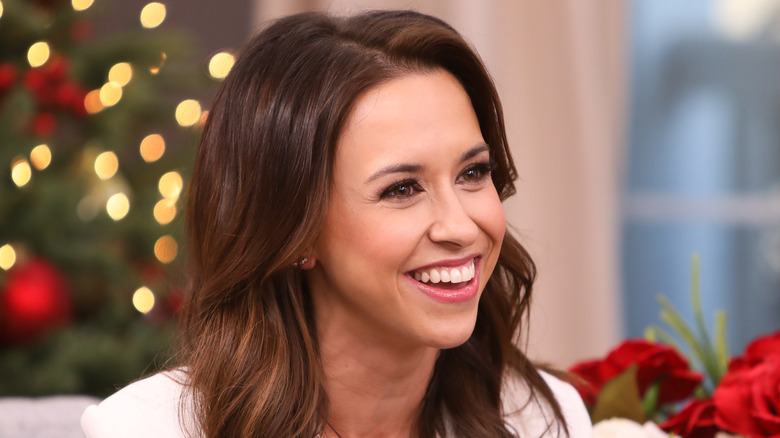 Paul Archuleta/Getty Images
If you're one of the many Hallmark Channel fanatics of the world, then you surely know that Lacey Chabert has starred in more than her fair share of Hallmark movies. Still, while plenty of people know her as one of the network's most beloved leading ladies, there are some folks that know her from her other credits. Chabert has played plenty of iconic roles outside of her work for the Hallmark Channel, from playing Claudia Salinger on "Party of Five" to voicing Eliza Thornberry on "The Wild Thornberrys," and plenty of others in between. 
Still, there's one rather large group of people out there that knows Lacey Chabert by the name of Gretchen Wieners, her iconic character from the classic teen comedy, "Mean Girls." Unsurprisingly, this movie has taken on such a life of its own that Chabert says she's stopped regularly by folks who want to quote Gretchen Wieners to her. Interestingly, though, one particular line has become such a classic that it's made one of her character's dreams come true. 
Fans think Lacey Chabert is so fetch
Back in November, Lacey Chabert appeared on "The Tonight Show Starring Jimmy Fallon." Fallon was sure to talk to Chabert about her legendary role in "Mean Girls." During the conversation, he asked if she was approached by people IRL who wanted to let her know that she "can't make 'fetch' happen." Of course, it's a reference to the famous Regina George line in "Mean Girls." George is played by Rachel McAdams. "Yes. Every day of my life," Chabert responded. "Everyone's like 'Oh, that's so fetch,'" she joked. She even recalled a time when she was sick and picked up a prescription from a pharmacist who commented that she looked like she "didn't feel so fetch today." 
It's clear that in Chabert's day-to-day life, this is one of the lines that she's said during her acting career that she hears the most. Ironically, Gretchen Wieners tried so hard to get this slang term to catch on that it now has, and Chabert is reminded regularly that she did, in fact, "make fetch happen" in the end. It's kind of a victory for Gretchen Wieners when you think about it. Take that, Regina George.
The return of Mean Girls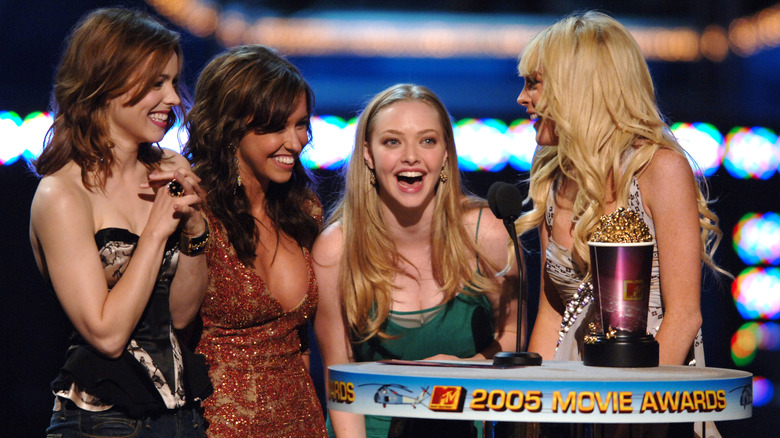 Michael Caulfield Archive/Getty Images
While on the topic of things that are "so fetch," Jimmy Fallon asked Lacey Chabert if she'd be interested in a "Mean Girls" reboot. Chabert enthusiastically said, "Oh, absolutely." She added, "I think it would be so much fun to see where these women are now and if their kids are the new mean girls ... I would love to know what they're doing." There's no question that plenty of fans would like to know what these characters are doing now, too. In the two decades that passed since "Mean Girls" premiered in 2004, it has maintained a major pop culture presence and devoted fan base, with fans even dubbing October 3rd "National Mean Girls Day."
Since the movie's 22nd anniversary is coming up in 2024, this could be the perfect time for that "Mean Girls" reboot. On October 3rd, perhaps? And, while fans and Chabert alike may be wondering what the plastics are up to in 2023, there's no wondering what the cast of "Mean Girls" looks like today, since Chabert is far from the only cast member to have a successful career following the film. So, while we're not-so-patiently awaiting a possible "Mean Girls" reboot, we can follow the cast in their other projects. Hallmark fans, in particular, can watch Lacey Chabert and Jonathan Bennett, who played "Mean Girls" heartthrob, Aaron Samuels, on the beloved network. A movie adaptation of "Mean Girls: The Musical" is also in the works, and may premiere in 2024.