RFK Jr. Was 'Proud' To Receive Praise From Donald Trump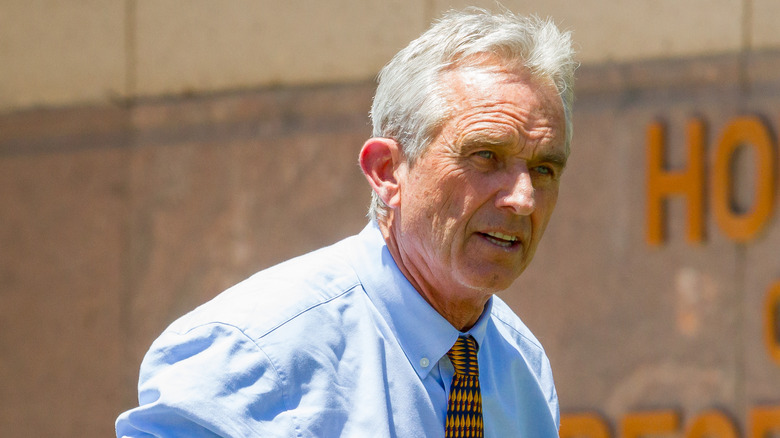 In The Light Photography/Shutterstock
With the 2024 presidential election coming closer, some candidates are surprisingly reaching across party lines. Nephew to President John F. Kennedy and a member of a vast, Democratic political dynasty, Robert F. Kennedy Jr. is forgoing the reigning political polarization of these days to chummy up to one of the Republican party's most controversial figures.
After former President Donald Trump complimented the Democratic presidential candidate, RFK Jr. responded graciously to the Republican party leader's compliments. While the status quo of the Democratic party is to not side with Trump, RFK Jr. seems to be foregoing this social rule. Yet, this isn't the first time the Democratic candidate has crossed party lines to lean more conservative in beliefs.
A staunch anti-vaxxer, Kennedy's own family penned a letter in Politico Magazine to chastise his views during the measles outbreak in 2019. Kathleen Kennedy Townsend, Joseph P. Kennedy II, and Maeve Kennedy McKean wrote about their family's longtime support of vaccinations. "Bobby is an outlier in the Kennedy family," they wrote. Now, his support for Trump may further alienate him from the party and create more complicated family dynamics for Robert Kennedy Jr.
What did RFK Jr. say about Trump?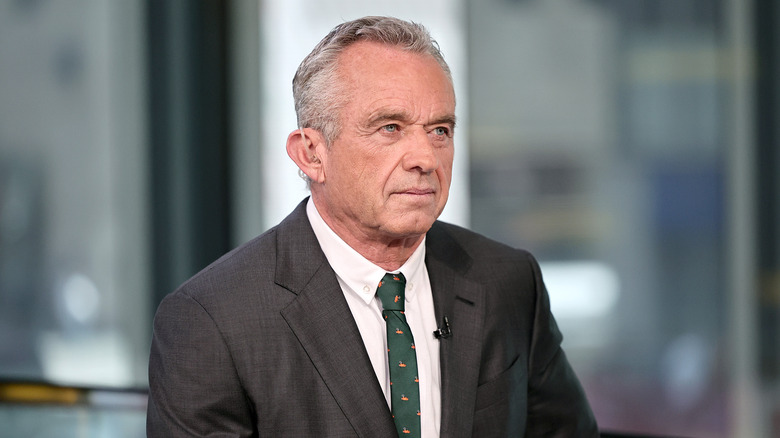 Jamie Mccarthy/Getty Images
When asked about RFK Jr. on the conservative talk radio program "The Howie Carr Show," Trump had nothing but good words about the candidate. "He's been very nice to me. I've actually had a very nice relationship with him over the years. He's a very smart guy and a good guy," the former president said. "He's a common sense, and so am I. So, whether you're conservative or liberal, common sense is common sense," remarked Trump.
RFK Jr. received the compliments gratefully. During a town hall hosted by NewsNation, moderator Elizabeth Vargas asked Kennedy what he thought about Trump. "I'm proud that President Trump likes me, even though I don't agree with him on most of these issues," he replied. "Because I don't want to alienate people. I want to bring people together. I'm proud that all these people like me and that I have independent supporters and Democratic supporters."
While some fundamental things set Kennedy and Trump apart, the Democrat has values that align with conservative thinking, which has brought him criticism from members of his party.
RFK Jr. has been critiqued for leaning to the right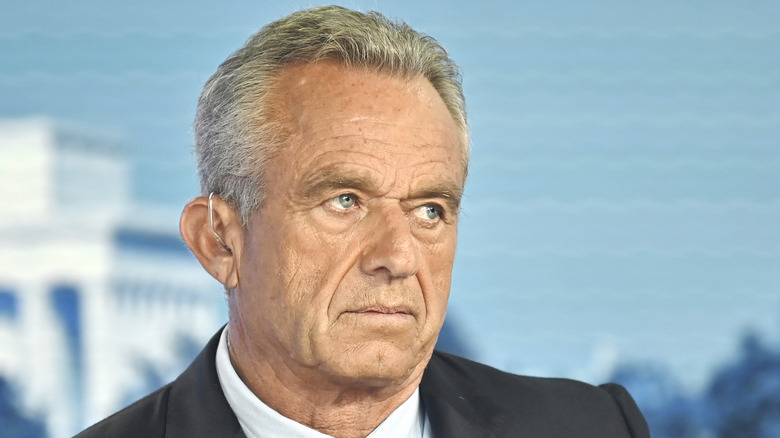 Shannon Finney/Getty Images
Despite being a Democrat, several of RFK Jr.'s beliefs tend to fall toward the right of the political scale. Aside from his alarming views on vaccinations, Kennedy splits with his party members on the cause of mass shootings. While many Democrats attribute the rise in gun violence to easily attainable weapons, Kennedy thinks that pharmaceutical drugs are to blame, despite no evidence to support the claim.
"Prior to the introduction of Prozac, we had almost none of these events in our country," said Kennedy during a Twitter Spaces event with Elon Musk and venture capitalist David Sacks (via Rolling Stone). "The one thing that we have, it's different than anybody in the world, is the amount of psychiatric drugs that our children are taking."
During the same Twitter Spaces event, Kennedy spoke on how he wanted to visit the U.S.-Mexico border to close the border permanently, a similar rhetoric to Trump's infamous "build the wall" chant. Although RFK Jr. is running on the promise that he'll "Heal the Divide" in America, his right-leaning ways may only widen it.