Why Hallmark Star Alicia Witt's Masked Singer Gig Came At Just The Right Time In Her Life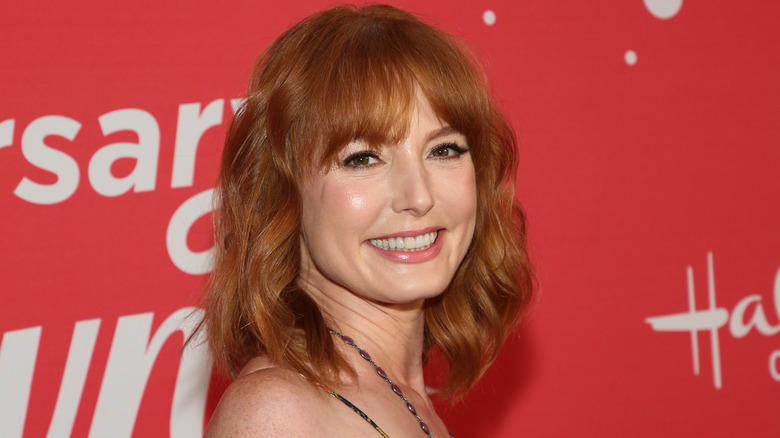 Paul Archuleta/Getty Images
"The Masked Singer" has been a source of entertainment for millions of fans since it started in 2019. Famous celebrities, such as Wayne Brady, Amber Riley, LeAnn Rimes, and even David Archuleta were all given an opportunity to impress the audience through singing with costumes on. But for one celebrity, donning the costume of the character Dandelion on the show was more meaningful compared to other performances.
In 2023, Season 9 of the show featured Dandelion, who was revealed to be actor Alicia Witt. The invitation to perform paved the way for Witt to connect with her fans. "It makes me so emotional just thinking about the feeling of connecting with that audience without being able to see them and without them being able to see me," Witt shared with People.
Becoming Dandelion was a perfect timing for Witt. In November 2021, the actor was diagnosed with HER2-positive breast cancer and she underwent chemotherapy, immunotherapy, and mastectomy. She started her treatment in December 2021 and finished in April 2022. As fate would have it, the show's invitation arrived right after Witt's breast reconstruction surgery. "To have received that email as I was waking up out of it (surgery) ... I was in such a haze I wasn't even quite sure till the next morning. I think I was eating my breakfast and I was like, "Did I dream that? Or did I actually have an email from The Masked Singer?" Witt told Entertainment Weekly. 
A tough year indeed for Alicia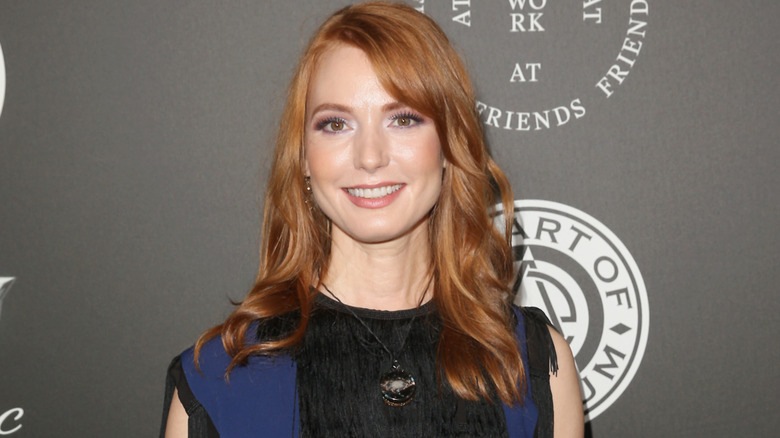 Jesse Grant/Getty Images
Alicia Witt went on to say that her time on the show is something she will never forget. It's refreshing for Witt to be acknowledged as an artist since she's widely known as an actor, and "The Masked Singer" gave her the opportunity to impress everyone with her voice. She further told People, "I still get the sense that there's that preconceived notion of, Oh, it's an actor. When I was under that mask, I knew that I was just a voice connecting to the people. I feel as though this experience perhaps has shifted in some way any sense that I'm more one than the other."
The "Urban Legend" star's experience on the show has been helpful, especially after going through so much in recent years. Being diagnosed with cancer wasn't the only traumatic experience that struck her life in 2021. In December of the same year, Witt's parents, Diane and Robert, froze to death in their house in Massachusetts. The Telegram & Gazette reported that the heartbreaking death of Witt's parents was caused by "probable cardiac dysrhythmia" due to the cold (via AP News).
Witt opened up about the tragedy after a month, as she penned an emotional letter to pay tribute to her parents. "Our last words to each other were 'I love you.' That part was simple; never in doubt. They loved me so. I loved them so," she posted on her Facebook.
Alicia felt compelled to share her story
Hallmark Channel's Alicia Witt released her single "Witness" on the same day she was eliminated as Dandelion on "The Masked Singer," which was on April 12, 2023. In an interview with Fox News Digital, she shared that the song was inspired by all the challenges she had to endure in the last few years. She said, "I'm singing about having come through the other side of a chapter that I think ... if somebody would have said to me, 'OK, in a few weeks, you are going to experience not one, but several unimaginably hard things. And they're all going to happen at once and people are going to know about it.' One thing, I was not given a choice in the matter about people knowing about it. And the other thing was that I was diagnosed with breast cancer and I knew, even as I was going through it, that I wanted to share."
Witt was horrifiedwhen the doctor informed her about her diagnosis through a phone call, and she wanted women across the world to feel like they are not alone in their battle. She said, "There's power in sharing that story. When thanks to God, I did come out the other side and got the all clear, I knew I was going to tell that story."