The Truth About The Hallmark Channel's Alicia Witt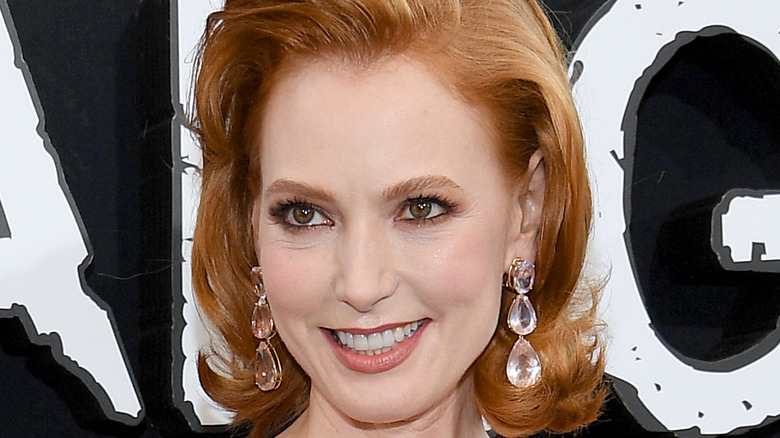 Dimitrios Kambouris/Getty Images
Alicia Witt is fast becoming one of the queens of the Hallmark Channel, alongside the likes of Lacey Chabert and Candace Cameron Bure, thanks to several high-profile roles particularly in their super popular festive fare. In fact, the actor is so intent on making her (Hall)mark that she pitched her own original idea to the channel, which later became "Christmas Tree Lane." Per Media Village, the holiday movie follows a music store owner whose business is at risk of being shut down and, similar to classic rom-com "You've Got Mail," she ends up falling in love with someone employed by the very company that's out to destroy her.
Witt served as an executive producer on the project, explaining that she'd been working on the script with Hallmark for years before finally heading into production around the end of 2019. They shot as the COVID-19 pandemic was beginning to take hold, with the actor recalling, "That final night we filmed, and the sun started coming up, there were a lot of tears. Kind of a Christmas miracle. It felt so emotional that we'd made this." Witt also contributed two original festive songs to the soundtrack.
Overall, Witt enthused, "My deepest wish for this movie is that it helps bring smiles to faces." However, despite her growing position as one of the most exciting stars working with Hallmark, it's worth noting Witt's background is vastly different.
Alicia Witt previously favored the darker side of things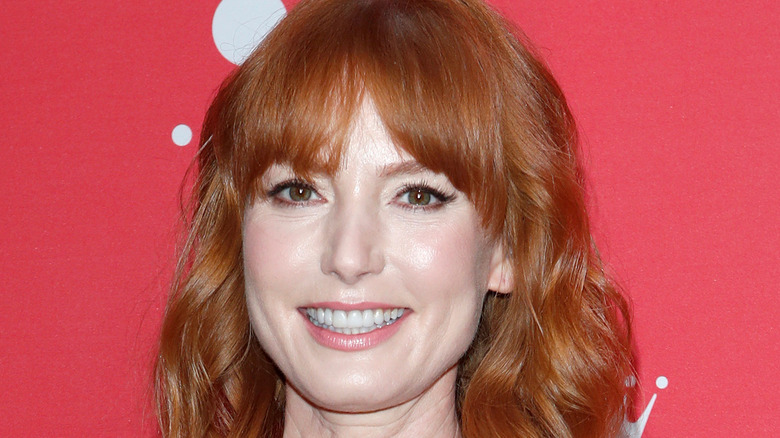 Kathy Hutchins/Shutterstock
Although Hallmark fans will know Alicia Witt from her many collaborations with the sugary-sweet channel, horror fans met the actor all the way back in 1998, when she played the Final Girl opposite Jared Leto in "Urban Legend." Per IMDb, Witt appears to have favored darker fare in general, particularly in the early stages of her career, with roles in the likes of "The Sopranos," "Law & Order: Criminal Intent," and "Orange Is the New Black" on TV. 
Movie-wise, Witt diversified her slate with twisty drama "Vanilla Sky," opposite Tom Cruise, rom-com "Two Weeks Notice," featuring Hugh Grant and Sandra Bullock, and crime thriller "88 Minutes," which was a star vehicle for Al Pacino. Evidently, the move to lighter fare, with Hallmark, appealed to Witt, who confessed in an interview with Glamour, "If you're making a movie about something really dark, it does something different to your psyche. You'll get home from work and try to shake it off, and you're kind of in a darker place."
Working for Hallmark, meanwhile, is "so much fun" in comparison. Moreover, taking part in these movies gives Witt the opportunity to spread some joy. The actor loves hearing from fans about how her movies changed their lives or gave them a new perspective, noting, "That sort of thing is why I wanted to be an actor in the first place: to help make the world a little bit of a better place."
Alicia Witt has suffered major tragedy in her own life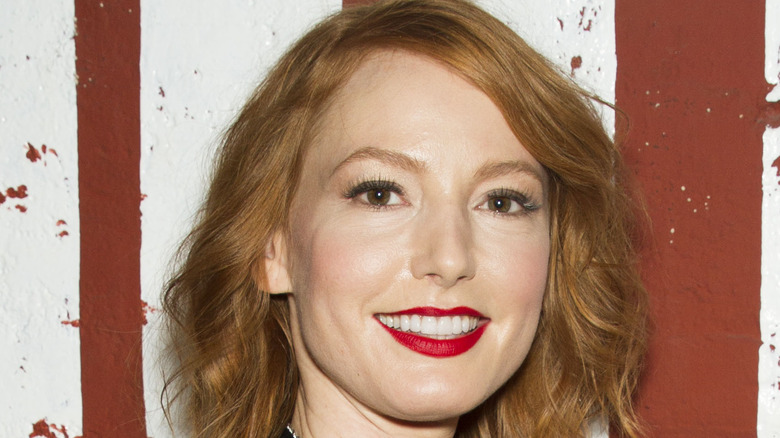 Brian Gove/Getty Images
Alicia Witt's desire to focus on more uplifting work makes even more sense when you consider she suffered a devastating loss in her personal life. As People notes, the actor took to social media in early 2022 to share how devastated she was to have lost both her parents simultaneously, admitting it "still doesn't feel real" to her. Witt raised the alarm after not hearing back from her folks, but she knew as soon as law enforcement got in touch that they were gone.
Thankfully, the Hallmark star was able to travel home to Worcester to attend a "beautiful service and burial, to mourn and to celebrate them in total privacy." She thanked everybody who'd reached out to offer their support, and to share their own memories about her parents. Witt noted, "The circumstances around my parents' sudden passings have become fodder for press, and there are some misconceptions rolling around — understandably so. This is very delicate for me to write because I'm wanting to honor their privacy, which they held so tightly."
The "Urban Legend" breakout revealed the difficulties she'd had trying to get through to her folks over the years, but ultimately, she acknowledged, "Our last words to each other were 'I love you'." Telegram & Gazette confirmed Witt's parents were found dead in their home just a few days before Christmas. Their cause of death has yet to be revealed.