Chip Gaines Credits Joanna For Convincing Him To 'Settle Down' And Build A Life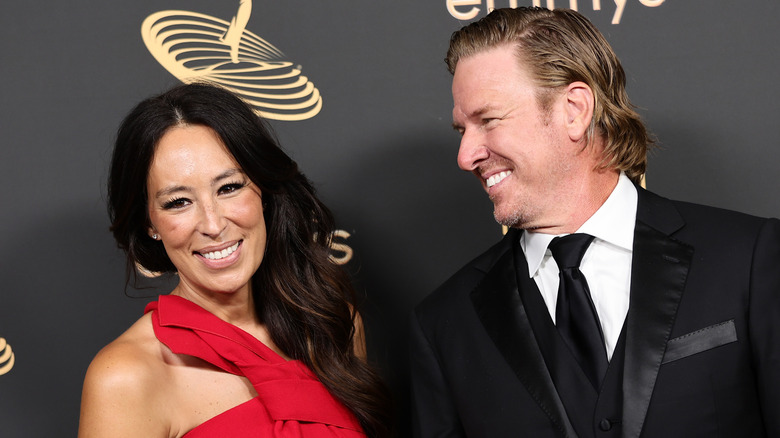 Matt Winkelmeyer/Getty Images
With five children, several successful home renovation shows, and their ever-expanding Magnolia empire, Chip and Joanna Gaines seem to have life figured out pretty well. However, the renovation experts may not have been able to achieve any of the above if they didn't learn to balance each other out early on. Speaking to Oprah Winfrey, Joanna shared how Chip gets her to relax. 
"Chip is always teaching me, 'If you're not having fun, if you're not enjoying and savoring these moments, then why are you doing it?' And he also pushes me to do it," she explained. Joanna clearly feels that Chip deserves credit for changing her view on life, but something you might not know about Chip is that he is thankful to Joanna for the exact opposite reason — helping him become less chaotic. 
In the same Oprah interview, Chip credited Joanna for his new outlook on life. "When I die or I'm on my deathbed, what I'll say looking back is that, 'I owe you my life,' because you settled me down. It's almost like a horse that's wild," he told her proudly. 
The couple has been married since 2003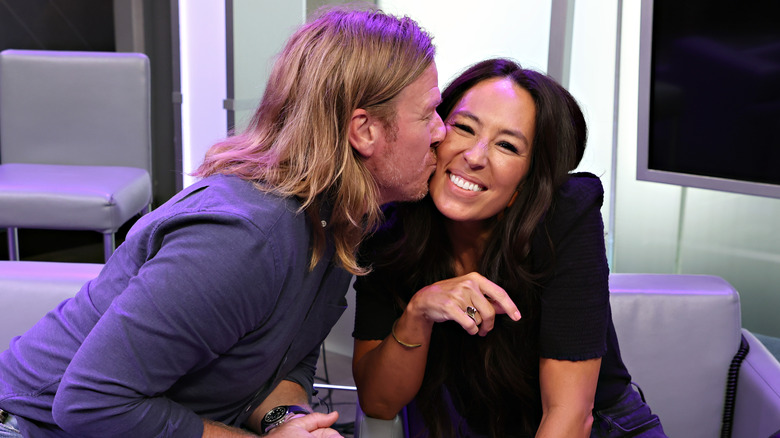 Cindy Ord/Getty Images
Perhaps ironically, it was Joanna Gaines who had cold feet about Chip Gaines at first. In a 2020 Magnolia Journal blog post (via Today), she wrote that her type had always been quiet guys rather than chatty ones. And, if you know anything about Chip, you'll know he isn't the quiet type, which Joanna initially found off-putting. However, the reality star changed her mind on their very first date due to an unusual intervention. 
In an interview with People, Joanna revealed that a mysterious voice led to her decision to see it out with Chip. "I heard this voice say, 'This is who you're going to marry.' Call it God, call it whatever. This is the man you're going to marry," she said. Fast forward through a postponed date and several months of no contact, and the couple got engaged in December 2002.
Joanna additionally shared in her blog post how Chip emboldens her to take more risks, something she had never felt brave enough to do before meeting him. It seems that Joanna balances Chip's wild side out and in return, he gives her the confidence to be less rigid. Their love story hasn't always been straightforward, though.
Chip and Joanna have experienced hardships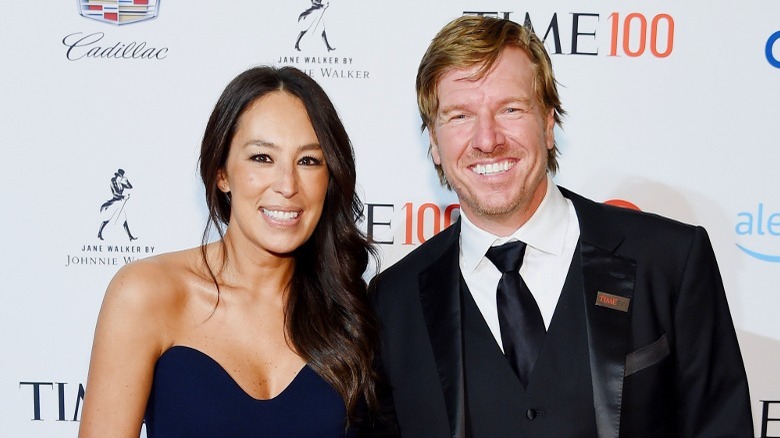 Larry Busacca/Getty Images
In keeping with the "Fixer Upper" stars' honesty about their relationship, Joanna Gaines has discussed her past marital troubles with Chip Gaines candidly. The renovation expert opened up in another Magnolia Journal blog post from 2022: "In our 20 years of marriage, Chip and I have experienced a little bit of all of it ... Times when all hope felt lost and circumstances were out of our control. When all I could think to do was lay face down on the floor in surrender," (via People). 
As well as cryptically acknowledging that both she and Chip have felt heartbroken at times throughout their relationship, she also noted that the two of them have faced situations that challenged their "family dynamic," such as their eldest child, Drake, moving away for college. As with all long-term relationships, it's natural for the former HGTV stars to have faced ups and downs, but their openness about these issues only serves to make their marriage seem more stable than ever.