Margot Robbie's Best Barbie Outfits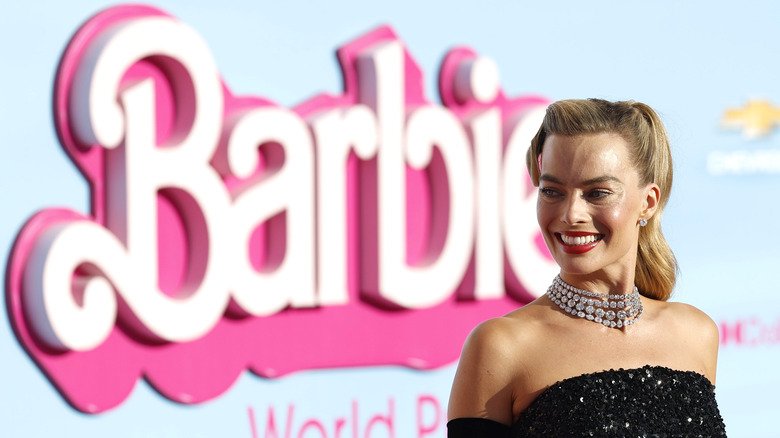 Frazer Harrison/Getty Images
We may receive a commission on purchases made from links.
There probably isn't a soul in America over age three who doesn't know the name Barbie. She's been around longer than the computer mouse and she went to the moon before Neil Armstrong. Barbie's been painted by Andy Warhol and depicted on the runway and emulated at the Met Gala. Barbie is an indelible part of the world's social fabric. We even speak about her legacy as if she were an actual person. That's how big of an impact this doll has had on American culture since the late '50s.
Hollywood producers had been in talks to develop a live-action Barbie film for several years, and the dreams of millions of little girls (and little girls at heart) finally came true in 2023. But what kids and adults didn't expect was to be blown away by Barbie fashion ahead of the movie's premiere. "I'm all Barbie from here until Barbie," Margot Robbie, who plays Barbie in the film, told Vogue. And she wasn't kidding. Robbie took the assignment seriously in promoting "Barbie," and the results were better than anyone could have possibly imagined. Robbie used actual Barbie dolls and outfits for much of her wardrobe inspiration for the film's press tour. 
Her take on the original Barbie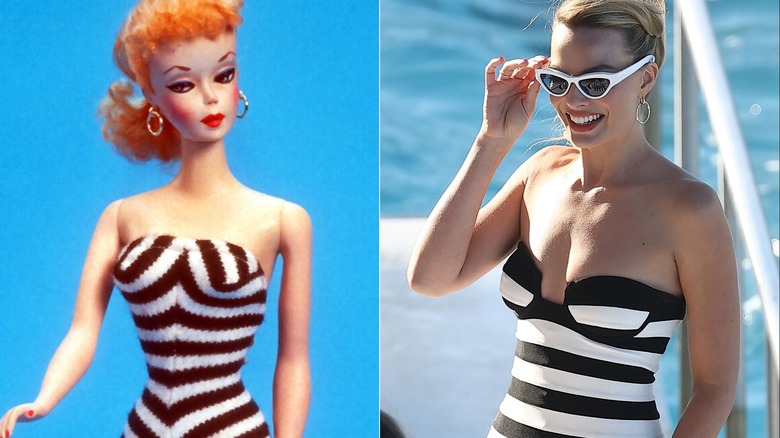 Yvonne Hemsey/Getty Images, BACKGRID
Barbie entered the zeitgeist in 1959. At the time, she could be purchased for just three dollars, and she was made to look like Hollywood icons of the time(think: Marylin Monroe). Since then, over a billion Barbie dolls have been sold worldwide. Of those dolls, though, none are quite as iconic as the original Barbie. Her first outfit was a black and white striped bathing suit, which she paired with black heels, white sunglasses, and gold hoops. She wore her hair in a ponytail and sported a bright red lip. It's one of the most recognizable looks of all time.
In her quest to embody Barbie until the film's premiere, Margot Robbie channeled Mattel's first Barbie while promoting the film in Australia. Instead of wearing a bathing suit while in a professional setting (though if anyone could pull that off, it would be Robbie), the actor opted for a black-and-white striped dress version. She kept the rest of the classics, including black heels, white sunglasses, red lips, and coiffed hair. If you told us the original Barbie was modeled after Robbie, we'd believe you.
The Solo in the Spotlight re-creation
Margot Robbie is so well suited to play Barbie that it's hard to imagine any other actors were ever considered for the role. But what's perhaps even harder to imagine is that Robbie can't recall ever owning Barbie dolls as a child. "I know my cousin had a bunch of Barbies, and I'd go to her house," she told Vogue of her experience playing with the famous toy while growing up. Thankfully her Barbieless household hasn't had any negative effect on Robbie's ability to so effortlessly capture the essence of the doll, as she made clear at the world premiere of "Barbie" in Los Angeles.
For the event, Robbie channeled a very special Barbie — one that Barbie lovers of all ages are familiar with and a look posh enough for a huge movie premiere. The actor arrived at the premiere as the Solo in the Spotlight Barbie from 1960. Her Schiaparelli replica of the tiny dress was absolutely perfect — from the sequinned formfitting bodice to the tulle flare at the ankles and the red rose adornment. In true Barbie fashion, Robbie's shoes, hair, lipstick, and accessories were perfectly paired. Even though the dress is black and not Barbie's signature color, pink, it was a perfect, unexpected ensemble for the event.
The perfect Barbie ensemble paired with the quintessential convertible
Everybody knows that Barbie is nothing without her accessories and assets. And she's got a lot of them. From her Malibu Dreamhouse and her camper to her bike and her private airplane, the doll has plenty of options for lodging and transportation. But few of Barbie's modes of transportation are quite as glamorous as her pink convertible. Given the glamor and the iconography, it should come as no surprise that the "Barbie" movie kicked off its press tour by posting photos of Margot Robbie with the Barbiemobile, dressed in an equally perfect Barbie outfit — a pink pleated miniskirt, matching strapless pink bustier, pink high heels, pink purse, and white sunglasses. Robbie's hair was flawless, too, with her blonde locks styled in cascading waves.
The overarching color scheme of the day was, of course, pink. Color hasn't just been an important conversation between Robbie and her stylist — color has been a major factor for Mattel for years and years. Of course, Barbie's signature color is pink and it's a very particular shade: Pantone color PMS 219. Color played a major part in the creation of the "Barbie" movie as well. As director Greta Gerwig told Architectural Digest, "I can't even tell you the meetings we've had about pink. We sat with all these different kinds of pinks and we were like, 'What is the pink, and how do the pinks interact?'" Yes, the hue is important to Barbie.
The day-to-night look
Part of Barbie's charm is that she is good at everything — including multitasking. Whether it's balancing multiple careers while maintaining a perfect romantic relationship and several fulfilling friendships or mastering the art of the day-to-night look, Barbie can do it all. And so can Margot Robbie, apparently.
While attending the "Barbie" premiere in Seoul, South Korea, Robbie walked the red pink carpet in two separate outfits à la the 1985 Day-to-Night Barbie. The first outfit was the day look, a pink Versace blazer and skirt set with a white hat, pink scarf, and pink and white heels. Robbie also accessorized the day part of the outfit with a bedazzled Judith Leiber pink cell phone clutch.
The second outfit was the night outfit — a sequin tank top with a tulle skirt — was also Versace and also pink, naturally. Robbie accessorized both the day and night versions of her look with small pink purses.
Barbiesque in vintage Versace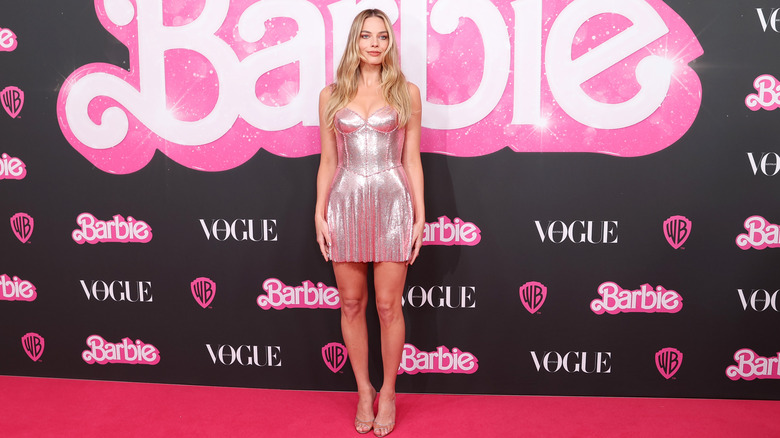 Don Arnold/Getty Images
If you've only ever spent a minute of your life playing with a Barbie doll, you likely kept her in the outfit she came in. But if you've spent, oh, two minutes or more playing with a Barbie, you most certainly changed her clothes — and you discovered that her wardrobe extends well beyond the outfits she comes with.
Margot Robbie clearly understands that because she served looks on the "Barbie" press tour that weren't necessarily associated with a particular doll but were still decidedly Barbie. Take the dress she wore to the "Barbie" Celebration Party at Sydney's Museum of Contemporary Art. While there's not an exact miniature version to match, Robbie's Versace number is a dazzling vintage piece from Barbie's heyday — the '90s. The mid-thigh pink dress was first worn by Claudia Schiffer in 1994, and it makes for a fun interpretation of something Barbie might wear.
A modern take on Sparkling Pink Barbie from the '60s
"The key thing about Barbie is that she dresses with intention," "Barbie" costume designer Jacqueline Durran told Vogue. "Barbie doesn't dress for the day. She dresses for the task." Likewise, Robbie has dressed with intention while promoting the film. She has delivered perfect Barbie look after perfect Barbie look — with some being exact replicas of classic Barbie outfits while others were modernized interpretations.
While attending a "Barbie" press conference in South Korea, Robbie wore a look designed after the 1964 Sparkling Pink Barbie. While the doll was sold wearing a bedazzled knee-length skirt and full-length blouse, Robbie walked the pink carpet in a mini skirt and crop top in a richer pink than the pale hue seen on the doll. Robbie did, however, keep the Sparkling Pink jacket and headpiece, calling upon designers from Moschino, Tiffany & Co., and Manolo Blahnik to bring the vision to life, according to an Instagram post from her stylist, Andrew Mukamal.
The reimagining of Totally Hair Barbie
Anyone who has played with Barbie dolls as a child had their favorite. For many '90s kids, that was Totally Hair Barbie. Released in 1992, she became the best-selling Barbie in Mattel's history — and it's easy to see why. Totally Hair Barbie rocked a funky three-quarter-sleeve minidress, pink heels, and bold pink earrings, but her defining quality was her crimped mane that almost reached her feet. Indeed, Totally Hair Barbie had hair for days, and she rocked it like none other. 
As Margot Robbie has channeled the most iconic of Barbie dolls while doing press events for "Barbie," she of course took on the Totally Hair Barbie. While in Mexico for a "Barbie" photocall, Robbie wore her own funky three-quarter-sleeve minidress, pink heels, and pink earrings — and, yes, while her hair wasn't sweeping the floor, she totally did crimp her long locks. 
A near-perfect replica of Earring Magic Barbie
Since her debut in 1959, Barbie has had over 200 distinct careers — from babysitter to astronaut to president. She's one busy doll. But some of the most famous Barbie iterations have little to do with her career and everything to do with her simply playing dress-up, a pillar of being Barbie. One such iteration is Earring Magic Barbie, which was released in the early '90s and came with earrings for the doll's owner to wear, too. 
Margot Robbie attended the Mexico premiere of the "Barbie" movie in a Balmain replica of Earring Magic Barbie, unsurprisingly perfectly embodying the beloved doll through her pink leather minidress, pink stilettos, and crimped blonde hair. As one fan commented on stylist Andrew Mukamal's Instagram post of the outfit, "Margot is like your life-size Barbie doll [and] you are dressing her absolutely perfectly." If we didn't know any better, we'd have thought Robbie and Mukamal snagged accessories from a Barbie doll box.
Pink & Fabulous redux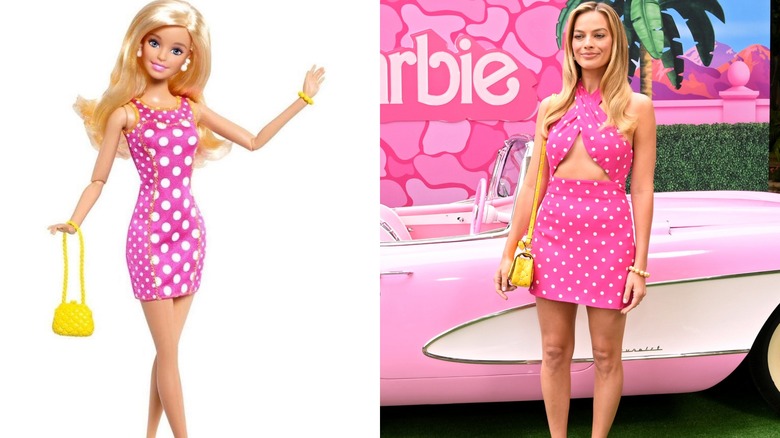 Mattel, Jon Kopaloff/Getty
While attending the "Barbie" world premiere in L.A., Margot Robbie revealed, "We're finding Barbie references from decades past and just doing it really for the big Barbie fans out there, people who are actually collecting those Barbies. We're hoping to get them excited." And excited we are!
While the overwhelming majority of the Barbie dolls Margot Robbie replicated while promoting "Barbie" were vintage dolls, Robbie used a newer doll as her muse for a press junket and photocall at the Four Seasons Hotel Los Angeles in Beverly Hills. Robbie channeled Look 1 of the 2015 Pink & Fabulous collection, released in 2015. Like the doll, she wore a pink minidress with white polka dots and fashioned her hair in long, sleek waves. Her accessories were on point too — white heels, a yellow bracelet, and a yellow quilted purse. Unlike the doll, Robbie's dress featured a midriff-bearing cut-out and halter-top neckline. Robbie posed next to Barbie's classic pink Corvette for photos, looking as though she was about to hop in and drive to the DreamHouse.
The meta gingham ensemble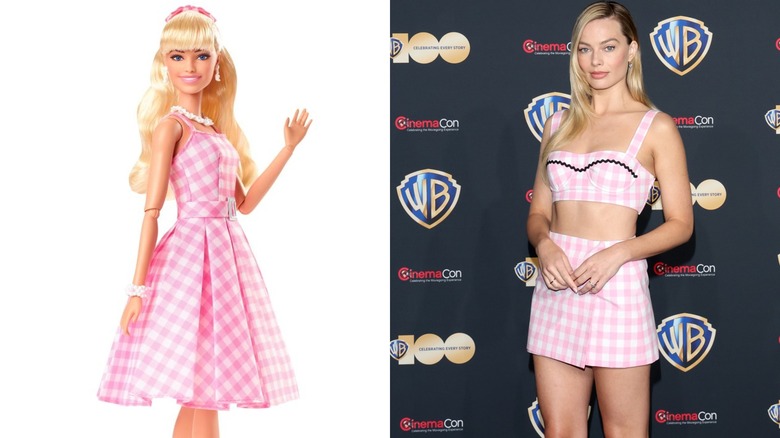 Mattel, Gabe Ginsberg/Getty
For her CinemaCon outfit, Margot Robbie went meta. She arrived to the Las Vegas event wearing a pink gingham Prada set modeled after an outfit of a Barbie modeled after Robbie in the "Barbie" movie. Keeping up? 
Ahead of the "Barbie" premiere, Mattel released several new Barbie dolls in the likenesses of the film's actors. In a teaser trailer, Barbie (Margot Robbie) is pictured wearing a pink gingham dress, and one of Mattel's "The Movie" dolls is sold wearing a look-alike. As the listing explains, "This Barbie doll cuts a timeless silhouette in a sweet dress modeled after one of her character's iconic looks in Barbie The Movie."
Instead of showing up to CinemaCon wearing the costume she donned in the film, though, Robbie went with an edgier two-piece ensemble — still in the same color and pattern as her costume — paired with understated earrings, an anklet, and pink peep-toe heels.
An Enchanted Evening gown
Margot Robbie's arguably best Barbie outfit was inspired by the Enchanted Evening Barbie, which was originally sold in 1960 and later reproduced by Mattel in the '90s. For the London premiere of "Barbie," Robbie wore a form-fitting pale pink Vivienne Westwood gown replete with a train and a 3D rose applique affixed at the waist. Robbie emulated the doll further by sporting a white fur stole, long white gloves, and a three-strand pearl choker. She completed the look with matching earrings and an elegant updo.
Robbie's London look ended up punctuating the "Barbie" press tour. Not long after members of the Writers Guild of America went on strike, so too did members of the Screen Actors Guild – American Federation of Television and Radio Artists, and thus all "Barbie" (and other movies, like "Oppenheimer") press and premieres were canceled.
"Barbie" was scheduled to premiere in Berlin and New York City after showing in London, and we can't help but wonder what Robbie had planned to wear to those events. But we're grateful for the stellar Barbie looks she gave us while she could.