The Disturbing Reason Elle Fanning Didn't Get Cast In A Role As A Teen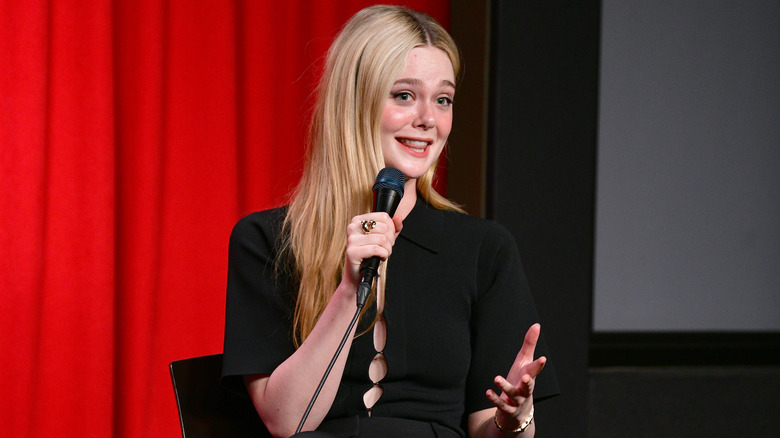 Araya Doheny/Getty Images
The entertainment industry is notoriously hard on its youngest stars, especially young girls. Just look at former teen icons like Britney Spears, Miley Cyrus, and Vanessa Hudgens, all of whom endured questions and criticisms about their bodies and dating lives long before they turned 18 (and long after). Elle Fanning, the award-winning lead of Hulu's "The Great," started off as a child star in the early 2000s. In a Hollywood Reporter Roundtable alongside Jenna Ortega, Sheryl Lee Ralph, Natasha Lyonne, Ayo Edebiri, and Devery Jacobs, Fanning shared a particularly-painful story from her early years in the spotlight. The worst part? Her story isn't all that unusual in Hollywood or even the world at large.
"I've never told this story, but I was trying out for a movie. I didn't get it. I don't even think they ever made it, but it was a father-daughter road-trip comedy," the actor recalled, adding, "I was 16 years old, and a person said, 'Oh, she didn't get the father-daughter road trip comedy because she's unf***able.'" Fanning isn't the only star to talk about being sexualized at a young age in the industry — it's a phenomenon that's even caused some former child stars to drop out of the business entirely. 
Fanning's agents protected her from the worst comments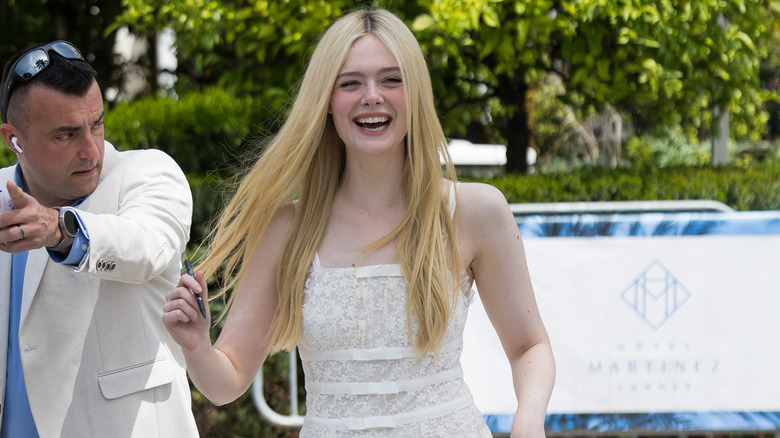 Jacopo Raule/Getty Images
According to Fanning, her agents tried their best to shield her from explicit industry remarks. "I didn't hear [the comment] from my agents because they wouldn't tell me things like this," she said during the Hollywood Reporter Roundtable, adding, "That filtration system is really important because there's probably a lot more damaging comments that they filtered." There's no telling what other pieces of industry "insight" Fanning missed out on during her teenage years (and even now). Both Elle and her older sister, Dakota, are known for using the same agent. 
Although Elle had a lot of confidence on set as a young star (plus, Dakota served as an exemplary role model), seeing herself through the lens of the paparazzi made her a little too self-aware during her pre-teen and teenage years. As Elle noted in Variety's "Actors on Actors" series, she even remembers fainting out of nervousness in one audition: suffice it to say, she did not get the part. That being said, she was treated to Pink Berry and Burger King after, which quickly healed any embarrassment. Fast food might just be the secret to Hollywood stardom. 
The award-winner was once rejected due to her sub-par follower count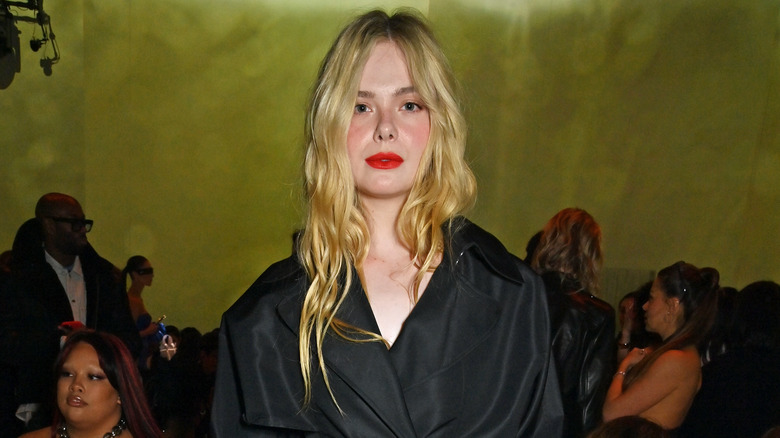 David M. Benett/Getty Images
Like most actors, Fanning learned to befriend rejection early on. Well, kind of — it can still be difficult to stomach even as an industry veteran. After auditioning for a part in an unnamed franchise film (likely the Marvel Cinematic Universe), casting directors said she didn't have enough social media followers to make a splash. "I did try out for . . . I'm not going to say what it was, but I didn't get a part once for something big because — it might not have just been this reason, but this was the feedback that I heard — was because I didn't have enough Instagram followers at the time," the actor revealed on the "Happy Sad Confused" podcast. The casting directors probably regret their decision considering the stir Elle made when she joined TikTok. 
On top of that, the "Neon Demon" star has also lost out on parts due to funding and scheduling conflicts. "[The director] Joe Wright and I were supposed to do 'The Little Mermaid'...It was gonna be like the she turns into foam version . . . very theatrical," she also shared on "Happy Sad Confused." Unfortunately, the underwater technology necessary would have been too expensive. What's more, Fanning was automatically out of the running for "Dune: Part II" because she was busy filming "The Great." Clearly, celebrity status doesn't shield you from experiencing disappointment.