What Kristen Stewart Has Said About Getting Engaged To Dylan Meyer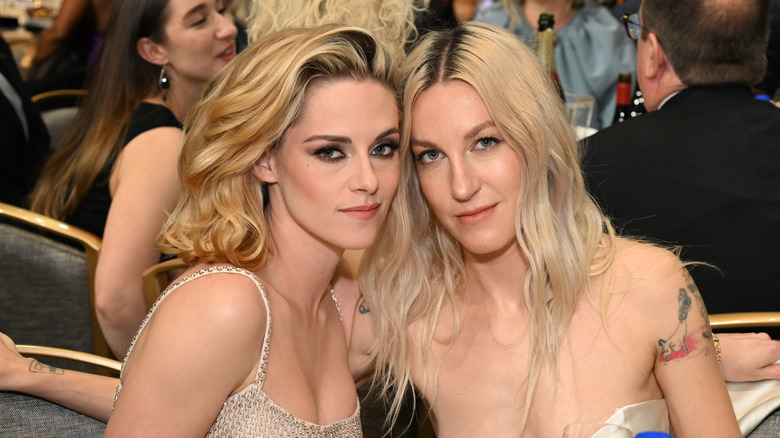 Michael Kovac/Getty Images
Rumors of a relationship between Kristen Stewart and Dylan Meyer began in August 2019 when the two were seen kissing in New York City. In October of the same year, the pair made their relationship public via an Instagram post on Meyer's account, captioning a photo of them kissing, "Find me under the covers hiding from the happiness police." Fast forward, and the two are now happily engaged, with Stewart initially sharing the news in a 2021 interview.
If you're unfamiliar, Meyer is a screenwriter known for her work on "XOXO," "Miss 2059," and "Moxie." She's also the daughter of well-known author, screenwriter, and director Nicholas Meyer, who's associated with films such as "Time After Time" and "Star Trek II: The Wrath of Khan." She has also acted in short films, and Dylan reportedly first met Stewart on a film set around 2013.
While Stewart has self-admittedly kept the details of her past relationships private, she was very open in a November 2019 interview with "The Howard Stern Show" about her strong feelings for Meyer. Even though the two only went public with their relationship the month before, the "Spencer" actor was quick to confirm that she was thinking about marriage, explaining that she was anxious to propose.
Stewart confirmed she was engaged in November 2021
While Kristen Stewart expressed her intention to propose to her partner Dylan Meyer in 2019, the actual engagement was announced in November of 2021 when the actor returned to "The Howard Stern Show." In that interview, Stewart explained that, since she expressed her intention to marry on the show, she ended up encouraging Meyer to be the one to take the next step.
"I think I felt a little bit like... I basically did it. I blew my load on Howard Stern, and then basically was like, 'Well, now it's your turn,'" explained Stewart. "It's not a given that I would be the one [to propose], you know what I mean? Like, with two girls, you never know, like, who's going to fulfill what weird f–king gender role thing, and we don't do that or think about it in those terms."
In terms of the actual proposal, Stewart didn't share too many details but went on to say, "And so I was kind of joking for a bit, like, 'No, I want to be the one to propose, like, I want to be proposed to' and then she just grabbed that bull and made it happen. It was f***ing so cute."
The actor shared some insight into the type of wedding she'll have
While Kristen Stewart opted to keep the details of her proposal private, she did share some insight into what kind of wedding she and Dylan Meyer are interested in having. The "Snow White and the Huntsman" star explained that she wasn't interested in anything extravagant but would prefer to keep things low-key.
"I want to be in LA so everyone can come and, you know, I want us to be pretty chill. Like, I don't want anyone walking anyone down any aisles. We're just gonna stand and do vows and f***ing party after," Stewart told Howard Stern. "It's kind of just a great excuse to get together and say I love you in front of all your friends."
Regarding an officiant, the actor said she and Meyer might forgo one altogether, but otherwise, there is one person she'd love to do the job. "We did hear that Guy Fieri from the Food Network officiates a lot of gay weddings," she said. "And so the idea of that man, that sweet, sweet spiky-headed man coming to our wedding and [officiating], it just makes me laugh so much."