How Did Kristen Stewart Meet Her Fiancée, Dylan Meyer?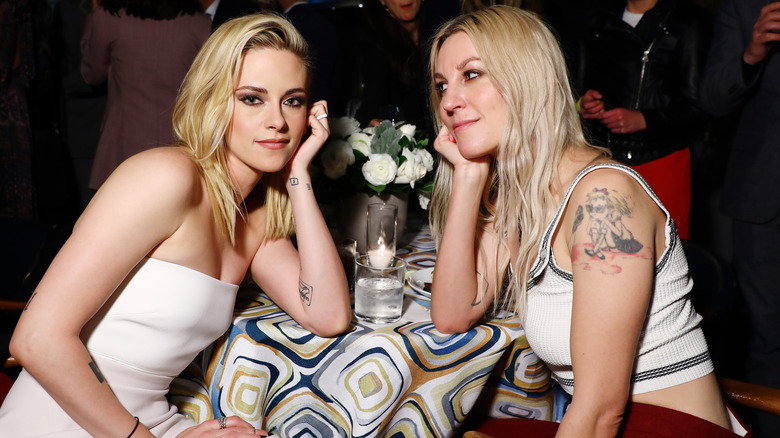 Sara Jaye/Getty Images
Kristen Stewart, perhaps best known for portraying Bella Swan in the "Twilight" franchise, has been a tabloid target for her high-profile romances. In 2017, Stewart publicly came out while hosting "SNL" and later confirmed during an interview with The Guardian that she identifies as bisexual. The actor has been linked to several famous women in the ensuing years, including musician St. Vincent and Victoria's Secret model Stella Maxwell. 
In 2019, Stewart began a relationship with Dylan Meyer. Like Stewart, Meyer is from Los Angeles and is an actor. She's also a screenwriter, even penning the Amy Poehler-directed film "Moxie" alongside Jennifer Mathieu and Tamara Chestna. In November 2021, Stewart announced that she was engaged to Meyer in an interview with "The Howard Stern Show." She also revealed that Meyer had been the one to pop the question. 
As Stewart explained to Stern, "It's not a given that I would be the one, you know what I mean? Like, with two girls, you never know, like, who's going to fulfill what weird f***ing gender role thing and we don't do that or think about it in those terms." Stewart later told "The Tonight Show with Jimmy Fallon" that Meyer's proposal was absolutely exceptional. As it turns out, their coupling was a long time coming.
Dylan Meyer and Kristen Stewart met years before they got together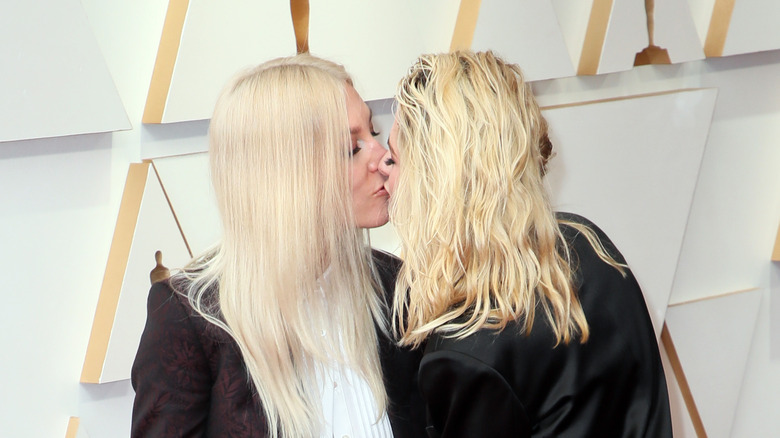 David Livingston/Getty Images
During a prior appearance on "The Howard Stern Show," Kristen Stewart shared the inside scoop on how she and her fiancée, Dylan Meyer, met, revealing that they'd known each other much longer than they realized: "I met her years ago on a movie and I hadn't seen her in six years, and then she rocked up at a friend's birthday party, and I was like, 'Where have you been, and how have I not known you?' She's been living in L.A. alongside my life somehow but not ever converging." 
The actor added, "We both felt like trolls as kids. We're, like, so similar but different. She's a writer. She's brilliant." At the time, Stewart also informed Stern that she was deeply in love with Meyer and was planning on proposing to her but, obviously, things didn't quite work out that way. While the "Twilight" star generally stays away from social media and prefers to keep her relationships out of the spotlight, Stewart frequently pops up on her fiancée's Instagram regardless. 
One sweet photo shows the pair celebrating Halloween as Wayne and Garth from "Wayne's World." And, on National Voter Registration Day in 2020, Stewart used Meyer's account to spread voting awareness. Her fiancée, on the other hand, loves to pen heartwarming messages to Stewart on the social media app. On her 33rd birthday, for instance, Meyer gushed: "Sweetheart, I love you more than all the shades of green, all the phases of the moon, all the cats in LA."
Kristen Stewart has an idea about what her ideal wedding should look like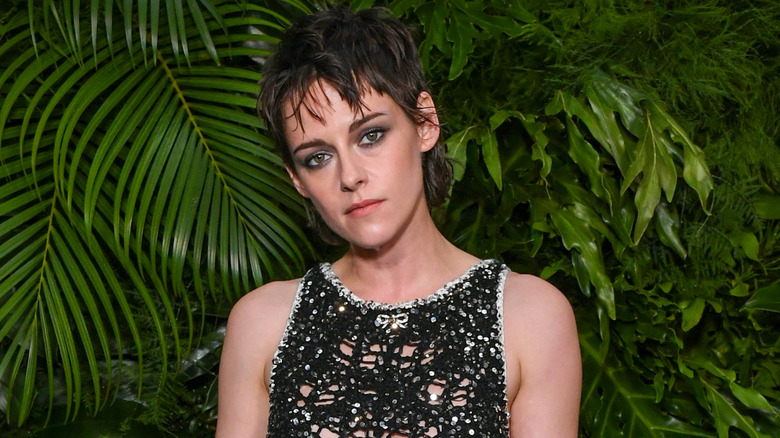 Jon Kopaloff/Getty Images
At the time of writing, Kristen Stewart and Dylan Meyer have yet to tie the knot or give any indication that they have. However, Stewart has been open about what she wants for her upcoming wedding. Speaking on "The Howard Stern Show," Stewart, per Brides, said she wants her nuptials to be low-key: "I want to stay home, I want to be in L.A. so everyone can come and ... I want it to be pretty chill. I don't want anyone walking anyone down any aisles. Like, we're just gonna stand, do vows, and f***ing party after." 
The Oscar nominee also noted that she wants to wear jeans, a T-shirt, and no shoes for the occasion too. Furthermore, Stewart really likes the idea of none other than Guy Fieri officiating her big day. Shortly after, Fieri said on the "Today" show that he was more than willing to do so. In June 2023, a source clarified to Us Weekly that Stewart and Meyer have yet to walk down the aisle because they're not really in any hurry. 
The insider confirmed, "It'll probably happen this year," adding, "They had planned a ceremony in L.A. but rethought it. Then they planned a destination wedding, but things came up and it was put on hold." The source also divulged that Stewart and Meyer's wedding will be "on their terms," suggesting we may not get any details whatsoever.