Did Joe Biden Break A Royal Protocol? The Palace Responds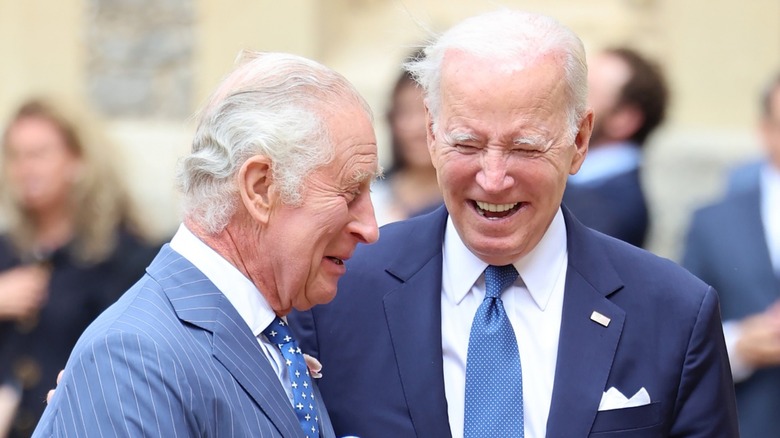 Chris Jackson/Getty
President Joe Biden met King Charles III at Windsor Castle on July 10, 2023, and some were concerned that he breached protocol in a big way. According to the New York Post, the two leaders shook hands, and then Biden placed his left hand on Charles' right arm. He also placed his hand on Charles' back after the greeting and walked in front of Charles while walking by the Guard of Honor, stopping to talk to one of the Guards.
How did King Charles really feel about Biden's touchy-feely greeting? Although there are not any strict rules that must be followed when meeting a member of the Royal Family, the traditional greeting for men is a simple handshake and/or a neck bow. Biden changed things up with his greeting, but there is no need for alarm. A source from Buckingham Palace affirmed that Biden did not cross any lines in his actions when he met up with King Charles. Specifically referring to the touch of his back, the Palace source said, "What a wonderful symbol of warmth and affection it was between both the individuals and their nations" (via People).
This July 2023 meeting between the world leaders was their first face-to-face conference since King Charles III became king. According to The White House website, Biden and Charles, " ... met at Windsor Castle with 23 leading philanthropists and financiers to help catalyze finance to support emerging markets and developing countries in tackling the climate crisis."
In addition to King Charles, Biden also met with the British Prime Minister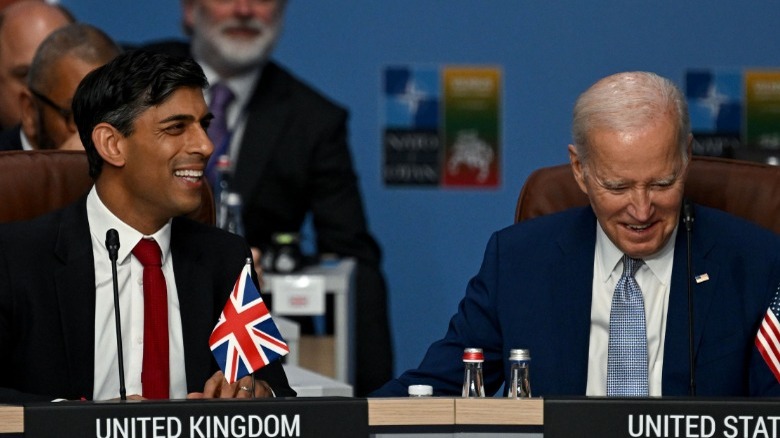 Pool/Getty
On his trip to London, President Biden also met with Rishi Sunak, the British Prime Minister. In the opening remarks of the meeting, strong solidarity between the U.S. and the U.K. was shown.
Sunak welcomed Biden and mentioned how this is his first time at 10 Downing Street since becoming President of the United States. Sunak also said how the following day — July 11, 2023 — the politicians would be attending the NATO Summit in Vilnius, Lithuania, and that, " ... we stand as two of the firmest allies in that Alliance. And I know we'll want to do everything we can to strengthen Euro-Atlantic security." Biden added, "We met in San Diego, Belfast, Hiroshima, Washington, here. And couldn't be meeting with a closer friend and a greater ally. ... I think we're moving along in a way that's positive, but our relationship is rock solid between the United States, Great Britain. And I look forward to our discussions" (via The White House).
Queen Elizabeth II was once hugged by an American politician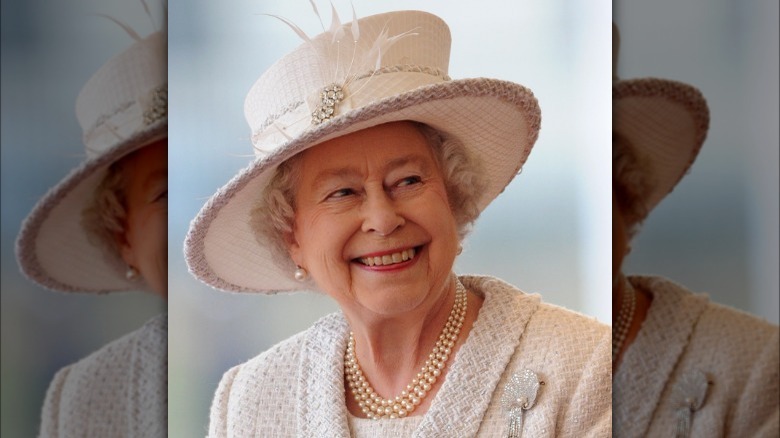 Wpa Pool/Getty
President Biden did not cause a stir with his unconventional greeting to King Charles III, and other American political figures have done similar things without a problem. In 2009, former First Lady Michelle Obama gave Queen Elizabeth II a side-hug after shaking her hand. Usually, only a handshake is appropriate, but the Queen only hesitated a moment before she hugged the First Lady back, implying that the action did not upset her.
Sometimes, following traditional customs when face-to-face with a royal causes an awkward situation. While being interviewed on The Ellen Show in 2018, pop star Shawn Mendes recalled the story of how he was invited to perform at Queen Elizabeth II's 92nd birthday. While backstage, the Queen walked up and stood near where Mendes was waiting to go onstage.
" ... And you can't say anything!" Mendes told Ellen DeGeneres. "You're not allowed to speak to her unless she speaks to you first. ... " Following this rule meant that Mendes and the Queen stood in awkward silence. He glanced over at her a few times, but she did not look at nor speak to him. However, Mendes should not feel too bad about his awkward moment — Queen Elizabeth herself has had awkward moments caught by millions.