Body Language Expert: How King Charles Really Felt About Biden's Touchy-Feely Greeting - Exclusive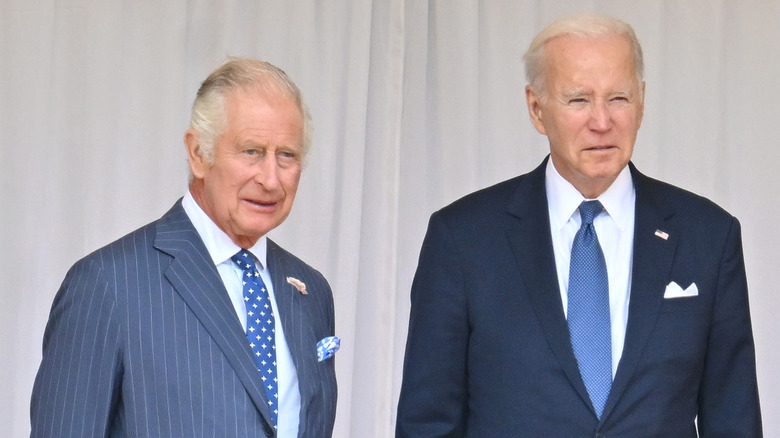 Samir Hussein/Getty Images
While First Lady Jill Biden attended King Charles III's coronation in May, President Joe Biden stayed in the US; Joe not attending King Charles' coronation actually wasn't all that unusual for a US president. But now, Biden is getting his chance for one-on-one time with the king with a visit to England. It's his first stop on a summer 2023 European visit; along with visiting with the king, Biden's meeting with Prime Minister Rishi Sunak while in England, and he's attending both the NATO Summit in Lithuania and the U.S.-Nordic Leaders Summit in Finland.
When Biden arrived at Windsor Castle for his visit with King Charles, the first since Charles became king, Biden greeted him with a warm handshake, and as they walked together towards the castle, Biden put his hand on the king's back. Some think that this was an unacceptable breach of royal protocol for the president to touch the king. Generally speaking, that's true — the monarch isn't to be touched. But was King Charles left feeling uncomfortable by Biden's familiarity? Jess Ponce III, body language expert and author of "A.W.E.S.O.M.E", told The List that it looked like King Charles was okay with the president's touchy-feely greeting.
Biden greeted King Charles like he would anyone else
Body language expert Jess Ponce III told The List that President Joe Biden and King Charles III both seemed to be happy to see each other. "King Charles received President Biden's greeting with sincere appreciation. They appeared to be very friendly with one another, and much of that was prompted by President Biden."
Despite some rumors of a rift between President Biden and King Charles in advance of his UK trip, Biden seemed to be going along with the positive, comfortable reception he got from King Charles. "He not only matched the King's energy, he took it up a level in terms of familiarity, but in an appropriate way," Ponce said. "For example, when the two were walking up the stairs, President Biden motioned for the King to proceed."
Biden touching the king isn't something that necessarily should come as a surprise. "President Biden is a touchy-feely person," Ponce III explained. "He's often seen putting his left hand on people's arms or shoulders during a greeting. This is while his right hand does a traditional handshake. He also leans forward with his upper body, while presenting a warm gleaming smile. He makes sure to create friendly eye contact and pay direct attention to the other individual."
Some are sure to find fault in how Biden behaved with King Charles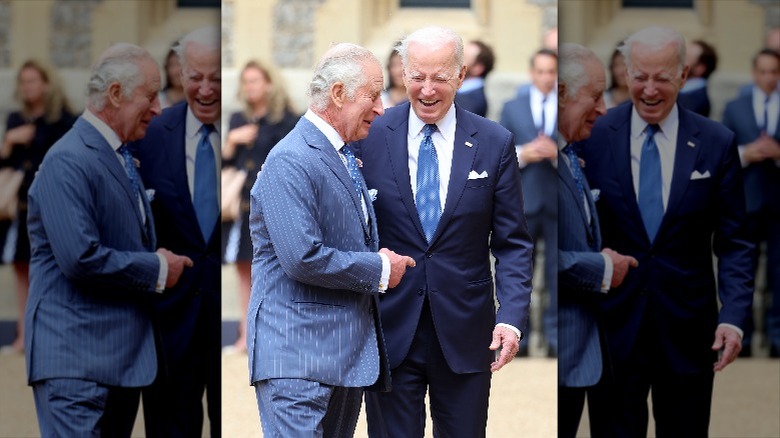 Chris Jackson/Getty Images
The way that President Joe Biden greeted King Charles III isn't all that different from how he'd greet someone who wasn't in the royal family. "This is Joe Biden's classic signature greeting," Jess Ponce III noted. "He is a true diplomat, politician, and overall warm person – and that is exactly how he showed up with King Charles." Ponce wasn't alone in his assessment of the interaction as a positive one. A Buckingham Palace source confirmed that King Charles III was completely at ease with Biden, including the fact that Biden touched him, per People Magazine.
Another potential faux pas was during the honor guard inspection. Biden walked in front of the king, which was apparently another non-issue when it comes to royal protocol, the palace source told People Magazine. This is similar to what Donald Trump did when he visited Queen Elizabeth II in July 2018. Trump walked in front of the queen as they inspected the honor guard, and people took to social media to vent their disbelief and annoyance at his seeming disrespect. That comparison isn't going unnoticed; on Twitter, some are wondering if Biden will get called out for walking in front of the king the same way that Trump did. Time will tell how people respond, but no matter what protocol might dictate, we're happy to see that the two world leaders seem to be getting along well.