What Happened To The Lip Bar After Shark Tank?
As vast as the makeup industry can be, dark skinned women, particularly Black women, often have difficulty finding cosmetics for their skin tone. Although this conversation has focused primarily on complexion products like foundations and concealers, other features such as the eyes and lips are often neglected. Some lipsticks and glosses can make darker lips look ashy or pale — however, The Lip Bar set out to mitigate this.
Created by Melissa Butler and Rosco Spears, the co-founders went onto "Shark Tank" to pitch their product, a line of vibrant lipsticks. Inspired by cocktails, each lipstick had a catchy name, such as merlot and bourbon. Butler, a former Wall Street financial analyst, and Spears, a teacher and stylist, came together to create a diverse and wide range of lipsticks that went beyond the reds, pinks, and nudes that were popular among makeup users.
Before going onto "Shark Tank" in 2015, Butler started the company in 2012, kicking it off with an Indie Go-Go Campaign. Although she didn't reach her goal of raising $27,000, she kept on with the company.
What was The Lip Bar's experience on Shark Tank?
During episode 18 of season 6, Butler and Spears went into the tank seeking $125,000 for 20% of their company. Upon going onto the show, they had $126,000 in sales during their two years in business. Aside from the diversity in range and targeted audience, The Lip Bar founders explained that the selling point of their company is their vegan formulation. Made with shea butter and avocado and jojoba oil, the cruelty-free lipsticks are moisturizing.
Still in the early stages of the company, Butler remarked that she made the lipsticks by hand in her Brooklyn apartment. Lori Greiner was immediately impressed by the margin of the product; the lipsticks took only $3 to make, with Butler and Spears selling them for $20. As the founders described their app that allowed users to customize a lip color, Kevin O'Leary described it as clown makeup. Put off by the cocktail logo, Robert Herjavec bowed out.
Mr. Wonderful continued to tear into the brand "The chances that this is a business are practically zero," he said to their idea of a mobile van that operated as a store. Butler and Spears turned to Daymond John, calling on his expertise to help their business. However, he refused, commenting "You are never going to create anything new in this world. You know, it's lipstick." Eventually, all the sharks bowed out, leaving The Lip Bar without a deal.
What happened to The Lip Bar post-Shark Tank?
After being rejected on "Shark Tank," Butler simply took it in stride. She called a Target buyer, and in 2016 The Lip Bar was carried on the corporation's website. Two years later, it made it in stores and is now available in 750 Target locations across the country, as well as 500 Walmarts. Butler was unfazed by her lack of success in the tank. "They were really cruel to us," she said (via Newsweek). "At the end of the day, if I stopped my business after one 'no' — even a public 'no' — then maybe I shouldn't have started. I couldn't allow someone else to be the authority on my dream."
Now, Butler and her creative director Spears are enjoying the fruits of their labor — without the cocktail logo. As one the most successful Black-owned beauty brands in the game, they received $6.7 million in 2022 from several growth investing and advisory platforms. Although the sharks didn't see the vision of The Lip Bar, Arian Simone of Fearless Fund — one of The Lip Bar's investors — spoke to Forbes about what made the company special.
"I have personally witnessed Melissa's journey from leaving Wall Street to the inception of TLB and the subsequent execution that has turned TLB into a first-class beauty company revolutionizing the variety of colors and bold lips for women of color."
How has The Lip Bar expanded since the show?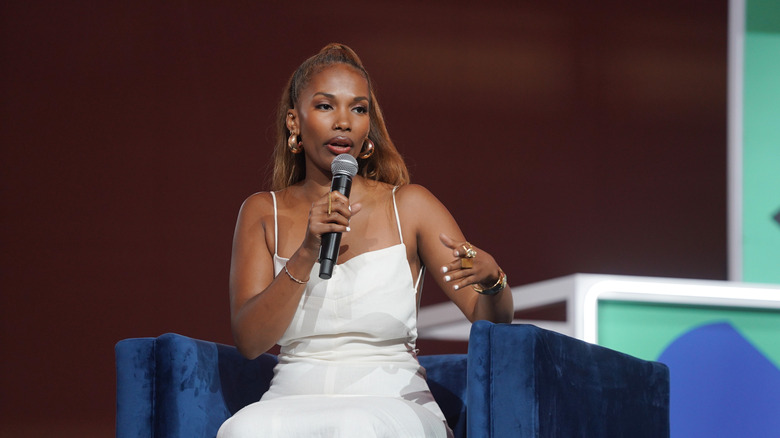 Erika Goldring/Getty Images
On their episode of "Shark Tank," the brand appeared to only have a range of satin lipsticks. Afterward, they ventured into various different lip products, such as glosses and liners. While its nourishing lipsticks remain a best seller, The Lip Bar's Michelle Obama-approved Nonstop Liquid Matte is its most iconic product. With over 5,000 five-star reviews and more than 20 colors, the matte, non-drying lipstick is a customer favorite.
The Lip Bar has ventured into complexion products too, launching a best-selling tinted skin moisturizer in 2021. They also carry eyeshadow palettes, a blush and bronzer duo, and mascara that can be found online or in its flagship store in Detroit, Michigan. The company further ventured into the world of skincare, creating a makeup remover, cleanser, serum, and moisturizer.
Butler's most recent foray, however, is Thread Beauty, a cosmetics brand geared toward Gen Z people of color. With an affordable price point and sleek packaging, the new beauty brand has already found some success, with Target picking up the young company. As for The Lip Bar, the brand that Mr. Wonderful said had zero chance of making it now has an annual revenue of over $5.5 million.