Details We Know About Madonna's Relationship With Maluma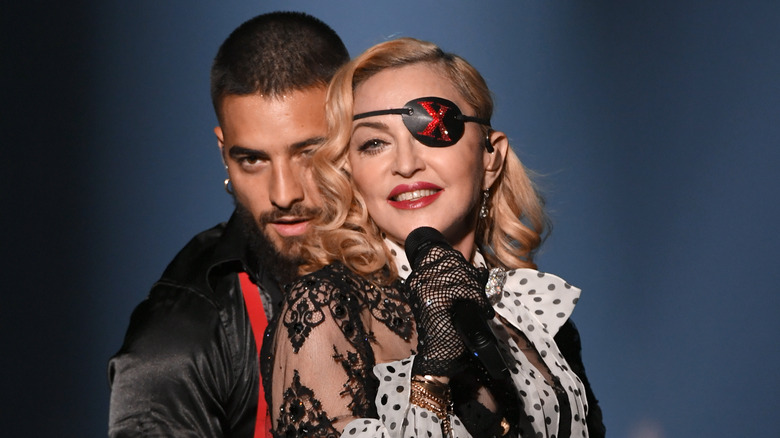 Kevin Winter/Getty Images
When we think of unusual celeb pairings that totally work, Maluma and Madonna come to mind. They're from different continents, make different genres of music, different generations, and yet they've found common ground.  After a backstage meet at the VMAS, they collaborated on the 2019 track "Medellín" from Madonna's album, "Madame X." In an Apple Music interview, Madonna gushed about how Maluma sent her flowers after they met and his incredible work ethic that made her time in the studio a pleasure. 
The song's name comes from Maluma's hometown in Colombia, so naturally, Madonna made a somewhat surprising visit to his homecoming show. The artists gave a steamy performance as Madonna ground against Maluma and even gave him a lap dance. The official music video for the song features equally steamy visuals that showcase just how comfortable they are with each other. And they even gave a memorable performance at the 2019 Billboard Music Awards when they danced around a string of realistic, holographic Madonnas. 
But underneath all of this, there seems to be genuine respect and support. In a Rolling Stone "Musicians on Musicians" interview, Maluma shared how Madonna has helped him grow as an artist, "You changed my vision in many ways," he added. "I'm still young and I'm still learning a bunch of things in this industry and my career, but for sure it was an important thing to just be more confident in myself."
Maluma has learned a lot from Madonna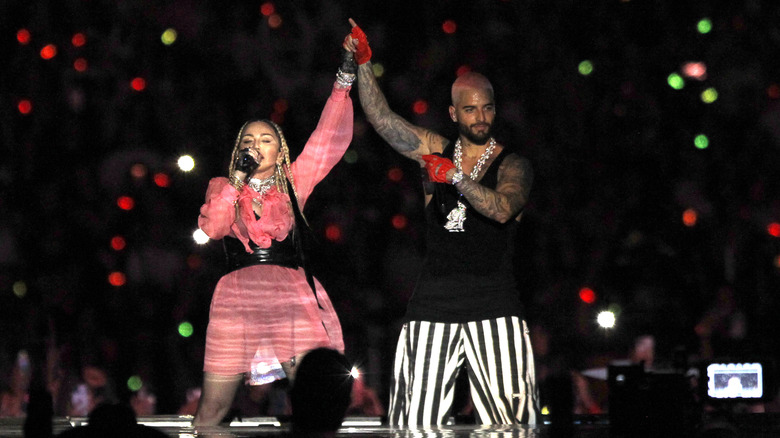 Fredy Builes/Getty Images
As someone who has been in the industry for decades and set numerous world records, Madonna had some pearls of wisdom to offer Maluma. She offered him this simple but effective advice in the Rolling Stone interview, "Your career will go in many directions," she said. "You'll have ups and — I'm sorry — but you're going to have some downs, too, because that's life." She shared a positive way to frame the experiences, "But then again, it won't be a down, because everything that happens to us is a teacher and we learn from it."
Madonna said that she is a detail-oriented artist who takes a hands-on approach with everything she does because she sees her shows as an extension of herself. And she hoped that Maluma would do the same, and he confirmed that he had. Madonna shared that she changed several things on-set for the "Medellin" music video to make everything perfect. They also joked about how hard they rehearsed for their Billboard 2019 performance, and Maluma said it was a transformative experience for him.
Maluma also looked back fondly on their time in the studio. He recalled that their session was only meant to last until around midnight, but they ended up staying there till the early hours of the morning. He also thanked Madonna for introducing him to the life-changing solution of drinking tequila and espresso that kept him going through the long session. 
Some have speculated their relationship isn't entirely platonic
Kevin Mazur/Getty Images
A source close to Madonna told Page Six, "They spent a few days together during rehearsals where the flirting began — people think it's likely he'll be performing on the South American leg of her tour as he's massive there — and then they hung out all weekend in New York. They seemed ridiculously close and their chemistry is insane." The insider also said that Maluma and Madonna got so close that people on tour thought it best to leave them alone. And to further complicate things, both are in relationships. 
Maluma has been dating Colombian architect and interior designer Susana Gomez since 2020. She's also a jewelry designer who creates her pieces using gems from Medellin, and Maluma was even spotted wearing an emerald necklace from their collection. Gomez also seems to be on great terms with Maluma's family. She joined Maluma for a family trip in 2022, wearing the same cowboy hat as the rest of the family. Maluma's mother, Marlli Arias, also showed her support for Gomez's jewelry collection by posting photos of the launch event on Instagram.
Meanwhile, Madonna seems to have found love in boxer, Josh Popper, after ending a five-month relationship with Andrew Darnell. She confirmed her romance via a slightly strange Instagram story. Their paths apparently crossed when Popper trained her son, David. She also showed up to support him at a boxing match. And Popper has reportedly signed an NDA to protect Madonna's private life.