Why You Won't Catch Gwyneth Paltrow Getting Botox Anytime Soon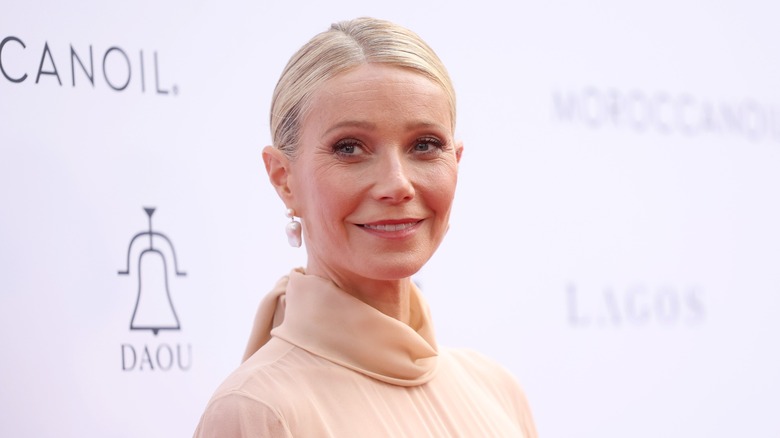 Monica Schipper/Getty Images
Older women, especially aging actors in Hollywood, are asked to do the impossible: stay young. Gwyneth Paltrow has spoken openly about how these pressures affected her. "I had a midlife crisis when I turned 40, and I went to go see this doctor. It was a disaster," she told Harper's Bazaar. The treatment left her forehead bruised and "completely frozen." Paltrow swore she wouldn't experiment with Botox again, although she admitted she'd try almost anything else.
In 2021 Paltrow agreed to a partnership with Xeomin, an anti-wrinkle injectable (no, not technically Botox). In a since-deleted Instagram post, Paltrow announced that she's a "big fan" of the product. "I take good care of my skin, hydrate, and exercise, but sometimes a girl needs a little extra help," she wrote, adding, "I was excited to try @xeominaesthetic (incobotulinumtoxinA) for my frown lines, it's a uniquely purified anti­ wrinkle injection that does not contain any unnecessary proteins" (via Vanity Fair).
It should be noted that Botox is also a purified version of botulinum toxin type A. According to Cleveland Clinic, Xeomin has been FDA-approved since 2010. Like Botox (the two products are pretty similar, in fact), It relaxes the muscles in your face, decreasing the appearance of fine lines and wrinkles. That being said, it can last a few months longer than its more popular predecessor. Plus, Gwyneth Paltrow claims it gave her more natural results than Botox ever could. It even allowed her to move her eyebrows. Given the lack of negative side effects compared to Botox (plus the hefty paycheck she's likely receiving for endorsing Xeomin), it's no wonder she's looking elsewhere for anti-aging products. 
Gwyneth Paltrow has spoken about aging gracefully
Gwyneth Paltrow is ready to show off her greys, at least some of them. "I toggle between embracing the imperfections, the laugh lines and wrinkles, and still wanting to optimize how I look, and feel my best at 50," she wrote on Instagram while promoting her wellness brand, Goop. "For me," she said, "it's about aging gracefully, like the Audrey Hepburns and Joan Didions of the world, whose beauty somehow cascaded as they added on more years."
The "Royal Tenenbaums" star believes in an inside-out approach to beauty. For her, that means eating "anti-inflammatory" foods, sleeping well, and using naturally-derived products (with the exception of Xeomin, of course). Paltrow has always considered herself a "tomboy" — makeup has never been a big part of her daily routine. Instead, she likes to use Goop products to get her skin to a "glowy and dewy" place without things like foundation and highlight (via People).
That being said, she doesn't think more invasive beauty treatments like surgery or fillers should be stigmatized — whatever way you choose to age, go about it with confidence. All in all, considering the price of some of Paltrow's Goop serums, injectables are probably more cost-effective.
Gwyneth Paltrow is famous for her questionable self-care methods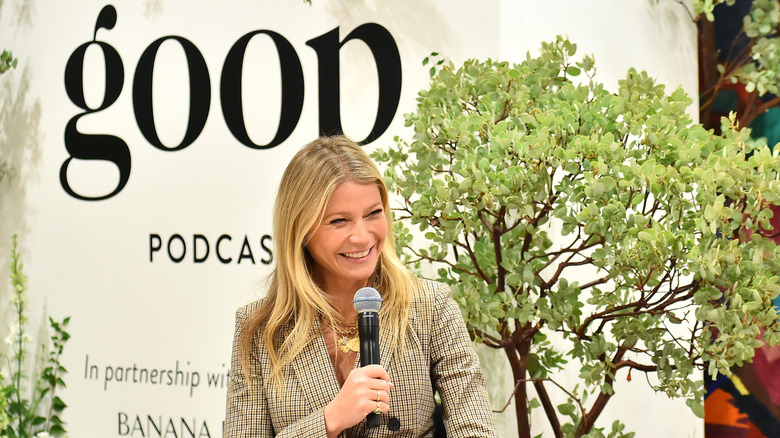 Stefanie Keenan/Getty Images
Gwyneth Paltrow says her wellness habits are to thank for her healthy glow, not injectibles. On an infamous episode of Dr. Will Cole's "The Art of Being Well" podcast, Paltrow explained how her "anti-inflammatory" diet is designed to flush toxins from her body. However, these so-called "toxins" are a wellness buzzword — the liver and kidneys naturally cycle them out, so a celebrity-approved cleanse won't necessarily benefit you. In fact, it might do more harm than good. "Beyond meeting your basic daily needs of fruits, vegetables, and whole-grain, there isn't really any extra benefit to what a detox diet could do," McKenzie Caldwell, MPH, RDN, a Charlotte, North Carolina-based dietitian, explained to Insider.
The Oscar-winner defended her diet on Instagram, explaining that Dr. Will Cole (who is not, in fact, a medical doctor) designed it to help her with her long COVID. What's more, Paltrow— backed by Dr. Cole — has recommended coffee enemas and "ozone therapy." Some have criticized the actor-turned-business mogul for promoting restrictive eating.
Since it was founded in 2008, Goop has developed a reputation for being a bit problematic. In 2018, the company was sued for claiming that their jade "yoni eggs" balanced hormones... Whether you're thinking about Botox, Xeomin, or coffee enemas, it's always best to consult a medical doctor first.