The Celebrity Guest Brad Pitt And Angelina Jolie Invited For Holidays Before Divorcing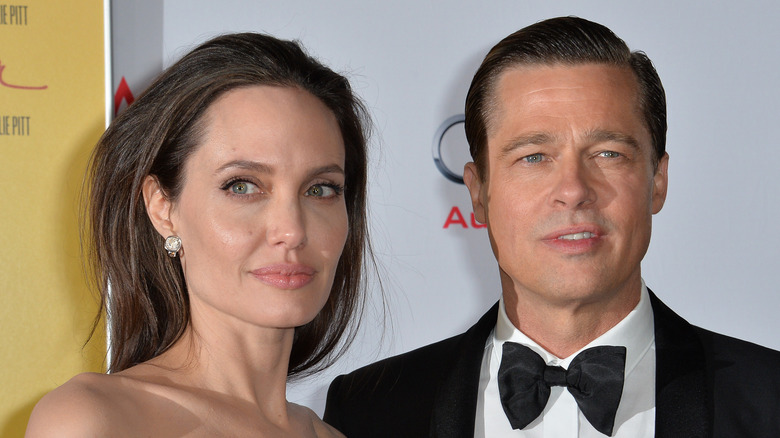 Featureflash Photo Agency/Shutterstock
It's been years since Angelina Jolie and Brad Pitt split in 2016, but as of this writing, the former Hollywood power couple is still in the middle of a nasty legal battle over their French estate, Chateau Miraval. And while they may be fighting over their Provence vineyard, there was a time when they had a harmonious relationship and enjoyed holidays together as a family.
After 12 years of a whirlwind romance, the "Mr. & Mrs. Smith" stars made headlines when they separated. The reason why Jolie and Pitt got divorced was due to irreconcilable differences, as cited by "The Tourist" actor. But before all the chaos ensued between the pair, one celebrity guest got to spend the last joyful holiday celebration of Pitt and Jolie as a couple. Jolie revealed that her friend, comedian Jack Black, had spent Easter with them.
In a 2016 interview with People to promote their film "Kung Fu Panda 3," Jolie and Black mentioned that he and his family had been invited over to celebrate Easter at Brangelina's household. While Black was talking about going home to their families after the movie, Jolie chimed in and said, "We do get together for Easter." The comedian then replied, "You guys invite us over, which is awesome."
Angelina and Jack have a solid friendship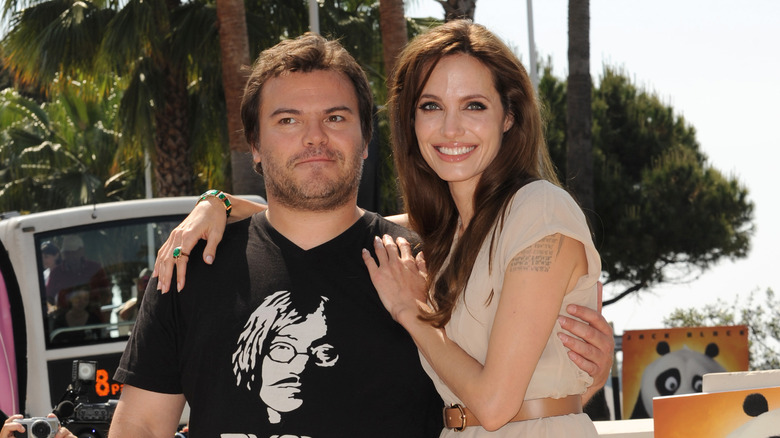 Featureflash Photo Agency/Shutterstock
Jack Black was beyond grateful that he got to experience and celebrate the Christian holiday despite practicing a different religion. Black further told People, "I'm a big Jew, so I don't really understand Easter traditions, but I do know this: Easter at Brad and Angie's is awesome. The kids love it, and so do I." In a separate interview with "The Jonathan Ross Show," Black quipped that he just couldn't say no to the enticing invite from Brad Pitt and Angelina Jolie.
Many people might assume Black and Jolie's friendship started when they began filming for the "Kung Fu Panda" franchise, which has spanned four films, the last of which is set to be released in early 2024. But the unlikely duo actually met through a different animated movie titled "A Shark's Tale," which was released in 2004. This was confirmed by Jolie herself, "The movie 'Shark Tale' was the start of a blossoming friendship... We used to say that you learn more about someone in an hour of play than a year of conversation, so I think that's what happened between him and me," she told The Daily Herald in 2011 (via Showbiz Cheat Sheet).
Soon after, Black and Jolie teamed up once again, starring in "Kung Fu Panda," the first installment of the film franchise, which was released in June 2008. 
Angelina and Jack welcomed kids at the same time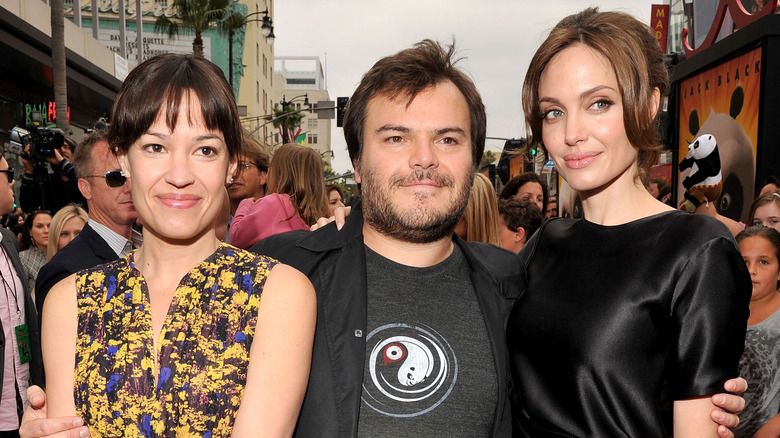 Lester Cohen/Getty Images
While solid friendships in Hollywood are rare, Angelina Jolie and Jack Black's has continued over the years, and they surely proved to everyone that genuine relationships can be found in Tinseltown. Jolie's friendship was even extended to Black's wife, Tanya Haden. While Jolie and Black were promoting the film "Kung Fu Panda 2" in 2011, the comedian revealed a sweet gesture the "Maleficent" actor did for his wife, sending her a Max Azria Empire-waist green dress. While talking to Joilie in an interview with HuffPost, Black recalled, "You were preggers, and I spilled the beans. And my wife, Tanya, was like, 'That is the most amazing maternity dress I've ever seen.'" Black continued, "And you're like, 'Oh, thanks.' And then, what do we get in the mail the next week? That gown. You sent it over. It was one of the sweetest gifts of all time" (via Today).
The two women went on to welcome their kids around the same time; Jolie gave birth to twins Knox Leon and Vivienne Marcheline in July 2008, and Black and Haden welcomed their son Thomas David a month prior. The actors' children are growing really fast, with Jolie's kids donning the red carpet with her and Black's sons growing up to look just like him. Given the continuous relationship between the two "Kung Fu Panda" stars, it seems like the second generation is bound to be friends too.