Luke MacFarlane On Candace Cameron Bure's Controversial Reasons For Leaving Hallmark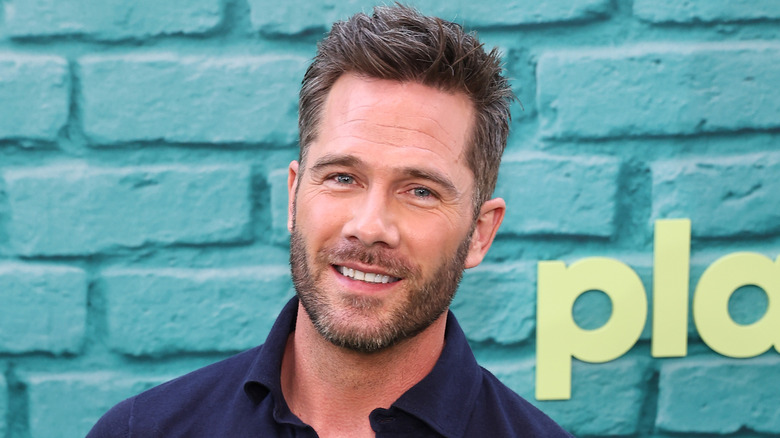 Leon Bennett/Getty Images
When it comes to the drama between the competing networks, the Hallmark Channel and Great American Family, everyone involved must pick a side. And, for the most part, they already have. We know why many stars left the Hallmark Channel, as well as why others signed multi-picture deals. In particular, we all know that the real reason that the de-throned Hallmark queen, Candace Cameron Bure, left Hallmark was to head over to Great American Family. In fact, she's now the network's chief creative officer, and the CEO, Bill Abbott calls her "the key piece of what we're doing," per TV Line. He considers the network to be an answer to the fact that "spiritual or faith-based content is grossly underserved." In turn, Bure now famously told the Wall Street Journal, "I think that Great American Family will keep traditional marriage at the core."
It's clear that one thing Abbott and Bure have in common is a knack for sugar-coating the real reason they want to distance their network from the Hallmark Channel: they want Hallmark content without the inclusivity. Not only is this highly controversial, but it's also in direct contrast to much of what the Hallmark Channel is doing. Unsurprisingly, there are plenty of stars who are sticking with Hallmark thanks to its much kinder ethos. And, for some stars, said ethos hit particularly close to home, like beloved leading man, Luke Macfarlane. Macfarlane, who's openly gay and has starred opposite Bure, has opened up about the controversy.
Macfarlane's morals align with Hallmark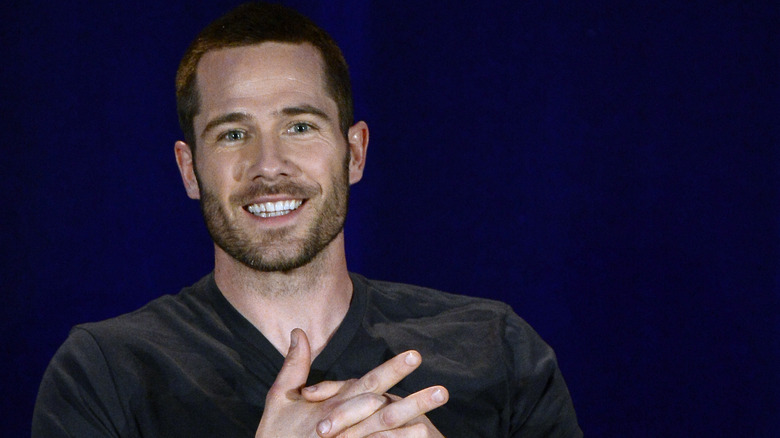 Kevork Djansezian/Getty Images
Luke Macfarlane has starred in his fair share of Hallmark movies, but as of late, he's been a fan favorite of Hollywood, too. He starred in the 2022 Blockbuster romcom, "Bros," as well as the Apple TV+ series, "Platonic." Still, despite his success in many areas of acting, he's still returning home for Hallmark's favorite season: Christmastime. In an interview with The Hollywood Reporter in July 2023, he said, "Hallmark has been very good to me, and I have agreed to do a Christmas movie for them this year. So I'm adding to the canon." Of course, fans of the network are thrilled to hear that Macfarlane's Hallmark credits will be growing again this holiday season. But, it's also easy to wonder what he thinks of the drama.
In his interview, Hollywood Reporter staffer Ryan Gajewski suggested that Macfarlane knew what it was like to be "the king of Christmas movies" and hinted that Candace Cameron Bure may be the queen to his king, calling her "a Christmas stalwart . . ." Macfarlane filled in the blank with "Maven? Yes." Macfarlane acted opposite Bure in 2018's popular Hallmark romcom "A Shoe Addict's Christmas." In terms of Bure's stance against LGBTQ+ storylines, Macfarlane suggested that the Hallmark Channel had the right idea. He explained, "It's that whole thing that was, why does me having visibility make yourself any less different? I think that we all deserve a place in the media, in the film world." It's safe to say that Hallmark agrees. 
Macfarlane thinks things are moving in the right direction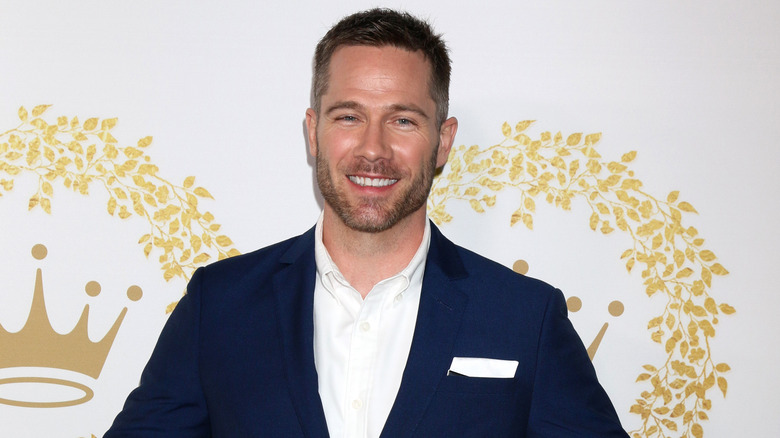 Kathy Hutchins/Shutterstock
Luckily, the Hallmark Channel is such a beloved network, and its moves toward becoming a more diverse, safe space haven't gone unnoticed among fans or stars. When asked if things were becoming more inclusive, Macfarlane told The Hollywood Reporter, "They certainly are. Hallmark is absolutely making efforts to create queer content, and I applaud them for that." He added, "They've been often the butt of jokes about the sort of limited nature of their cast, but they've really changed that, and they're really continuing to do that. I think they're doing that not just for the press. The Christmas movie ['The Holiday Sitter,' featuring an LGBTQ couple] they did last year was a big success for them, had lots of viewers. There's an audience there, for sure."
So, while Great American Family may be banking on an audience that's seeking wholesome holiday content that isn't quite so welcoming, Hallmark proves that there are many viewers in line for the loving, welcoming movies they're serving up. Consequently, plenty of Hallmark stars have doubled down on their relationship with the network, including other openly gay actors, like Jonathan Bennett, who made history starring in Hallmark's first LGBTQ+ Christmas romcom. Perhaps this means even more stars will be flocking to the network. And, as far as Luke Macfarlane is concerned, hanging onto that "king of Christmas" title is more important now than ever. He joked, "It's getting very competitive."