The Worst Dressed Stars At The Barbie Movie World Premiere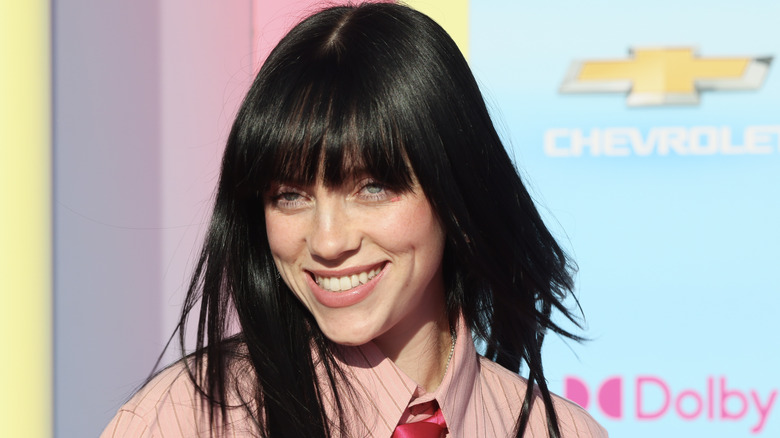 Rodin Eckenroth/Getty Images
If the world can agree on one thing right now, it's that the "Barbie" movie press tour has been a smashing success. The stars of the movie have attended all preemptive functions in looks that the doll would totally approve of — and film's lead, Margot Robbie ,has arrived in looks Barbie herself has worn. A press tour hasn't been this exciting since the disastrous leadup to 2022's "Don't Worry Darling," and that was fun to watch for a much different reason (think: train wreck). The world premiere of "Barbie" in Los Angeles was fun because of fashion.
The stars of the movie and others attached to the project showed up and showed out, essentially creating a Barbie fashion show of sorts. Unfortunately, though, not everyone hit the mark. A handful of celebs showed up at the premiere who, tried as they might, didn't quite understand the assignment. From Karol G in her mismatched ensemble to Josh Richards in his basic suit, these were the worst-dressed stars of the night.
​​Xochitl Gomez looked more like a Victorian doll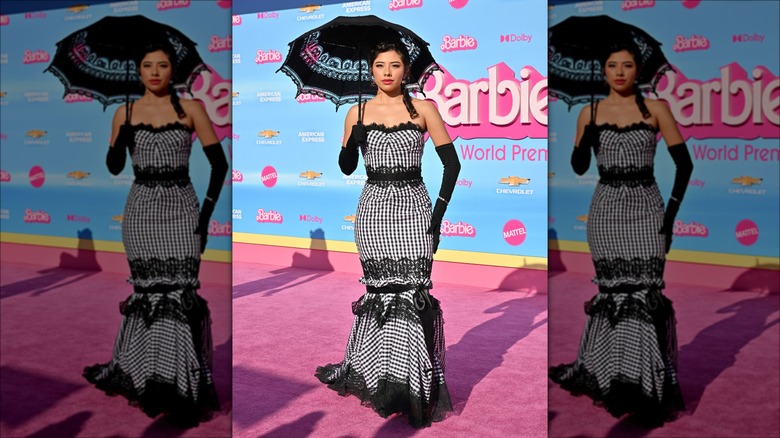 Axelle/bauer-griffin/Getty
Many an attendee of the "Barbie" premiere arrived in an outfit that was decidedly Barbie – in fact, most of the viewers that night looked as though they were being dressed by Mattel. However, others went in a different direction and arrived in outfits that ... weren't quite as on theme.
Take ​​Xochitl Gomez. The up-and-coming actor attended the movie premiere wearing a black and white gingham dress replete with lace appliques, black gloves, and a parasol. She topped the look off by wearing her hair in a side braid and adorning herself with some jewelry. Her accessory game was fun, but her ensemble was a miss. Though Barbie has been known to wear gingham (even black gingham) this ensemble felt more like a costume and less like a premiere dress — and more porcelain doll than Barbie doll.
If anyone knows the value of dressing appropriately for the occasion, it's Barbie. We do have to applaud Gomez for staying true to herself, though. The MCU member was named the face of a new Hot Topic campaign in July 2023, so clearly black and white with a little edge is her vibe.
Elisabeth Röhm's dress was giving garden party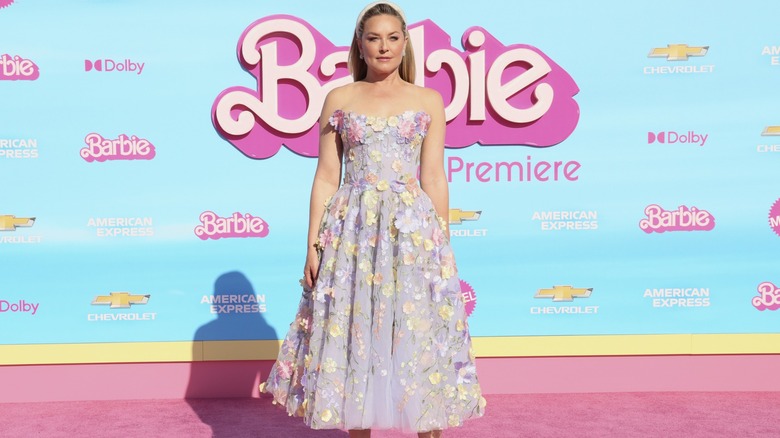 Rodin Eckenroth/Getty
Unfortunately for fans of Elisabeth Röhm's case, she doesn't actually star in "Barbie." However, she attended the world premiere as she's a friend of Robbie Brenner, the executive producer of Mattel Films. Brenner has producing credits for "Barbie," so perhaps she was able to snag some slots on the guest list. Röhm wished her friend well on Instagram ahead of seeing the film. "So proud of you and the message behind this sensational movie. You guys must see this summer blockbuster and the incredible direction," she wrote. We'll definitely be taking Röhm's advice.
The German actor strutted the pink carpet in a lilac frock with pastel 3D flower appliques. She paired the look with matching purple heels and a headband, which held back her blonde locks. She looked beautiful as always, but the outfit was definitely lacking. It screamed garden party, not Hollywood movie premiere. Now, had she gone for a deeper purple floral and lace dress, like Barbie's Floral Reception Fashion Charm Style dress circa 2000, she would've killed it. Nevertheless, Röhm is a classic beauty, so she still turned heads on the carpet.
Billie Eilish went oversized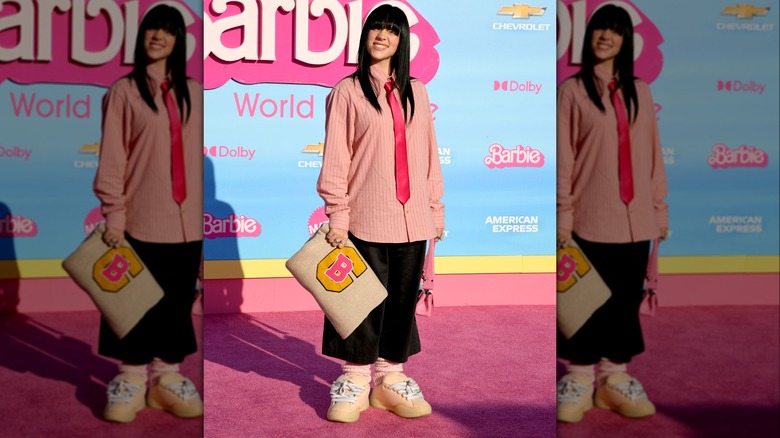 Jon Kopaloff/Getty
Fans have long been divided on Billie Eilish's sense of style, and Eilish gave onlookers even more fodder when she attended the Los Angeles premiere of "Barbie." The singer-songwriter was one of the chosen few artists to be featured on the "Barbie" movie soundtrack. Interestingly, she dressed far more like a Barbie in the song's music video than she did at the film's world premiere.
For the event, Eilish wore an oversized pale pink pinstriped button-down with a magenta tie, oversized black trousers, slouch socks, and oversized sneakers. The look was more reminiscent of her older outfits than on par with the more glamorous looks she's tried in recent years, like her gown for the 2022 Met Gala. Though her "Barbie" premiere fit is old-school Eilish, we have to say we were growing fond of her new stylistic direction, and this doesn't quite fit the bill. This is surprising considering Eilish has a deep connection with Barbie.
As reported by Rolling Stone, she told her brother Finneas on the pink carpet, "Like everybody else, Barbie was day and night, my life. I loved all my Barbies. I made them do crazy things with each other and all that stuff — not to be weird. But yeah, I love my Barbies." Eilish also revealed that she's a fan of "Mermaidia" and "Fairytopia" — and we would've loved to have seen her in something inspired by one of those older animated Barbie movies.
Louie Castro's makeup was on point but his outfit was lacking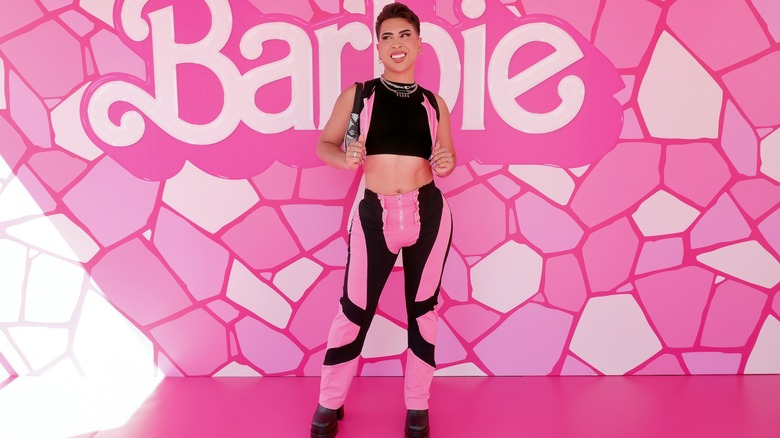 Emma Mcintyre/Getty
Makeup is about as important to Barbie as fashion. The doll is known for having a flawless beat, and many a Barbie throughout time has come with makeup for the doll to apply. Some dolls have even come with makeup for the owner to apply. And just ahead of the "Barbie" movie world premiere, makeup company NYX released its collaborative line with the Mattel toy. Yes, Barbie loves makeup. Given makeup's importance to the doll, it's fitting that many of the influencers who attend the "Barbie" movie premiere are beauty gurus, like Louie Castro. The social media star arrived with a face about as perfect as the toy, fittingly opting for some soft pink shades. However, it seems Castro's makeup was far better put together than his outfit.
The makeup maven showed up in a matching two-piece set that featured a pair of black pants and a black crop top each with pink leather panels. He paired the look with a pair of chunky black boots and a few pieces of jewelry.
We wanted to like this look, but we couldn't get past a few aspects, like the fit of the pants – a slimmer cut would've been much more Barbie. Castro could've definitely pulled off an outfit like the one worn by Barbie Fashionistas #158, which would've been somewhat similar but decidedly more Barbie with the checkered black and pink leggings, blue Malibu crop top, and chunky pink sneakers. 
Josh Richards didn't fully commit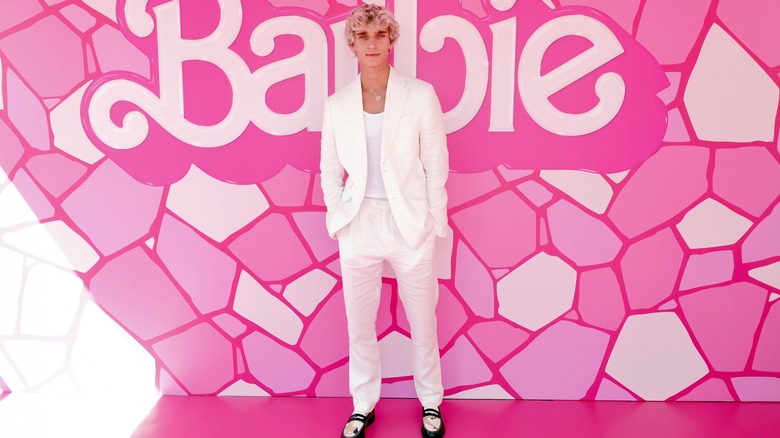 Emma Mcintyre/Getty
As far as the two main dolls are concerned, Barbie has a much larger wardrobe than Ken. Every now and again Ken gets his own special edition with an exciting outfit, but more often than not, his clothes are pretty ordinary. But let's be honest, we weren't waiting for photos from the "Barbie" premiere so we could see what all the Kens were wearing — all eyes were on the Barbies.
Still, we hoped for more from the men at the premiere, like Josh Richards. The influencer wore a monochromatic white look comprised of a suit and tank top which he paired with some loafers and a necklace. Richards has recently begun experimenting more with fashion, and we would've liked to have seen him take more risks here. More pizzazz — and more color — would've been welcome.
We did appreciate one thing about Richards's look: his hair. The "BFFs" podcaster has been known to change the color of his locks from his natural brown to bleach blonde, and he kept the latter look for the "Barbie" premiere. We admire that level of dedication (and we know Barbie loves a blonde), we just wish we had seen it throughout the entire ensemble rather than sequestered to just the top of his head.
Gabriela Moura essentially wore pajamas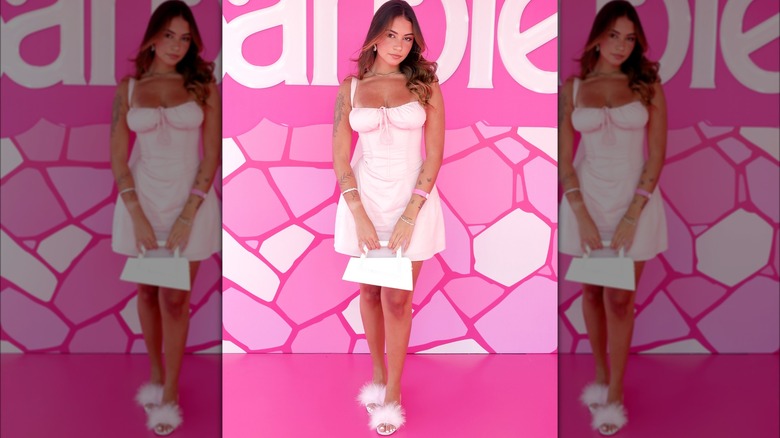 Emma Mcintyre/Getty
Josh Richards didn't attend the "Barbie" premiere solo. He attended the film's pink carpet event with fellow TikTok star Gabriela Moura, and her outfit was equally underwhelming. The Brazilian social media influencer wore a soft pink mini-dress that looked more like Barbie pajamas than a red carpet outfit. We were fans of her shoes and accessories, though. Moura wore a pair of soft pink heels with fur on the straps that we know Barbie would approve of, and her white and asymmetrical purse was equally as darling.
In addition to the basic fit, Moura didn't share much of the premiere on TikTok. The most we got was a couple of brief behind-the-scenes videos of her and Richards ahead of the world premiere. If you need us, we'll be rewatching Alix Earle's TikTok from the premiere for glimpses into what had to have been the most fun film debut event in recent history.
Haim matched each other but not the theme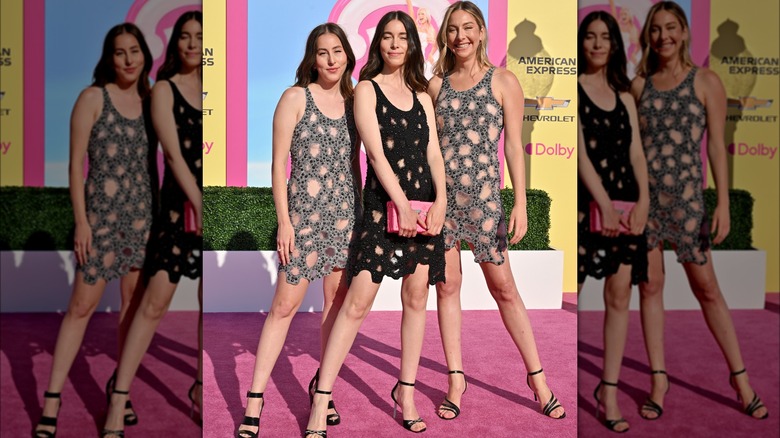 Axelle/bauer-griffin/Getty
The mix of artists tapped to write and record to the "Barbie" movie soundtrack was as eclectic as the doll's wardrobe. Stars we expected, like Dua Lipa and Nicki Minaj, made major contributions, but a variety of unexpected artists were part of the project, too, like Dominic Fike and Haim, the latter of whom attended the film's premiere. Haim — a band made of sisters Alana Haim, Danielle Haim, and Este Haim — seemed to channel early 2000s girl bands instead of Barbie, opting for a coordinating look with all three wearing the same dress, Alana and Este in gray and Danielle in black.
We're all for a coordinating, but this felt more Destiny's Child and thus dated. The one aspect of Haim's look that we did like, though, was Danielle's bright pink Louis Vuitton clutch. And as the band pointed out, another part of their look was on theme. "Our thongs were pink," the band revealed on Instagram.
Karol G was mismatched Barbie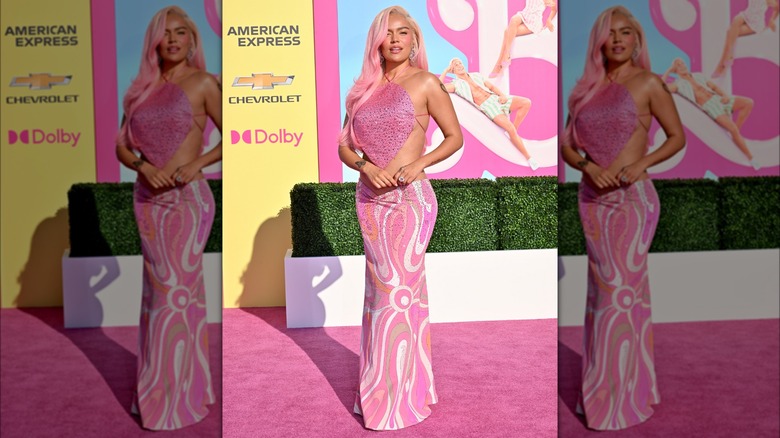 Axelle/bauer-griffin/Getty
We're normally on board with what Karol G wears, but her outfit for the "Barbie" premiere could've been so much better. The Colombian singer arrived wearing a pink bedazzled halter top and a retro-patterned multi-colored skirt.
The ensemble was more Barbie than some of the other outfits on this list, but we still expected more from someone who's included on the soundtrack. Either piece styled with different pieces could've been fun, but the two together made her look as if she were a Barbie dressed by a little kid — you know, in clothes that didn't come together in a set but that sort of, kind of match? The cut of the skirt was also off, and looked as if it had been worn backwards.
We know Karol G is capable of dressing up as Barbie — she did so multiple times for her music video for "Waititi" – but this was not it. What we did like, though, was Karol G's pink hair and jewelry, and as always, her makeup looked flawless.
Ana Cruz Kayne had a confusing look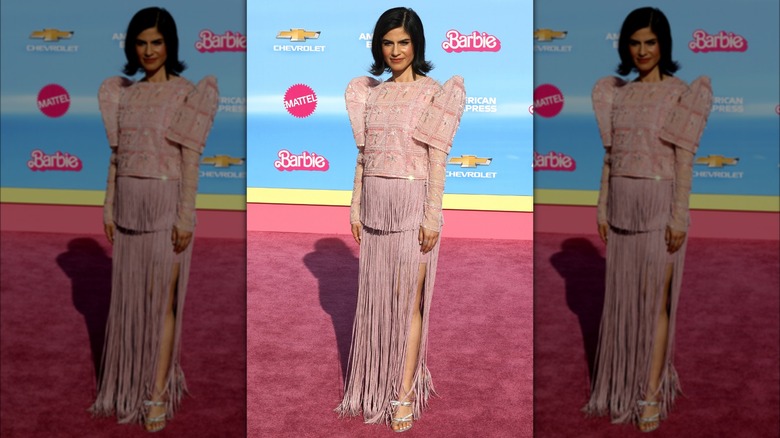 Frazer Harrison/Getty
Oh, to be a Barbie doll in the "Barbie" movie. We're endlessly jealous of all the talented actors who were cast as the other Barbies, like Ana Cruz Kayne, who we know plays Supreme Court Justice Barbie from her promo photo for the film. Like most of the actors attached to the project, Kayne was excited to join the cast. As she told Screen Rant of her decision to commit, "I grew up in a world where Barbie existed. I know how powerful and beautiful and universal she is. But, the creative team was enough, hands down."
Most of the Barbie cast showed up to the Los Angeles premiere looking like they had just stepped off the set of the film. Kayne's look, however, wasn't what we'd expect from a Barbie. The actor wore a pink Terno top with a pink fringe skirt, both of which we would've liked well enough on its own, but it looked disjointed as a set. The ensemble served as a reminder that just because an outfit is pink doesn't mean it's Barbie.
Of course, the only opinion that truly matters is Kayne's, and she expressed her happiness with her premiere look on Instagram. "Maraming salamat ['thank you very much' in Tagalog] to my dream team for sending me down the pink carpet feeling like my own snatched fairy godmother," she wrote. 
Kristy Scott took the wrong direction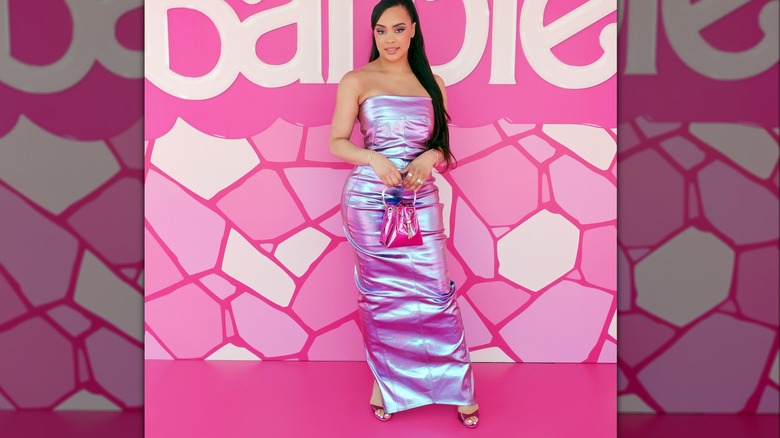 Emma Mcintyre/Getty
Many an influencer walked the pink carpet for the "Barbie" premiere — perhaps even more than actual celebrities. Some of the influencers delivered looks worthy of an A-lister, but others could've used the help of a stylist ... or a new sylist. Kristy Scott, an influencer who's popular on Instagram and TikTok, attended the premiere in a strapless galactic gown. As Scott wrote on Instagram, "Barbie, but from outer space." While her hair looked incredible and her makeup was as perfect as a doll's, the dress was not a good fit for the pink carpet. It was giving "Star Wars" chic instead of "Barbie" chic.
Like many of the influencers who attended the "Barbie" premiere, Scott had promoted Barbie prior to the film's release. In one sponsored post, Scott unboxed a pair of shoes from Aldo's Barbie collection while wearing a full-length bubblegum pink slip dress. Now, had Scott arrived at the premiere in that dress and the Aldo shoes she showed off, she would've been one of the best-dressed influencers.
Jesse Sullivan sacrificed fit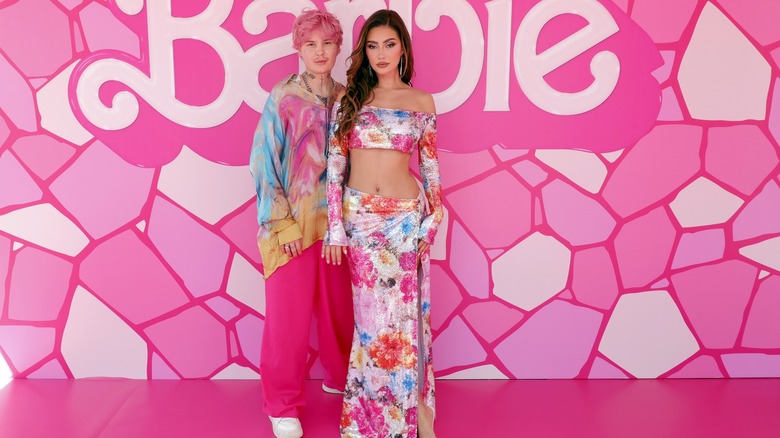 Emma Mcintyre/Getty
TikTok star and actor Jesse Sullivan attended the "Barbie" premiere in an outfit that Barbie might wear ... if she were feeling a bit disheveled. Sullivan sported an oversized multi-colored top paired with an oversized pair of pink trousers. He donned white sneakers and his go-to thick chain necklace. The colors of his outfit were certainly on theme, but the fit left a lot to be desired — like fitting his body, for example. We do give the actor credit for his commitment to pink, though, as he dyed his hair Barbie's signature color prior to the premiere. Anyone who's that committed to a look, whether we like it or not, deserves at least a modicum of praise.
Sullivan attended the film's premiere with his fiance Francesca Farago of "Too Hot to Handle" fame. While we weren't taken with Sullivan's ensemble, we were big fans of Farago's. The reality star wore a two-piece set with a multi-colored floral pattern. The top was long-sleeved and cropped while the skirt featured a prominent slit. The ensemble is certainly not Farago's typical style — as she noted in the caption of a photo she shared on Instagram: "Trying to get this photo to fit w my feed aesthetic was almost impossible but we did it." It just goes to show that anyone can dress like Barbie if they put their mind to it.