Days Of Our Lives Tortured Triangles: Ciara, Theo, And Claire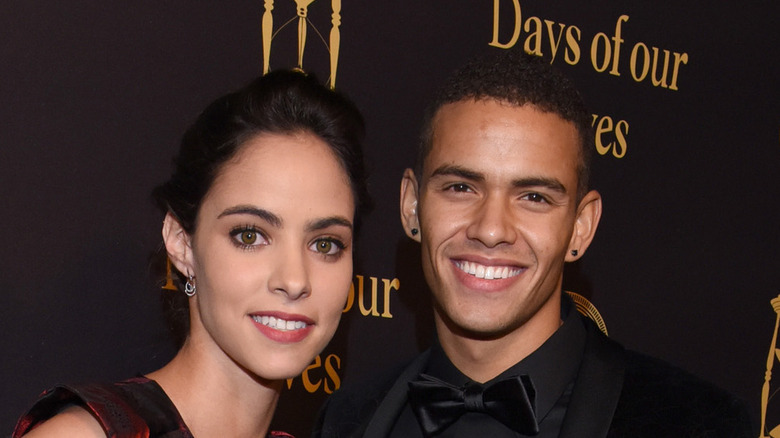 Vivien Killilea/Getty Images
One of the best parts of watching a long-running soap opera like "Days of Our Lives" is seeing the characters mature through many important life moments. The legacy characters who have been on the show for decades give the soap a familial feeling for fans. As it moves into the modern age, the children of the legacy characters are growing older too, and their dramatic storylines have increased tenfold. Some of the most well-known legacy kids are Ciara Brady (portrayed by Vivian Jovanni, then Victoria Konefal), Theo Carver (portrayed by Kyler Pettis, then Cameron Johnson), and Claire Brady (portrayed by Olivia Rose-Keegan, then Isabel Durant).
Ciara Brady is the daughter of "Days" super couple Bo Brady (Peter Reckell) and Hope Williams Brady (Kristian Alfonso).  Ciara has been portrayed by a variety of talented actresses, but it is Victoria Konefal who has brought her through some of the character's most wild moments.  Ciara is Claire Brady's aunt, even though they are close in age. Ciara is BFFs with Theo Carver, the son of Salem's beloved Abe Carver (James Reynolds) and the late Lexie Carver (Renee Jones). He was romantically involved with both Ciara and Claire during his time on the show.
Claire is the daughter of Shawn-Douglas Brady (Brandon Beemer) and Belle Black (Martha Madison). While it was Olivia Rose-Keegan who originated Claire's character as a teenager and portrayed her mental health decline, Isabel Durant took over the role in 2020 and portrayed Claire as she matured into adulthood while still grappling with the aftermath of her mental illness.
Relationships were a revolving door for the trio in the beginning
Vivian Jovanni, Kyler Pettis and Olivia Rose-Keegan originated this tortured triangle when all three characters were aged into teenagers. Ciara, Theo, and Claire grew up together as friends, and nothing bonds people faster than a little kidnapping. While the trio was in high school, Claire decided to pursue another teenager, Chase Jennings (Connor Kalopsis).  Upon finding this out, Ciara admitted to her niece that Chase had raped her. Theo, Claire, and a few other friends helped Ciara kidnap Chase so that she could get the justice she deserved.
Claire and Theo soon started dating, but their relationship came to a halt when Theo suspected Claire of leaking their sex tape. After that mishap, the two attempted to get back together; however, Theo was shot and left Salem to heal in South Africa with his extended family.
It wasn't long before Claire rebounded with Tripp Dalton (Lucas Adams), who was in a relationship with Ciara at the time. Victoria Konefal had taken over the role of Ciara, and she played the part of heartbroken teen as Ciara discovered that Tripp cheated on her with Claire and eventually moved on with reformed serial killer Ben Weston (Robert Scott Wilson).  However, she still couldn't escape Claire's wrath. After kidnapping Ciara and holding her in the Horton cabin, Claire set fire to it and tried to kill Ciara so their ever-present competition would cease. Ciara was rescued and Claire left to recover at Bayview.
The stakes are high as Ciara, Theo, and Claire grow up
After Claire was released from Bayview, she attempted to mend her fences with the people she had hurt, starting with Ciara. Although Ciara was open to letting Claire back into her life, she wasn't quite ready to welcome her with open arms (i.e., make Claire her maid-of-honor in her upcoming wedding to Ben). When Ben and Ciara's wedding ended with a literal bang, Claire was devastated by Ben's disappearance, although many suspected her of planting the bomb.
Just as luck would have it, Ciara ended up being kidnapped and presumed dead after her wedding. When Ciara was eventually rescued, she didn't remember being married to Ben and immediately asked for a divorce. Ciara ended up falling back into a fast-tracked relationship with Theo (now played by Cameron Johnson) and planned to marry him as soon as she could. As a supporter of Ben and Ciara's relationship, Claire, now being portrayed by Isabel Durant, helped Ben kidnap Ciara on her wedding day and Claire took Ciara's place at the altar. Realizing it was a set-up, Theo fumed at what Claire had done.
After leaving Theo at the altar, Ciara regained her memories and broke it off with Theo, remarrying Ben soon after. Claire attempted to rekindle her relationship with Theo after his failed marriage to Ciara, but he rejected her once again.  So, if fans are wondering what happened to Claire on "Days of Our Lives," she decided to stay friends with Theo and moved to South Africa for better job opportunities.