Joanna Gaines' Television Debut Wasn't On HGTV's Fixer Upper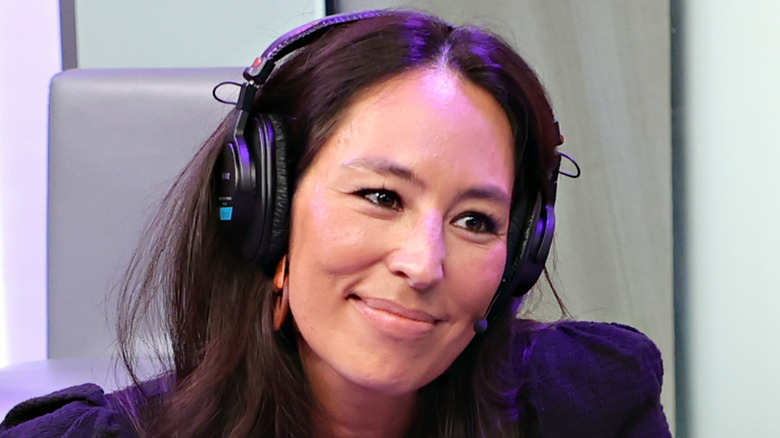 Cindy Ord/Getty Images
With all the shows she has made appearances on, including starring in HGTV's "Fixer Upper" alongside husband Chip Gaines and its many spinoffs, her own cooking program entitled "Magnolia Table," and so much more, Joanna Gaines is a regular on our televisions screens. However, Joanna originally had her sights set on a totally different career path. 
In fact, the HGTV alum didn't think she would go into the home design field at all, instead aspiring to be a broadcast journalist. "I always dreamed of the idea of television but never thought it would have to do with design or renovations," she told PopSugar. Nevertheless, the renovation expert did make it onto television doing something entirely unexpected — advertising her dad's tire company. Moving back home to Waco, Texas after living in New York City for a while, Joanna found herself helping out the family business.
She began appearing in the commercials around 2001, but sadly none can be found on YouTube. However, per Today, Joanna told potential customers during a 2008 ad for the shop, "At Jerry Stevens Firestone (her dad's business), we promise to care." 
She had a rough start to her television career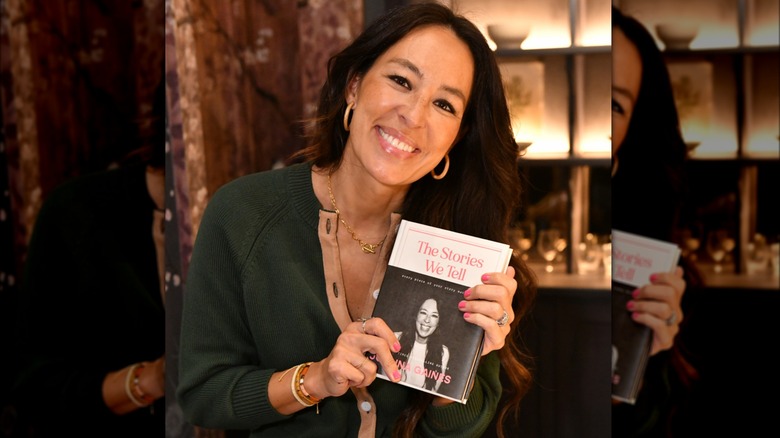 Craig Barritt/Getty Images
These days, Joanna Gaines' television appearances are far from advertising for her dad's business, but she has revealed that her and Chip Gaines' first appearance on HGTV was less than brilliant, too. Awkward and frozen in front of the crew and cameras, Joanna could feel her dream of being on television slipping away right in front of her. "Chip and I were horrible," she recalled to Realtor. Luckily (or unluckily, at the time), a houseboat Chip had bought online turned up at just the right moment. 
Unfortunately, the houseboat was uninhabitable due to its leaky construction. The pair's genuine reactions to the houseboat (Joanna not happy and Chip sad at the state of it) were television gold, and eventually led to them getting the show that started it all, "Fixer Upper."
These days, we can't imagine Chip and Joanna not being stars, but if that houseboat hadn't suddenly appeared, the two of them could have gone on to do something entirely different — and to think it all started with Joanna advertising her dad's Waco-based tire business.
Her dad's business helped her find love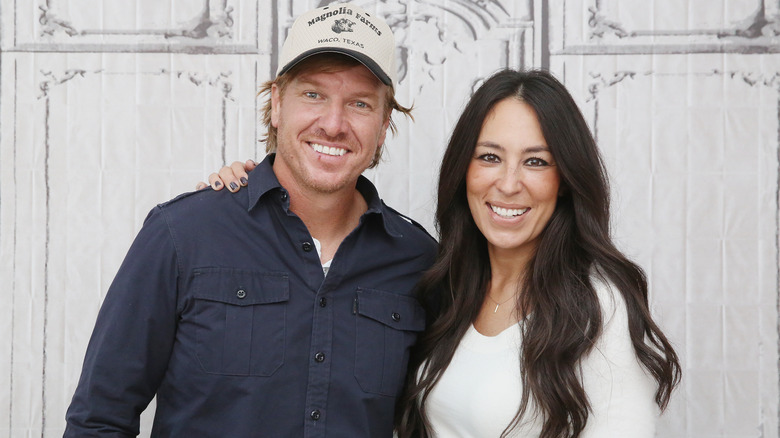 Mireya Acierto/Getty Images
In a sweet twist, the tire shop that belonged to Joanna Gaines' dad helped her to meet her future husband, too. Her father had a photo of Joanna on display in the store, which Chip Gaines saw and, according to the HGTV star, he fell in love instantly without even speaking to his future wife. It would take a while before Chip's car broke down and he had the chance to speak to Joanna (who worked in the office) face-to-face. 
Per Country Living, Joanna shared the story of her and Chip's first meeting in their book "The Magnolia Story." According to Joanna, Chip asked her, "Wait, aren't you the girl from the commercials?" Embarrassed at being recognized, Joanna said 'yes,' noting that her dad asked her to do the commercials because of her previous experience in television news.
It wasn't all smooth sailing though, as Joanna didn't fall for Chip right away. Instead, she had a crush on his friend, who accompanied him to the tire shop and whom she thought was so attractive that she was too nervous to even speak to him. Luckily, Chip broke the ice with Joanna with his pick-up line about the commercials and she agreed to go on a date with him — the rest, as they say, is history.