Jessica Simpson's Husband, Eric Johnson, Was Married When They Met
The relationships of singer Jessica Simpson have long been a point of interest in the media. She was famously married to 98 Degrees frontman Nick Lachey from 2002 to 2006, with much of their relationship playing out on their MTV reality series, "Newlyweds: Nick and Jessica." Unfortunately, Simpson and Lachey divorced, with her blossoming career at the time playing a role in their demise. After living the single life for a bit and casually dating an unidentified movie star, Simpson sparked a romance with former New Orleans Saints player Eric Johnson.
The two were first linked to one another in July 2010, when she accompanied him to his grandparent's anniversary party in Florida. Once the images hit the internet, US Weekly broke the news that they'd been a couple for at least five months at that point. While fans were rejoicing that the "With You" performer had found love once again, many were quick to point out that Johnson was still married at the time he began seeing Simpson. Some eyebrow-raising tales ensued, yet, the couple was able to push through and are happier than ever today.
Eric Johnson was going through a divorce when he met Jessica Simpson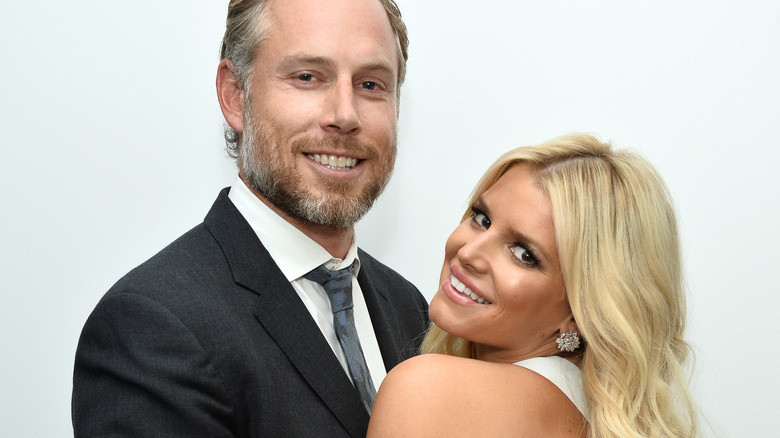 Amanda Edwards/Getty Images
When football pro Eric Johnson began courting Jessica Simpson, he was going through a permanent separation from his now ex-wife, Keri D'Angelo. Years before Simpson came into the picture, the two wed on May 14, 2005. However, by October 2009, Johnson and D'Angelo's union began to unravel, sending the couple to divorce court by January 2010. The paperwork was finalized in October of that year. They did not have children, which left one less point of debate when completing their split.
Just one month after the ink dried on the documents, Johnson popped the question to Simpson. As the shoe designer went back and forth about an official wedding date, the two began growing their family, with the birth of their daughter Maxwell Drew on May 1, 2012. A little over a year later, their second child and only son, Ace Knute, came into the world on June 30, 2013. The couple took a break from having children to finally say "I do" in a Montecito, California ceremony on Saturday, July 5, 2014, surrounded by their loved ones. After almost five years of being married, the pair welcomed their last child, another baby girl they named Birdie Mae, on March 19, 2019.
Eric Johnson was accused of cheating on Jessica Simpson with his ex-wife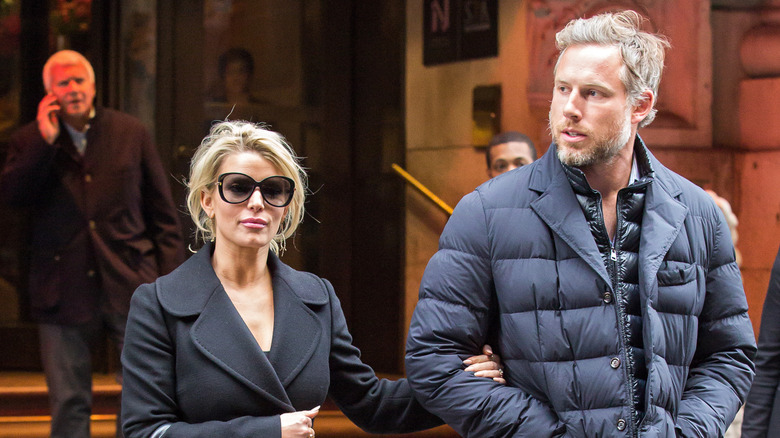 Alessio Botticelli/Getty Images
As Jessica Simpson and her athlete hubby Eric Johnson were having babies and gearing up to make their relationship official, an explosive rumor began hitting the internet that would jeopardize their love for one another. Star Magazine revealed in an October 2012 report that Johnson was not completely separated from his previous wife, Keri D'Angelo, when he began seeing Simpson. In fact, a source told the publication that he was seeing both women intimately.
"He was still having sex with Keri after he started seeing Jessica. She needs to think twice before marrying him. He's already cheated on her once. He'll most likely do it again," a friend of D'Angelo's revealed to the outlet (via HuffPost). A friend of Simpon's refuted these claims to the Huffpost and shared that Johnson was considering legal action against the magazine.
Despite these messy allegations, Simpson and Johnson appear unphased by the past drama. The doting wife frequently shares glimpses of her family life on Instagram. D'Angelo has apparently moved on as well, now making her living as a pole dance instructor while dating former professional hockey player Charlie Kronschnabel. It appears that life is good for all parties involved.