What To Know About Shark Tank Star Robert Herjavec's Wife, Kym Johnson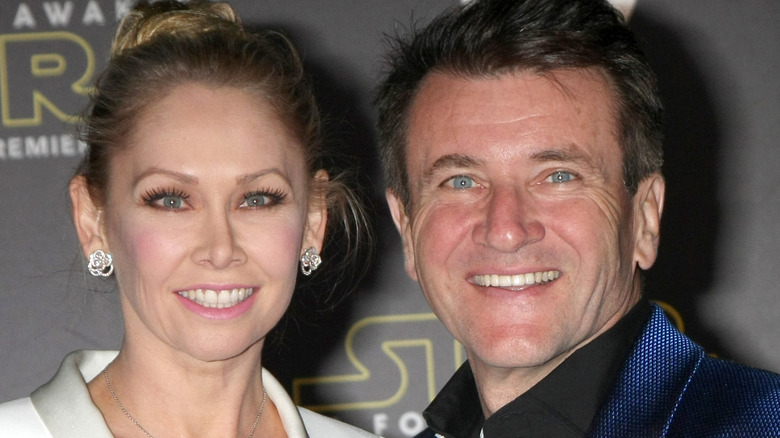 Kathy Hutchins/Shutterstock
"Shark Tank" star Robert Herjavec met his wife Kym Johnson on "Dancing With the Stars." Johnson, who is originally from Australia, is trained in ballroom dancing and joined Australia's version of the show in 2004. She won her very first TV competition with partner Tom Williams in 2005. From there, Johnson moved to the United States where she joined the U.S. version of the show. It wasn't until the show's ninth season, however, that Johnson would take home a Mirrorball trophy. Johnson couldn't say enough good things about her partner, Donny Osmond. "He's just got the best attitude. We had so much fun all season," she said on "Good Morning America" after winning the season. 
After multiple seasons on the show, Johnson went on to win a second Mirrorball with NFL wide receiver Hines Ward. However, it was her Season 20 pairing that would quite literally change her life. The dancer was paired with Herjavec that season. Though they were eliminated in week eight of the season, the couple's chemistry was undeniable. Here's what we know about Johnson's relationship with Herjavec and who she is today.
Kym Johnson fell in love on reality television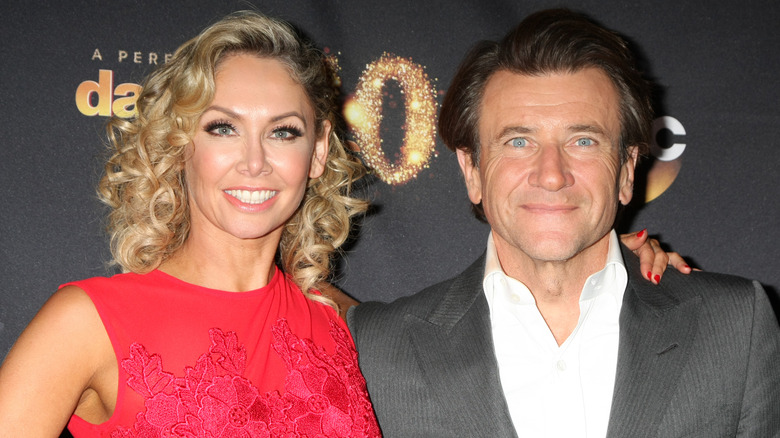 Kathy Hutchins/Shutterstock
Although they didn't make it to the semi-finals, Kym Johnson and Robert Herjavec's relationship lasted well beyond the ballroom. "For the first two hours we spent together, I was so scared of doing the show that I didn't see anything at all. Then it started to hit me how beautiful and interesting Kym was," Herjavec told TV Insider of meeting his now-wife. 
Indeed, the two ended up falling for each other and quickly realized that their chemistry was something more than either of them had anticipated. About a year after being sent home from "Dancing With the Stars," Herjavec got down on one knee and proposed in 2016. "To celebrate tonight with our family and friends, and my mom who flew in from Australia, wow – I'm just overwhelmed and so happy," Johnson told People at the time. "He's a wonderful man and I'm so lucky."
Next up was the couple's wedding — and they seriously didn't want to wait. About five months after their engagement, Herjavec and Johnson exchanged vows in front of their family and friends in Los Angeles. The wedding was Johnson's first and Herjavec's second; he was previously married to Diane Plese and they share three kids together. For Herjavec and Johnson, in the years since their wedding, they have built a life together and they seem happier than ever.
Kym Johnson is a mom of twins
In December 2017, Kym Johnson shared some exciting news: she was pregnant! She posted an ultrasound photo of a baby's hand on Instagram and captioned the post, "It's a thumbs up." A short while later, Johnson revealed that she and Robert Herjavec were actually expecting twins. The couple's children, Hudson and Haven, were born in April 2018. "Welcome to the world Hudson Robert Herjavec & Haven Mae Herjavec-it's great out here! May you always know love, peace, and grace in your lives. May your dreams have no bounds and your spirit be strong," Herjavec captioned an Instagram photo of his newborn babies.
Johnson and Herjavec really love to travel and often share photos of their adventures with their kids, who have very full passports. In 2022, Hudson and Haven went to Italy and to their dad's home country of Croatia. In April 2023, Johnson wished her babies a happy 5th birthday. "How lucky I am to be your Mum. You are both the most incredible little humans who fill our lives with so much love and happiness every single day," she captioned an Instagram post. The whole family celebrated with a "Barbie" meets "Super Mario Bros." birthday party. As the years go by, Johnson seems content being a full-time mom.