What We Know About Hayley Atwell's Unexpected Italian Proposal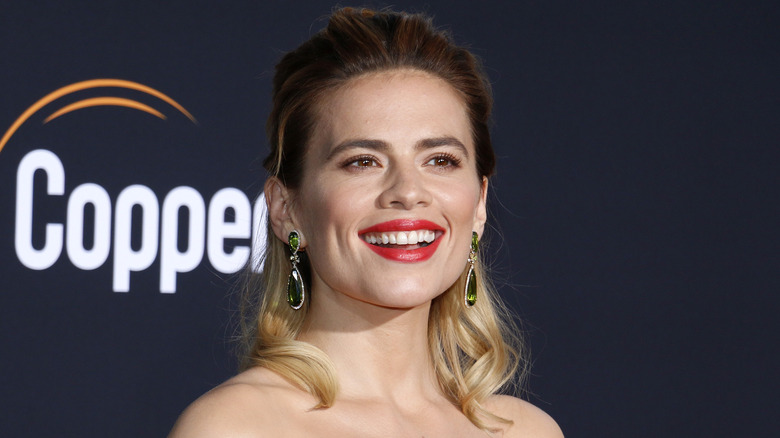 Tinseltown/Shutterstock
Hayley Atwell joins Tom Cruise in the seventh installment of the "Mission: Impossible" franchise, which opens this week. Atwell's been rumored to have been romantically linked to Cruise, but Atwell told The Independent that the rumors weren't at all true and that they were "upsetting." It left the actor with questions: "Why are things being assumed or projected onto me about my relationship with my work colleague and boss?" Cruise gave her some advice about how to handle the speculation about her personal life, telling her, "'You know exactly who you are. You know what you're about. And that is the only thing that matters.'"
A part of who Atwell is, at least right now, is a fiancée to Ned Wolfgang Kelly. The couple was pictured together in London at an afterparty for a Lady Gaga concert in July 2022, and they got engaged less than a year later in April 2023. And while some engagements can be way over-the-top, this one sounds like it was pretty casual. 
Hayley Atwell got engaged in Venice, one of her favorite places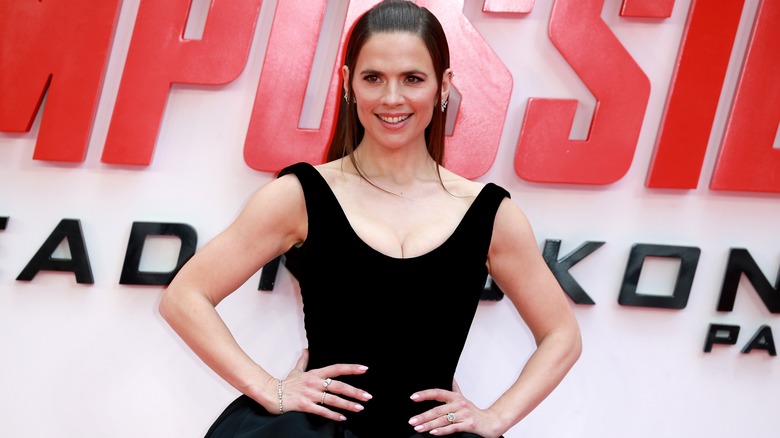 Fred Duval/Shutterstock
Hayley Atwell gave more details about what sounds like an unexpected proposal. During a trip in Venice, Atwell said that Ned Wolfgang Kelly popped the question in an Airbnb kitchen wearing only underwear, according to Daily Mail. Through the window, they could hear "an accordion playing outside our window — which was timed perfectly but not planned," Atwell shared. Atwell also explained that their Airbnb "had lots of shelves with porcelain ducks on them, so it was quite a surreal set-up." While the proposal may have been unexpected with the accordion and the ducks, what was perfect was the location. Atwell loves Venice, calling it her "first most precious destination."
They made their engagement public with Kelly's post on Instagram, where he also talked about the accordion and the ducks in the caption. "Lucky me. Arrived in Venice at 10 am. Around midday the love of my life and I got engaged in the kitchen of this strange apartment full of porcelain ducks, with a bloke outside the window murdering 'My Way' on the accordion," Kelly wrote. "A perfect start to the rest of our lives together." Kelly also noted that before Atwell, he'd "never had any interest in getting married." 
Since the engagement, Kelly has posted on Instagram in support of Atwell and "Mission: Impossible." He referred to her as his "formidable [fiancée]" and sang the movie's praises. We love to see the support!